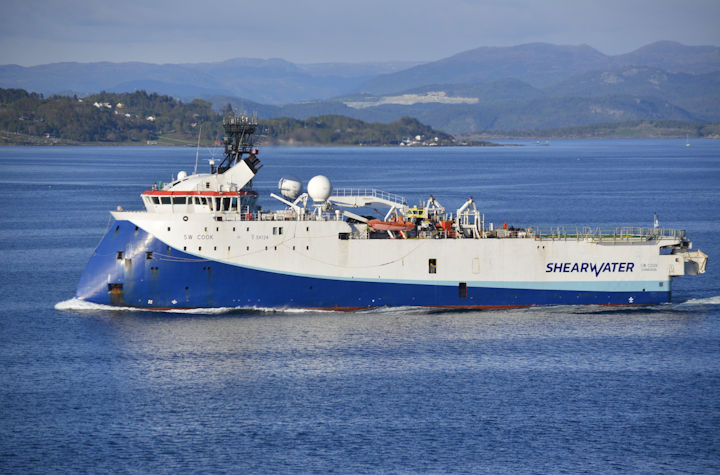 (Courtesy Shearwater GeoServices)
Offshore staff
BERGEN, Norway – Shearwater GeoServices has completed a transaction with CGG that was first announced last June.
This includes the takeover of five high-end seismic vessels and two legacy vessels, previously owned by CGG Marine Resources Norge and Eidesvik Offshore; five complete streamer sets previously owned by CGG; and a long-term capacity agreement granting Shearwater a guaranteed cash flow and activity level for a period of five years.
The capacity agreement includes a minimum commitment of two vessel-years annually over the agreed five-year period. It provides cash flow and sustained activity to Shearwater, at the same time guaranteeing CGG access to strategic capacity for its future multi-client projects through Shearwater's global fleet of 3D vessels.
Shearwater has at closing assumed the net liabilities associated with the vessels it has taken over, and now has a fleet of 23 vessels, including three ocean bottom seismic (OBS) multi-purpose vessels and two dedicated source vessels.
Preparations continue for the joint creation of a new streamer technology company, and these are set to complete in the first half of 2020, assuming regulatory approvals.
Shearwater also announced letters of intent from Equinor for three Isometrix 4D towed streamer projects, and from Lundin Norway for a 4D Qseabed OBS project, scheduled for the 2020 summer season.
Lundin's two-month assignment covers the Edvard Grieg field and is effectively a second repeat survey. The vessels SW Cook and SW Tasman will acquire the data with Qseabed that have worked continuously on OBS projects in the North Sea throughout the 2019 summer season.
For Equinor, the SW Amundsen, equipped with Isometrix multi-sensor technology, will be the lead vessel, performing 4D surveys on the Sleipner West and Norne fields and the Sleipner CO2 storage project.
01/09/2020