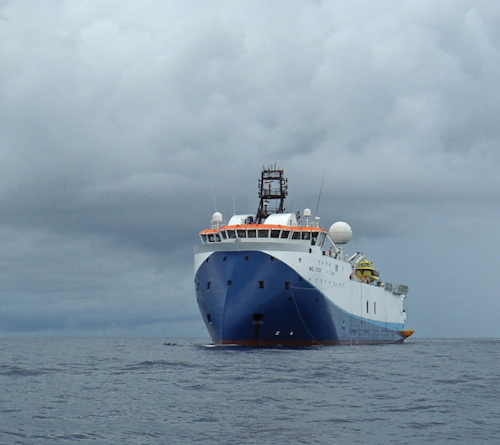 Ranks of active contractors have declined significantly
Bruce Beaubouef, Managing Editor
While muchof the offshore industry is slowly rebounding from the downturn, the seismic vessel survey market continues to be challenging for those contractors that still remain active.
And that list has become much smaller in the past few years. Companies that have exited the market include CGG, Fugro, and WesternGeco. Companies that have filed for bankruptcy include Dolphin Geophysical, Global Geophysical Services, Geokinetics, and REFLECT Geophysical.
During the past few years, much of the existing seismic survey fleet has changed hands. One such deal was concluded last November, when Shearwater GeoServices completed its acquisition of the marine seismic acquisition assets and operations of WesternGeco, the geophysical services product line of Schlumberger. With the completion of the deal, Shearwater officials observed that the transaction makes Shearwater a global provider of marine geophysical services, which owns and operates a fleet of 14 fully equipped seismic vessels offering a full range of acquisition services including 3D, 4D and ocean bottom seismic.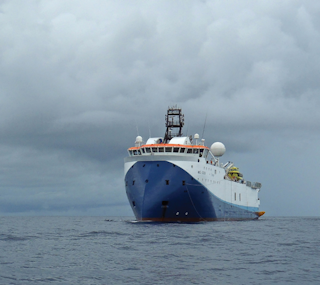 Shearwater GeoServices reports that its multi-purpose vesselsWG TasmanandWG Cook (pictured) will be deployed for work in the North Sea during the 2019 summer season. 
To be sure, there are a number of companies that remain active in the market. They include SeaBird Exploration, Polarcus, PGS, EMGS, and others.
SeaBird recently announced the extension of two existing contracts. The contract for theVoyager Explorer, which is working on an ocean bottom node survey in the Far East, was extended by approximately 90 days until March 2019, with an option for the charterers to extend by another 30 days. 
TheOsprey Explorer is also working on an ocean bottom node survey in the Americas region. This contract has been extended from initially 60 days to currently approximately 180 days. Following the completion of this contract expected in early March 2019, SeaBird says that the Osprey will immediately commence on a previously announced ocean bottom node survey in the same region with expected completion in mid-April 2019.
Polarcus says that it is currently acquiring an ultra-wide 3D marine seismic project offshore Myanmar. ThePolarcus Amaniis towing an in-sea configuration that measures 1.8 km wide across the front ends. With each of the 10 streamers separated by 200 m, the total area covered by the spread is 17.6 sq km. Polarcus says that this is the largest in-sea configuration ever towed by a single seismic vessel, as well as the largest man-made moving object on earth.
PGS reports that Phase 4 of the multi-sensor Sabah multi-client 3D is under way with theRamform Hyperion. PGS says that Sabah is one of the largest multi-client projects worldwide and the first ever in Malaysia. The company says that it will acquire up to 10 000 sq km of GeoStreamer data, adding to the existing 37,000 sq km multi-phased Sabah MC3D, which PGS says is already one of the world's largest multi-client acquisition projects.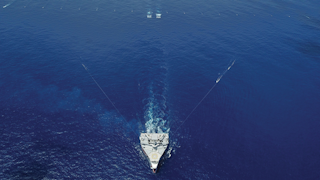 PGS'sRamform Tethys, first launched March 2016, has been working offshore Brazil.
EMGS reports that itsAtlantic Guardian vessel has completed an $8-million seismic survey offshore South America. The company says it expects to operate two acquisition vessels globally in 2019 and plans to continue investing in its multi-client library in select areas.
However, its capital investment plans are limited to maintenance of existing equipment.
EMGS says the market outlook for oil services remains challenging and uncertain, although there has been an increase in commercial activity. It has received increasing numbers of enquiries concerning proprietary acquisitions outside of its stronghold, Norway.
And, that cautionary note is also being sounded by consultancies and analyst firms as well. While more front-end engineering and design work is being awarded, new orders on larger, greenfield projects that will be sanctioned in 2019 will not help build contract backlogs until 2021. While the (now smaller) seismic survey vessel market may be poised for a recovery, there are still a number of survey vessels still stacked at quayside. These vessels will likely not be hired for at least another year, analysts predict – or not until oil companies begin maturing remote acreage.
The companies that participated inOffshore's 2019 seismic vessel survey, and their latest data, can be seen below.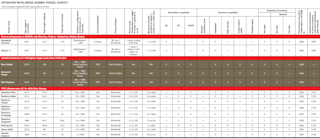 Multi-client surveys
Meanwhile, the industry continues to make use of data obtained from multi-client surveys to plan new exploration and drilling campaigns.
Spectrum, in cooperation with BGP, has started a 20,000-km (12,427-mi) 2D survey in the Colorado and Salado basin offshore Argentina. This new program ties with the company's existing 38,000-km (23,612-mi) survey that was acquired in 2017 for the ongoing first offshore licensing round.
The BGP Pioneer is conducting the survey. Data is being acquired with a 12-km (7.5-mi) streamer with continuous recording to image deep reflection and high fold data. This will support full interpretation from Moho to water bottom. The data will be processed with PSTM, PSDM, and Broadband products. First deliveries are expected in 2Q 2019.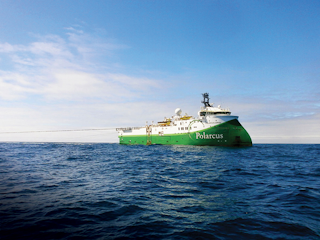 ThePolarcus Amaniis currently acquiring an ultra-wide 3D marine seismic project offshore Myanmar.
Shearwater GeoServices says it has been awarded a major exploration survey in Brazil by TGS. The project will be executed by the Amazon Warrior using proprietary Q technology starting in Q1 2019. The companies report that the Amazon Warrior will be employing its single-sensor Qmarine technology, which they say is suited to environmental conditions offshore Brazil. The 11,200 km2 survey is expected to last approximately 8 months including transits.
Still elsewhere, PGS reports that its UK imaging center aims to deliver first results this spring from a re-processed multi-client 3D (MC3D) pre-stack depth migration (PSDM) dataset offshore Nigeria. This will cover the newly relinquished blocks OPL321 and OPL323, also integrating data acquired in 2004 over blocks OPL314 and OPL315.
The MC3D OPL 314/315/321/323 spans the area between the Benin Embayment and the Benue Trough, and should assist integrated exploration of the northern and eastern Gulf of Guinea.
PGS says the area has numerous similarities to the joint development area and offshore São Tome & Principe, southeast of the Niger Delta. Here large dextral regional transform faults such as the chain transform zone exert a major influence on the tectonic regime.
The northern shoulder of the Niger Delta, the company adds, contains almost all the regional structural domains associated with shale tectonics in the region, barring the deformed and thrusted shale diapiric domain.
Between the 1990s and last March, many fields were discovered to the south and east, including the giant Bosi (1996), Erha (1999), and Oyo North (2018).
The most recent exploration identified at least eight prospects within this petroleum system with potentially billions of recoverable barrels of oil over blocks covered by the present depth-reprocessed survey.
Numerous deepwater channel complexes and shale-cored folds of multi-kilometric scale extend throughout the survey area forming the cornerstones of the Post-Akata exploration.