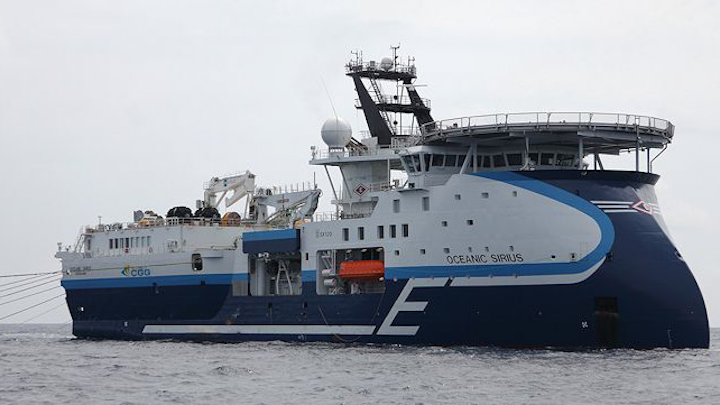 CGG
Offshore staff
MASSY, France – CGG and Shearwater GeoServices Holding have agreed to form a strategic partnership for marine seismic acquisition services and to create a new streamer technology company.  
They have signed a binding term-sheet under which Shearwater will purchase five high-end streamer vessels jointly owned by CGG Marine Resources Norge and Eidesvik Offshore ASA.
The agreement carries mutual commitments of securing CGG access to strategic vessel capacity for future multi-client projects and to provide Shearwater with cash flow and activity for several years.
As for the technology partnership, this will be under the Sercel brand name and CGG's majority ownership, covering development, manufacturing, commercialization and support of marine streamer seismic acquisition systems.
CGG will continue to operate the vessels and perform ongoing acquisition contracts and customer commitments until deal closure.
Sophie Zurquiyah, CEO of CGG, said the arrangement would "create the leader in marine streamer equipment under the Sercel brand with the combination of our proprietary technologies," adding that "Shearwater's modern fleet, global scale and efficient acquisition operations will also support CGG's multi-client projects and provide more flexibility to execute our long-term asset-light multi-client strategy."
Irene Waage Basili, Shearwater's CEO, said the arrangement would "enable us to bring our streamer technologies to the market faster, better and more cost efficiently."
Shearwater operates a global fleet of 16 'high-end' 3D vessels. Following completion of the transaction this will grow to 23 vessels, including three ocean bottom seismic multi-purpose vessels and two dedicated source vessels.
The company will assume net liabilities associated with the vessels at time of completion, and will also take over five complete streamer sets owned by CGG.
Both companies intend to execute final transaction agreements before the end of June followed by closure before year-end.
06/04/2019