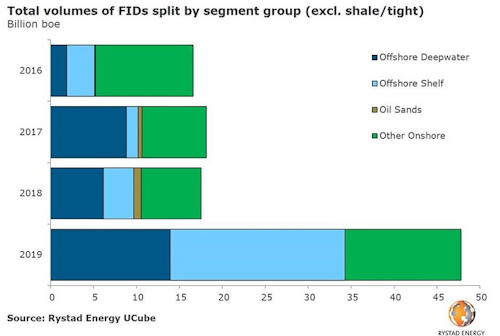 Offshore staff
OSLO, Norway – Rystad Energy says production volumes from new oil and gas projects sanctioned across this year could exceed 46 Bboe, almost triple last year's total.
The predicted figure does not include shale and tight oil and gas prospects.
According to upstream research analyst Readul Islam, deepwater and offshore shelf development is set to surge, with all geographical regions set for strong growth in the sectors aside from Europe and North America.
Rystad has identified three main factors behind the increase in activity:
Project delays: Following the 2014 oil price collapse, operators stepped back to reassess the costs of their planned projects; now they are catching up with lost time. Delayed projects account for nearly one-quarter of the final investment decision (FID) volumes in 2019.
Saudi Arabia: Three major offshore shelf expansion projects look set to go forward that could collectively account for nearly one-fifth of this year's global FID volumes.
Demand for greener fuels: The prospect of an LNG undersupply developing by the mid-2020s should lead to sanctions for natural gas projects in Africa, Australia, the Middle East, and Russia. LNG projects comprise one-third of the estimated FID volumes this year.
02/22/2019