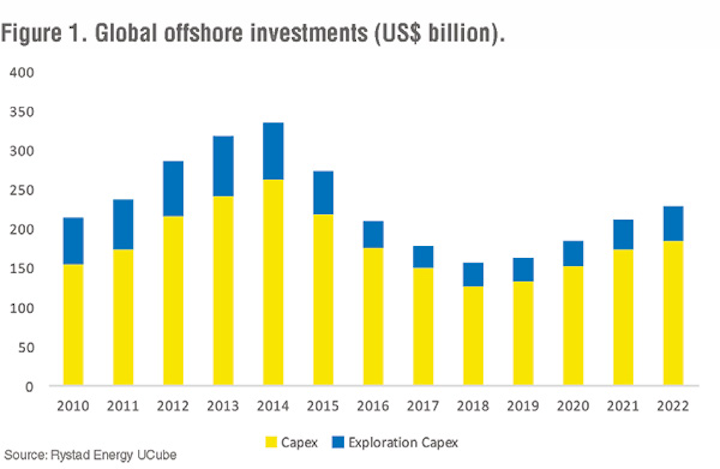 Market predicted to bottom out this year
Emil Varre Sandøy
Rystad Energy
There has been a high uncertainty in the oil and gas market over the last few years. This is highlighted by the introduction of shale oil production, falling oil prices, and cost-cutting measures. This has hit offshore production hard, but now that the oil price seems to have somewhat stabilized, the industry now faces this question: What is the outlook for the offshore oil and gas in this new business environment?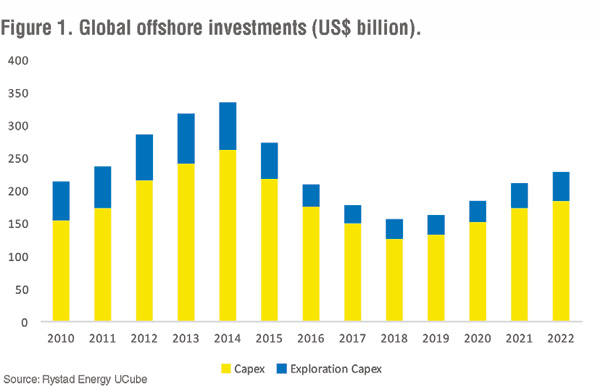 Global offshore investments have been in a steep decline as result of the oil price collapse, after reaching an all-time high in 2014 of $335 billion. In the new price climate, several planned investments became unprofitable and companies have had to rethink how to cut investment costs to make their projects commercial. However, the industry sentiment has turned during 2017 to a more optimistic view of the future. Rystad Energy believes global offshore investments will bottom out at $155 billion in 2018, before we see investments grow steadily year by year going forward. This growth comes from high offshore activity, driven mainly by an increasing oil price and companies' ability to cut costs to improve the profitability of their projects. These two factors are resulting in companies actually deciding to go through with more investments, compared to the last three years. We also see several large projects demanding significant investments in the upcoming years, with Mad Dog Phase 2, ACG, and Bonga Southwest as the most important. Another factor explaining the investment growth is the increased share of ultra-deepwater projects, defined as assets in waters deeper than 1,500 m.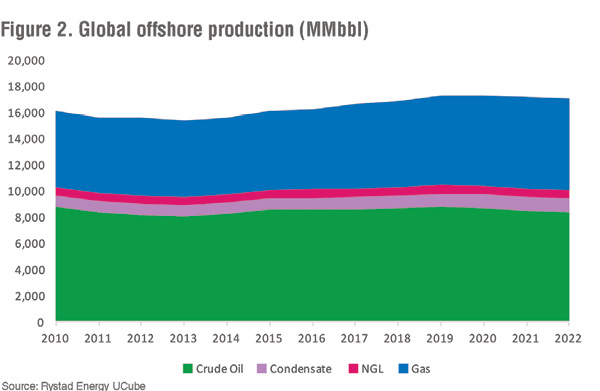 Although Rystad Energy forecasts an increase in global offshore investments from 2019, whether they grow in a healthy manner remains to be seen. As mentioned, investments declined approximately 50% during the four-year period from 2014 to our forecast for 2018. Looking at the following four-year period with estimated growth, 2019 to 2022, we believe investments only manage to recover to $230 billion in 2022. This is still 25% lower than the 2014 high. In other words, we do believe that the industry has learned and will continue to have a strict cost focus, in contrast with the lead up to 2014.
At a country level, the picture is mixed. Both in the years before and after the downturn, the five most important countries, in terms of offshore investments, were the US, Norway, Brazil, Australia, and the UK. These countries' offshore investments summed up to $155 billion in peak year 2014, nearly half of the global total. However, we see slightly different developments after the price collapse and going forward. Norway and Brazil follow the global trend, with investments dropping roughly 50% before recovering to about 70% of 2014 peak investments. The US and UK investments were hit a bit harder, down roughly 65%, and only managed to recover to 60% (US) and 42% (UK) of 2014 levels.
However, for Australia we see the downturn having a significant impact, as we estimate offshore investments to hit bottom in 2018 with $5 billion, before increasing to $8 billion in 2022, still nearly 75% below 2014. The poor recovery in Australia is due to many LNG investments in the years prior to 2014, which subsequently became a lot more expensive than budgeted. With low LNG prices in Asia, these investments have struggled severely with profitability, and companies have largely postponed further investments or deemed projects uncommercial. In addition, offshore exploration activity in Australia has collapsed in recent years, with no signs of a recovery. This resulted in few new projects to invest in, thus prolonging the downturn in that region.
On the production side, global offshore production has been strong in recent years, despite the downturn. Total production has been increasing since 2013, and Rystad Energy estimates a continued growth until a peak in 2020, before it declines in both 2021 and 2022.
If we look at offshore production at a country level, the trends are even more diverse than investments. Rystad Energy forecasts that among the five countries with the highest estimated production in the period – Saudi Arabia, Qatar, Norway, Iran, and Brazil – the trio of Saudi Arabia, Iran, and Brazil are showing strong growth after 10 years of flat development. Qatar offshore production, on the other hand, is showing the opposite trend, being quite stable after a decade of high growth, while Norway production is staying at a stable level with year-to-year volatility. This results in Iran climbing up to the largest offshore producer in 2022, ramping up production after the sanctions against the country were lifted in 2015. The forecast assumes that there will not be any new sanctions imposed on the country which would have a deleterious impact on oil production.
Split into gas and liquids, we see offshore gas production also performing strong moving forward, while liquids have a peak in 2019 before experiencing some decline. The production growth starting in 2013 is due to the sanctioning of many projects in 2009 and onwards, when the oil price increased from $40/bbl to $128/bbl at the peak. However, offshore production is significantly more complicated than onshore production, requiring large investments in equipment that take a long time to construct. Therefore, the results of these increased investments are first visible on production profiles several years after the investment decision. This is also why we have seen strong production during the industry downturn, as several projects sanctioned before the price collapse have come online. Kashagan Phase 1, Hasbah and South Pars phases 17-18, 19 and 20-21 are all such assets, and these five alone increase yearly global offshore production with an estimated 615 MMbbl from 2014 to 2019.
The same relationship is also the cause for the decrease in forecasted liquids production after 2019, namely the impact of the aforementioned decline in investments after 2014. There will simply not be enough new projects coming online to cancel out the natural decline in production. We can clearly see the dynamics in the industry between investments and production, where production follows the investments profile, but with some years lag. Due to this evident relationship, we expect the production will quickly recover again after 2022, as the estimated increased investments post-2018 will result in new assets and thereby new production.
Based on this analysis, Rystad Energy sees higher investments going forward, as activity increases and companies improve the capital efficiency of their projects. Therefore, we believe the global offshore oil and gas market outlook is strong and healthy, and offshore production will be an important part of the future total production.