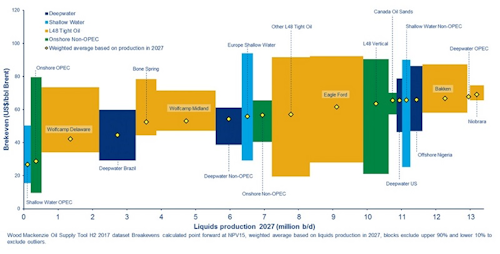 Offshore staff
EDINBURGH, UK – Many conventional oil and gas pre-final investment decision (FID) projects are now cost-competitive with Lower 48 shale break-evens, claims Wood Mackenzie.
Harry Paton, senior analyst, Global Oil Supply, said: "We have seen encouraging signs of improvement inconventional project break-evens.
"Costs have come down significantly since 2015. And the number ofdeepwater FIDs taken at the end of 2017 indicates a mood of quiet optimism in the upstream sector."
Some conventional projects are already competing with US tight oil, he added, such as the giant recent discoveries off Brazil andGuyana. In fact, their combination of large reserves and high-quality reservoirs gives them project break-evens lower even than most tight-oil plays.
In other, more mature sectors, such as theUS Gulf of Mexico or the North Sea, operators have also made strides in bringing costs down and lowering break-evens, he suggested.
However, this new competitiveness has come at the expense of volumes. In 2014, Wood Mackenzie forecast that the new production supply mix would be split 50:50 between conventional projects and US Lower 48 tight oil.
As things stand, US Lower 48 remains dominant, comprising close to 70% of new volumes.
"Production from conventional pre-FID projects today will be considerably lower than Wood Mackenzie's pre-price crash forecasts," Paton explained. "The key driver is the large number of projects which have fallen completely out of the picture because they are uneconomic and have been delayed or cancelled.
"Many projects now in the mix have been changed in scope. Operator mentality has shifted to 'value over volume.' This brings significant cost savings, but takes a chunk out of production for many assets."
03/14/2018