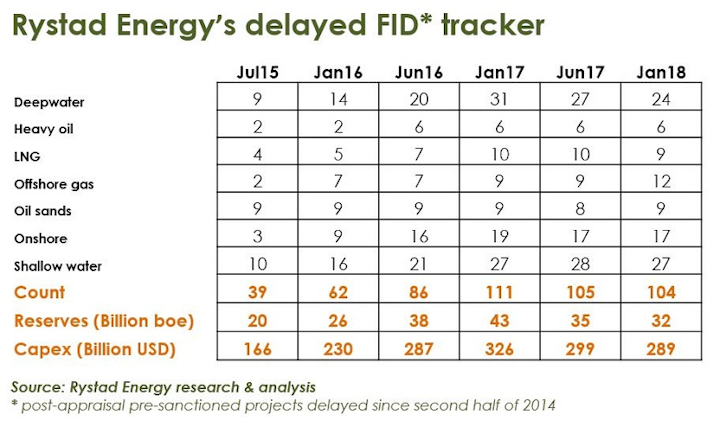 Offshore staff
OSLO, Norway– Delayed projects sanctioned during 2017 more than doubled over the combined count in 2015 and 2016, according to analyst Rystad Energy.
The sanctioning of a pair of Brazilian FPSO projects, a couple of subsea tiebacks in Angola and China, as well as an onshore oil development in the UAE meant 18 delayed projects reachedfinal investment decision (FID) in 2017. The count was two for 2015 and five for 2016, the analyst noted.
The FID counts above refer to delayed projects only, such asMad Dog 2 or the Libra (now renamed Mero) Pilot FPSO, which reached sanction after delays due to various reasons, including the low oil price.
Rystad Energy has tracked FID delays since the second half of 2014 to post-appraisal pre-sanctioned upstream projects. The 25 delayed projects launched since the 2014 oil price drop will develop around 16 Bboe of reserves at an estimated cost of $87 billion to first production.Tengizchevroil's 2016 Tengiz FGP/WPMP expansion in Kazakhstan accounts for about 37% of this spend.
The analyst added that the project count peaked around late 4Q 2016/early 1Q 2017. Last year began with 111 projects and ended with 104 projects.
"With 18 delayed projects finally lifting off in 2017, this means projects were still entering the tracker during 2017," saidReadul Islam, research analyst at Rystad Energy. Seven projects were added during the first half, and four during the second half of 2017.
"The industry has put in a lot of spadework to advance these delayed projects. However, with over 100 projects still in our tracker as we enter 2018, the hard work must continue to maintain 2017's momentum. Complacency cannot be an option," cautioned Islam.
01/22/2018