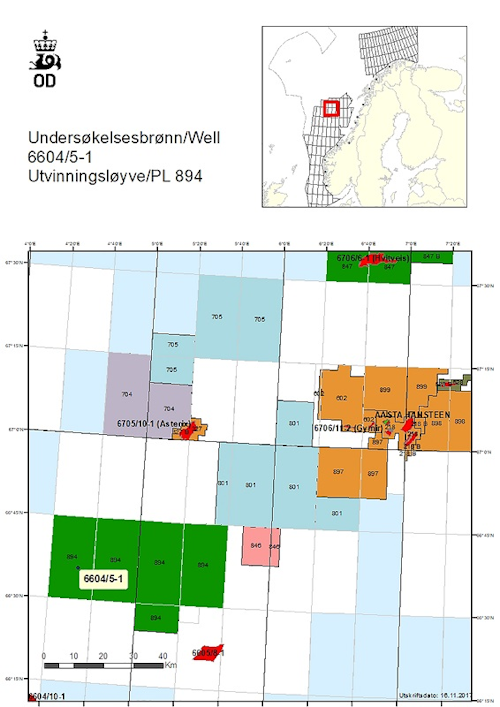 Offshore staff
OSLO, Norway – The semisubmersible West Phoenix has proven a new deepwater gas accumulation for Wintershall in the northern Norwegian Sea.
Well 6604/5-1, on production license 894, was drilled in 1,219 m (4,000 ft) of water, 115 km (71 mi) southwest of theAasta Hansteen field in the northern part of the Norwegian Sea.

It encountered three gas columns totaling around 190 m (623 ft) gross. According to the Norwegian Petroleum Directorate (NPD), the reservoir comprises 90 m (295 ft) of this total, distributed between three different sandstone zones in the Upper Cretaceous Springar formation, with mainly moderate to poor reservoir quality.

Early analysis suggests 7-19 bcm of recoverable gas and 1-3 MMcm of recoverable condensate.The licensees plan to assess the find in relation to other discoveries and prospects in the area, with a view to a potential further development.
The well was not formation-tested, but extensive data acquisition and sampling have been conducted.
This was the first exploration well in the license. TheWest Phoenix will now head to Invergordon in northeast Scotland for reclassification.
In the northern Norwegian North Sea,Spirit Energy has discovered a small oil accumulation discovery on the Tethys prospect in PL 682 on the Måløy Slope, 6 km (3.7 mi) northwest of the Gjøa field.
The initial well, drilled by the semisubSonga Enabler, encountered 20 m (65 ft) of hydrocarbon-bearing poor quality sandstone of Oxfordian age in the Upper Jurassic Heather formation.
A down-dip side track intersected 30 m (98 ft) of sandstone with hydrocarbon shows, again with poor reservoir quality.
Arne Westeng, director of Spirit Energy said: "Although the overall result of wells 35/9-14 and 35/9-14 A is disappointing, the wells confirm that the stratigraphic trapping mechanism for the prospect works.
"This is encouraging for further exploration of the upper Jurassic in this part of the North Sea. The data acquired will be valuable to further develop our understanding of reservoir quality distribution which is critical for maturation of the remaining upper Jurassic prospectivity in the area."
This was the first of eight exploration wells Spirit Energy Norge plans to participate in this year, four as operator.
Following maintenance in Kristiansund, the rig will next drill on the Snorre field for Statoil.
03/27/2018