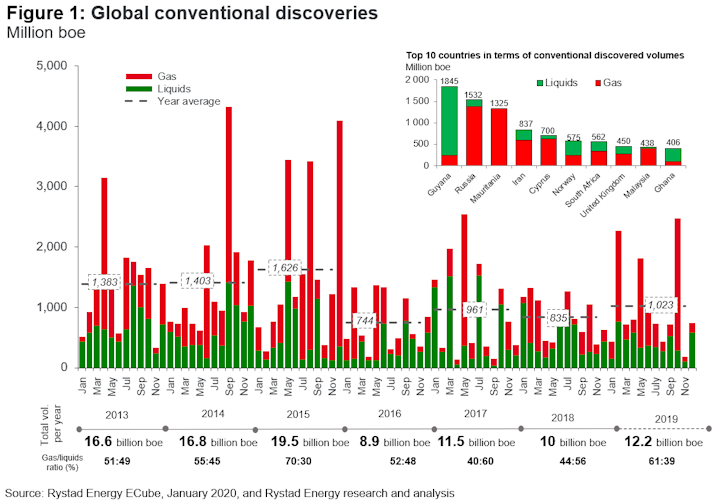 Offshore staff
OSLO, Norway – Exploration worldwide delivered 12.2 Bboe of new resources in 2019, the highest volume since 2015, according to consultant Rystad Energy.
Drilling led to 26 discoveries of fields with more than 100 MMboe, and offshore regions dominated the new oil and gas deposits.
Offshore Guyana, ExxonMobil added made four more discoveries in the Stabroek block, while Tullow Oil's Jethro and Joe exploration wells established the presence of a working petroleum system to the west in the Orinduik block.
Rystad Energy estimates the new Guyanese finds hold cumulative recoverable resources of around 1.8 Bboe.
Off Mauritania, BP's deepwater Orca gas field was the largest single discovery anywhere, containing an estimated 1.3 Bboe. Discoveries in the region now support plans for an additional LNG hub in the Bir Allah area.
Off northern Russia in the Kara Sea, Gazprom discovered Dinkov in the Rusanovsky block and Nyarmeyskoye in the Nyarmeysky block, with estimated combined recoverable resources of around 1.5 Bboe. Rystad ranks Dinkov ranked as the second-largest find in 2019 globally.
Other key offshore discoveries were Total's Brulpadda off South Africa, ExxonMobil's Glaucus offshore southern Cyprus, CNOOC's Glengorm in the UK central North Sea, and Equinor's Sputnik in the Norwegian Barents Sea.
However, according to Rystad senior analyst Palzor Shenga, "it was a disappointing year for high-profile wells as many prospects with significant estimated pre-drill resources failed to deliver.
"Over 10 Bbbl of estimated pre-drill volumes were at stake in wells that failed to encounter hydrocarbons."
In 2020, Rystad Energy expects global discovered volumes to continue the rise of recent years, with several high-impact wells in prospect along with others held over from 2019.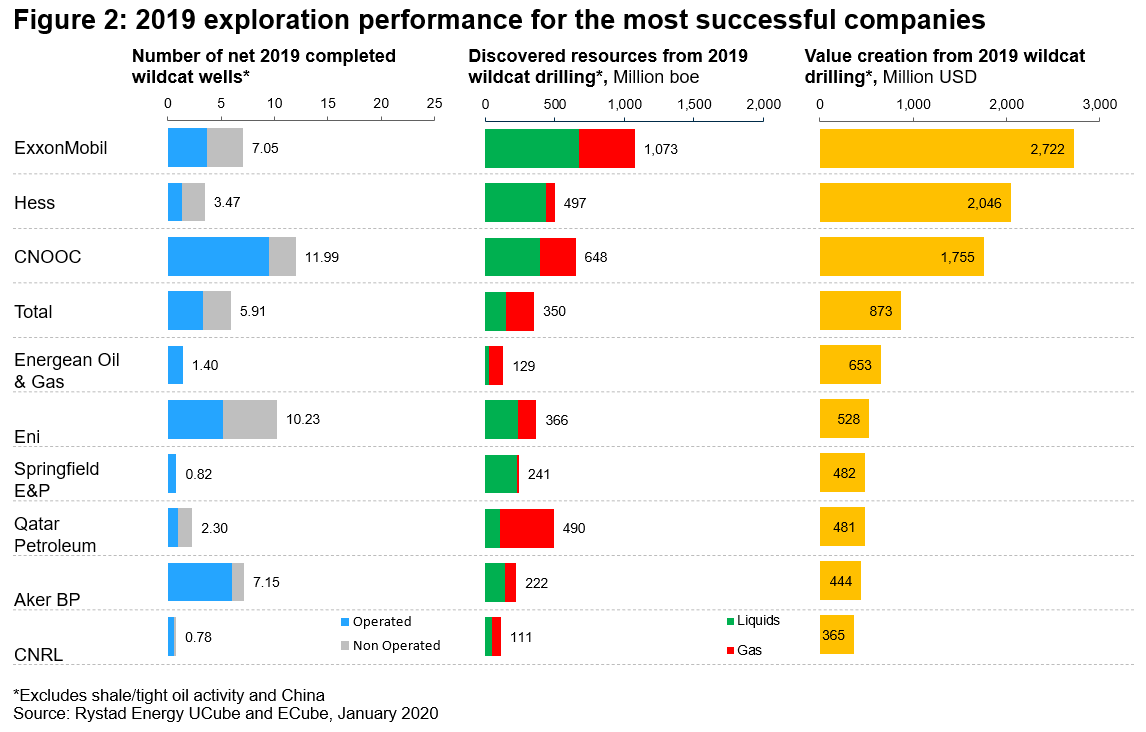 01/09/2020