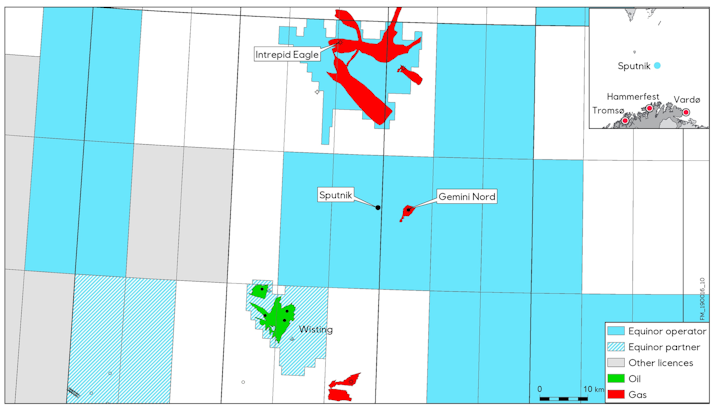 (Map courtesy Equinor)
Offshore staff
STAVANGER, Norway – Equinor and partners OMV and Petoro have discovered oil in the Sputnik prospect in the Barents Sea.
The semisubmersible West Hercules drilled the 7324/6-1 well in license PL855, 30 km (18.6 mi) northeast of OMV's Wisting discovery and 350 km (217 mi) north of Hammerfest.
The well, which encountered a 15-m (49-ft) oil column in a Triassic sandstone reservoir, was drilled to a vertical depth of 1,569 m (5,147 ft). Fluid samples contain light oil and water.
"We are encouraged by this result as it confirms the presence of oil north of the Wisting discovery, where Equinor has acquired a strong acreage position," said Nick Ashton, the company's vice president for exploration in Norway and the UK.
"The geology in the Barents Sea is complex, and more work lies ahead to determine commerciality. But this discovery shows that persistence and our ability to learn from previous well results does pay off."
In 2017, Equinor discovered sub-commercial oil in the Gemini Nord well in a reservoir channel system within the same license.
Last year's Intrepid Eagle well on the concession intersected a 200-m (656-ft) gas column. The Sputnik well has proven oil in a large channel system.
"Detailed fluid analysis combined with geological and geophysical mapping will be carried out to fully understand the commercial potential of the Sputnik discovery," Ashton said.
"If confirmed that the structure comprises volumes that can be recovered in a commercially viable way, the partnership will assess possible development solutions."
The West Hercules will next drill the Lanterna prospect for Equinor in PL796 in the Norwegian Sea.
08/20/2019