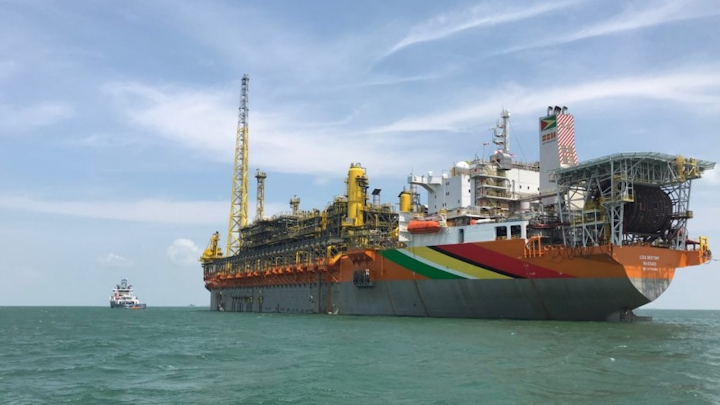 (Courtesy Hess Corp.)
Offshore staff
IRVING, Texas – ExxonMobil has started oil production ahead of schedule from the Liza field in the deepwater Stabroek block offshore Guyana.
Liza Phase 1 is the country's first major offshore development. Production is expected to build to a peak of 120,000 b/d within the next few months.
The FPSO Liza Destiny is moored 118 mi (190 km) offshore Guyana, and is connected to four subsea drill centers supporting 17 wells.
The Liza Unity, which will have capacity to produce up to 220,000 b/d for Liza Phase 2, is currently under construction in China, with front-end engineering design under way for a potential third FPSO, Prosperity, to develop the Payara field in the same block.
By 2025, ExxonMobil expects at least five FPSOs to be in service on the block producing more than 750,000 b/d.
The company assesses recoverable resources discovered to date at more than 6 Bboe. Other partners are Hess Guyana Exploration and CNOOC Nexen Petroleum Guyana.
In addition, the partners made their 15th discovery on the Stabroek block.
Mako-1 encountered about 164 ft (50 m) of a high-quality oil-bearing sandstone reservoir. Mako-1, drilled in 5,315 ft (1,620 m) of water, is about 6 mi (10 km) southeast of the Liza field.
"New discoveries in this world-class basin have the potential to support additional developments," said Mike Cousins, senior vice president of exploration and new ventures at ExxonMobil. "Our proprietary full-wave seismic inversion technology continues to help us better define our discovered resource and move rapidly to the development phase."
12/23/2019