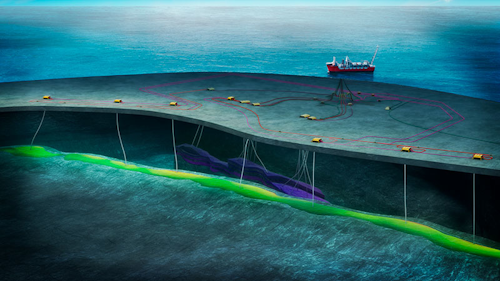 (Courtesy Aker BP)
Offshore staff
LYSAKER, Norway – Two wells drilled this summer close to the Skarv field complex in the Norwegian Sea could collectively contain more than 120 MMboe.
Operator Aker BP estimates that the Ørn exploration well, 20 km (12.4 mi) northwest of the Skarv FPSO, could hold 50-88 MMboe recoverable, while the recently completed Shrek well appears to be in the range of 19-38 MMboe.
Phase 1 of the Ærfugl subsea tieback to Skarv is on track, the company adds, with offshore modification work in progress and development drilling due to start soon.
Remaining technology qualifications for the trace heated pipe-in-pipe system and the new-generation vertical xmas trees are close to completion. Production is expected to follow during 4Q 2020.
By the end of this year, the partners plan to take a final investment decision on Ærfugl Phase 2.
In the North Sea, drilling of the single Skogul field well, a tieback through the Alvheim facilities, had to be suspended after the multi-lateral liner had been set into the reservoir, due to the uncertain availability of the Vilje flowline in time for a clean-up of the well after drilling.
The rig will return shortly to complete drilling on Skogul, with start-up now anticipated early next year.
Aker BP also commissioned three geo-pilot wells on Kameleon and Kneler in the Alvheim area to de-risk future infill opportunities.
The recent Liatårnet discovery in the North of Alvheim and Krafla-Askja (NOAKA) area holds an estimated 80-200 MMboe recoverable.
Aker BP plans further data acquisition and analysis to determine the drainage strategy and recovery factor for the find, and an appraisal well could follow in 2020. The company aims to include Liatårnet in the resource base for an area-wide, hub-based development.
At Valhall in the southern Norwegian North Sea, stimulation operations have been in progress at the field's southern flank and at the field center in order to bring new wells onstream.
Due to delays with the program, Aker BP brought in a second stimulation vessel. Slot recovery has also started on the field center ahead of drilling operations and development of the lower Hod formation.
At Valhall Flank West, the first two wells are currently awaiting stimulation before start-up. The partners have also sanctioned two infill wells on Flank West which will be drilled back-to-back with the six wells originally planned.
In the same region, the Ula field producer that ceased to flow in April will now be re-drilled during the first half of 2020.
10/22/2019