Aker BP finds more oil in NOAKA area
Jul 15th, 2019
Aker BP
Offshore staff
LYSAKER, Norway – Aker BP looks to have discovered Norway's largest new oil and gas field this year.
Operations are close to completion on the Liatårnet exploration well in license 442 in the North Sea, with indications of resources in the range 80-200 MMboe.
Further data acquisition and analysis will follow in order to determine the drainage strategy and recovery factor for the find.
Aker BP operates the license in partnership with Poland's LOTOS.
Liatårnet is in what Aker BP has designated as the North of Alvheim and Krafla-Askja (NOAKA), also encompassing the Frigg Gamma Delta, Langfjellet, Frøy, Fulla, Frigg, Rind and Krafla-Askja discoveries.
It now estimates gross resources in the area at around 700 MMboe.
The company and other partners in the associated licenses have reviewed different development solutions for the NOAKA area. The basic premise is that any development should cover all the discovered reserves and accommodate tie-ins of future discoveries.
Aker BP's preferred concept is a new hub platform in the central part of the area, with processing and living quarters. This, it says, would allow for economic recovery of fields in the area and would be better in terms of exploiting future finds.
Later this summer the company plans a further exploration well on the Nipa prospect in licence PL 986, with estimated potential volumes of 35-115 MMboe.
In addition, the company has issued updates on some of its ongoing Norwegian development projects.
In the Alvheim area of the North Sea, the Volund side track well began producing in late May, while subsea installation was completed last month for the single-well Skogul development. Drilling should begin shortly.
In June, drilling finished on the Frosk Test producer well and first production should follow during the current quarter.
The Rumpetroll exploration well south of Bøyla and Frosk is drilling ahead.
The Alvheim FPSO's riser configuration comprises three buoyant Mid Water Assemblies (MWAs). During an annual ROV inspection one of the tether frame connections on the eastern MWA was found to have failed.
This structure supports various risers and umbilicals, including the production risers for the Vilje and East Kameleon satellites.
It has since been secured in a vertical position, and production from the corresponding wells has been shut in pending repairs.
At the Ula field in the southern Norwegian sector, the original drilling derrick has been removed ahead of an infill drilling campaign.
The jackup Maersk Integrator is now at the Ula D platform and should start operations shortly.
Finally, at the North Sea Ivar Aasen field, the first of two new wells started service last month, with the other set to enter production by the end of September.
07/15/2019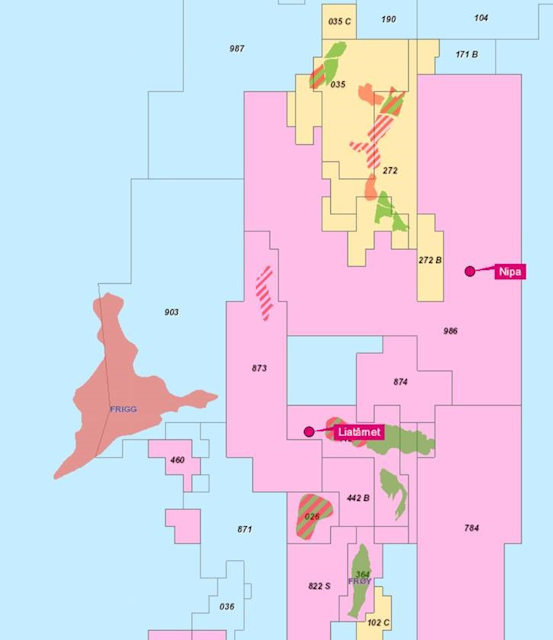 The Liatårnet exploration well is in license 442 in the North Sea.Aker BP