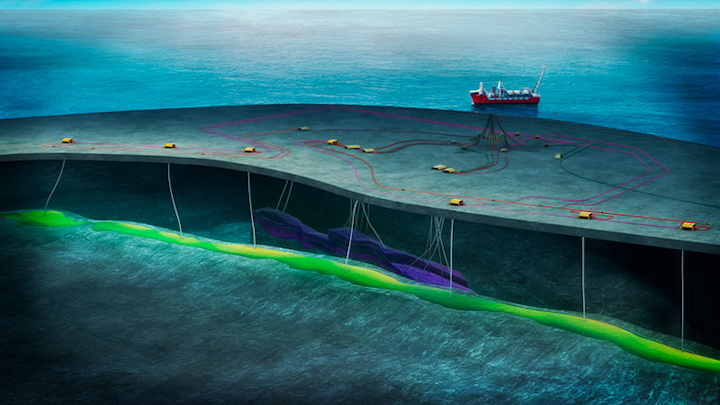 Offshore staff
LYSAKER, Norway – Aker BP has submitted the plans for development and operation (PDO) for three projects offshore Norway with a total estimated cost of NOK15.5 billion ($1.87 billion).
The projects are Ærfugl (ex-Snadd) in the Norwegian Sea, and Valhall Flank West and Skogul (ex-Storklakken) in the North Sea.
Over the fields' life-spans, these developments could generate total oil and gas revenues of NOK100 billion ($12.08 billion) in real terms, the company claimed, assuming a constant oil price of $60/bbl.
Ærfugl
Aker BP describesÆrfugl, including the Snadd Outer structure, as a unique gas condensate field, almost 60 km (37 mi) long and only 2-3 km (1.2-1.8 mi) wide, west of the Snadd field and close to its Skarv FPSO, 210 km (130 mi) west of Sandnessjøen.
Snadd was discovered in 2000 and Snadd Outer in 2012.
Under the first NOK4.5-billion ($543-million) phase, three new production wells will be drilled on the southern part of the field tied and tied into the FPSO via a trace heated pipe-in-pipe flowline, along with the existing A-1 H well. First production should follow in October 2020.
Phase 2 - NOK4 billion ($483 million) - remains subject to further maturation, but provisionally will add two wells to the northern part of the field and one on Snadd Outer, also tied into the FPSO, with an estimated production start in late 2023.
Aker BP estimates remaining reserves for the full-field development at around 275 MMboe.
The project will also extend the economic field life of the FPSO and thereby allow for increased recovery too from the Skarv field.
Earlier this week the company, following approval from Norway's Ministry of Petroleum and Energy, the company issued field development contracts to Subsea 7 for the SURF facilities and to Aker Solutions for the subsea production system.
Both contracts carry options for the Phase 2 scope.
Kalmar Ildstad, assistant director for Development and Operations, Norwegian Sea at the Norwegian Petroleum Directorate (NPD), said: "The licensees have done a good job optimizing value creation. Costs have been reduced and the reserve basis has increased."
Partners in Ærfugl (Skarv Unit) are Aker BP (operator, 23.835%), Statoil Petroleum (36.165%), DEA Norge (28.0825%), and PGNiG Upstream Norway (11.9175%).
Partners in Snadd Outer (PL 212 E) are Aker BP (operator, 30%), Statoil Petroleum AS (30%), DEA Norge (25%), and PGNiG Upstream Norway (15%).
Valhall West
Valhall is one of Norway's largest offshore oil fields, in the southern Norwegian North Sea. The Valhall Flank West project is targeting continued development of the Tor formation on the field's western extent, with start-up slated for 4Q 2019.
Production will be through a new wellhead platform, a 12-slot normally unmanned installation with helideck access, tied back to the Valhall field center for processing and export.
Development calls for drainage via natural depletion, with the option for future water injection. Aker BP plans to drill six producer wells, two of which could be converted into water injectors.
The platform will be fully electrified, and designed for low maintenance. It will be remotely operated from the Valhall field center.
Aker BP estimates recoverable reserves for Valhall Flank West at around 60 MMboe, and total costs at around NOK5.5 billion ($664 million) in real terms, a NOK1.5-billion ($181-milion) reduction on previous plans.
Assuming the company secures approval to acquire the 64.05% interest currently held by Hess Norge, and to admit Norwegian independentPandion Energy as a 10% shareholder in Valhall and the Hod fields, Aker BP will have a 90% operated stake in the project.
According to the NPD, the recovery rate from the Valhall chalk field area is currently around 27%, but the plan is to increase this to more than 40% by 2042.
Under an EPCI contract, Subsea 7 will manage a 4-km (2.48-mi) tieback of the new platform to the Valhall field center, the facilities to include an umbilical and riser system.
Offshore operations should start next year and finish in 2019.
Skogul
Skogul is 220 km (137 mi) northwest of Stavanger and 30 km (18.6 mi) north of the Alvheim FPSO, and will be developed as a subsea tieback to Alvheim.
Aker BP assesses the field's recoverable reserves at around 10 MMboe, with total investments in real terms of NOK1.5 billion ($181 million). Production should start during 1Q 2020.
This will be one of the smallest fields in the Norwegian shelf, the NPD said, with reserves of around 9.4 MMbbl of oil.
Development involves drilling a single two-branch well at Skogul from a subsea template tied in to the facilities serving the satellite Vilje field, and connected via the pipeline from Vilje to Alvheim. Skogul's oil and gas will be processed on the floater.
This will be subsea production well number 35 in the Alvheim area. PGNiG Upstream Norway is the other partner.
Subsea 7 has the EPCI contract for the subsea tieback, and will deploy its pipe-in-pipe technology. Offshore operations are scheduled for 2019.
12/15/2017