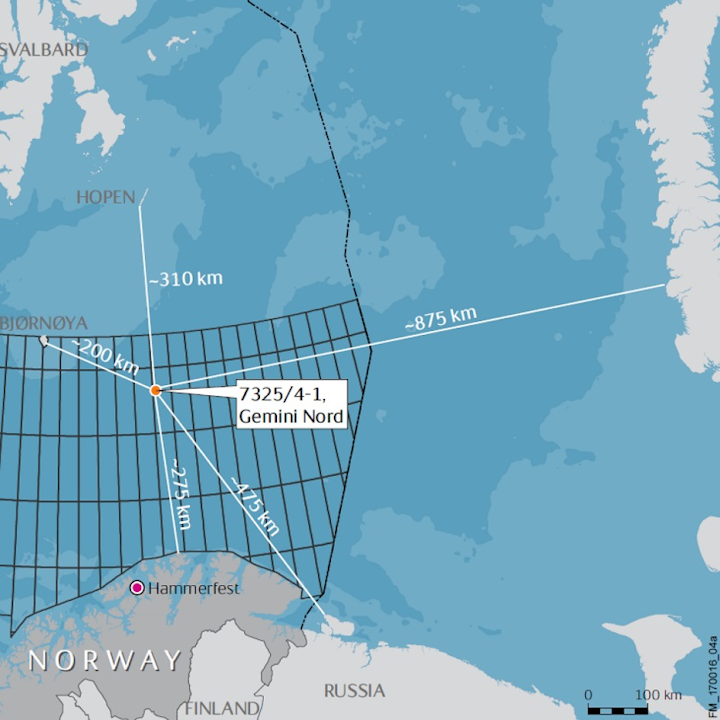 Offshore staff
STAVANGER, Norway – Statoil has recorded its second successive gas discovery in the Barents Sea, although the find in the Gemini North structure appears to be non-commercial.
Like the previousBlåmann discovery, this well had targeted oil, at a location 30 km (18.6 mi) north of OMV's Wisting oil field. Well 7325/4-1 was the first well drilled on license PL 855.
According to the Norwegian Petroleum Directorate it encountered a 19-m (62-ft) gas column in the Stø formation, and a small oil column of about 5 m (16.4 ft) in a low-grade sandstone reservoir.
Statoil estimates recoverable volumes at 2-6 MMboe.
The semisubmersibleSonga Enabler will next drill the Korpfjell prospect for Statoil in license PL859 in the southeastern Barents Sea, followed by another wildcat (well 7317/9-1) in PL 718, 75 km (47 mi) northwest of the Pingvin discovery 7319/12-1 and around 370 km (230 mi) from Hammerfest.
08/07/2017