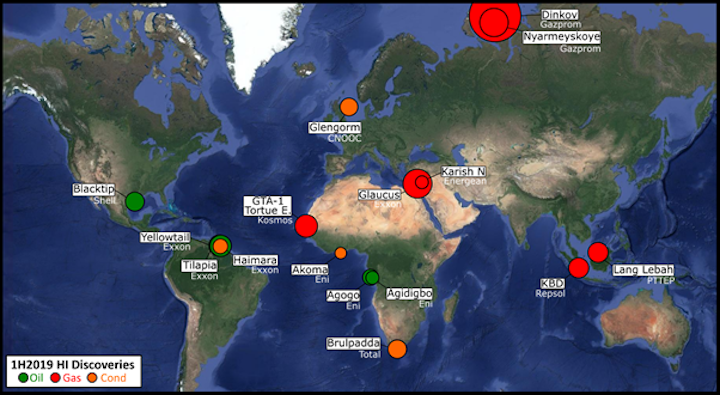 (Map courtesy Westwood)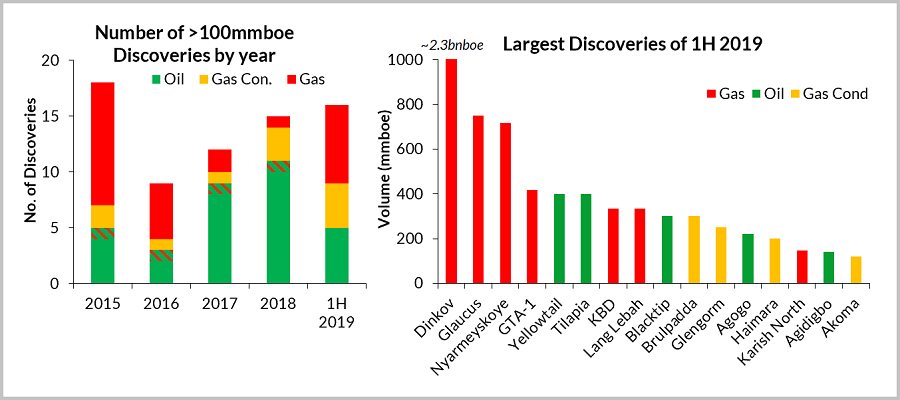 Number of >100 MMboe discoveries and largest discoveries (>100 MMboe) recorded by Westwood in the first half of 2019Offshore staff
LONDON – In the first half of 2019, 51 high-impact exploration wells were completed, compared to 36 in the same period in 2018, according to Westwood Global Energy.
Senior analyst Jamie Collard said gas discoveries are up and oil down on 2018. The commercial success rate has also improved, running at 37% so far compared to ~27% recorded in 2017 and 2018.
In the first of the year, 16 discoveries estimated to be larger than 100 MMboe were made, with the largest discoveries all being gas at Dinkov (~14 tcf) and Nyarmeyskoye (4.3 tcf) in the Kara Sea offshore Russia, and Glaucus (4.5 tcf) in the Eastern Mediterranean offshore Cyprus. The largest oil discoveries are at Yellowtail and Tilapia offshore Guyana, both at more than 300 MMbbl. 
In addition, 18 frontier play tests were completed with only one potential commercial play opener, at the Brulpadda-1AX well in the Outeniqua basin offshore South Africa.
High-impact emerging play exploration was dominated by the Upper Cretaceous Liza play offshore Guyana, the Pliocene deepwater clastic play offshore Trinidad, and the Cretaceous gas play in the south Kara Sea, according to Collard. High-impact success was also seen in maturing/mature plays, including Eni's prolific block 15/06 offshore Angola (Agidigbo and Agogo) and at CNOOC's Glengorm discovery in the UK central North Sea.
Westwood projects that a further ~35-40 high-impact exploration wells will be completed by the end of 2019, resulting in more than 85 for the year, a ~35% increase on 2018 levels. The analyst estimates that a total of ~10 Bboe could be found by the end of the year, delivering the highest volumes from high-impact exploration since 2015.
Drilling in maturing and mature plays is expected to drive the increase in the well count with the frontier program expected to remain roughly in line with 2018, at around 32 frontier wells.
High impact drilling "hot-spots" will be the Suriname-Guyana basin, the MSGBC, the Gulf of Mexico, and northwest Europe, which is expected to have at least seven more high-impact wells, in addition to the 17 completed in 1H 2019. However, high-impact success in northwest Europe in the first half of the year has been limited, with only Glengorm estimated to be >100 MMboe.
According to Westwood, key wells to watch in the second half of the year include CNOOC's Iolar well in the Porcupine basin offshore Ireland, targeting a frontier Upper Jurassic play; Eni's Aspen well in the southern North Sea, targeting a frontier Carboniferous carbonate play; and Sculpin in the Gippsland basin offshore Australia, targeting a frontier Late Cretaceous–Paleogene clastic prospect, in much deeper water than previously explored in the basin.
08/12/2019

High-impact exploration activity levels, success rates and finding costs 2015-1H 2019 with 2H 2019 projection(Courtesy Westwood)