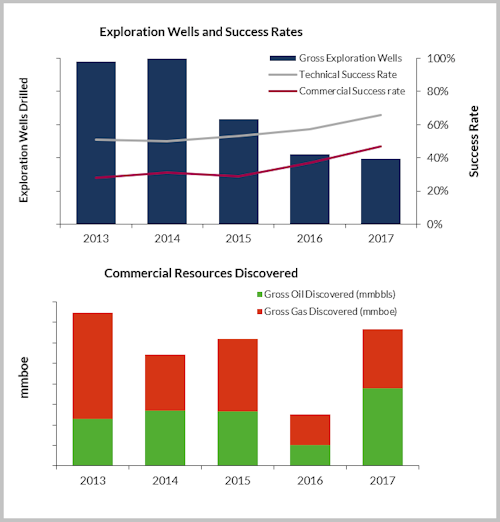 Offshore staff
LONDON – Westwood Energy's 2018 State of Exploration Report has identified renewed optimism for the sector thanks to higher oil prices and improving exploration performance.
According to Research President Keith Myers, the cost of exploring has fallen by more than 50% since 2013/14 while at the same time fewer companies are competing for acreage.
Success rates have improved as lower exploration budgets have led to companies being more selective, he added.
Last year brought various large findsoffshore Guyana, while new deepwater geological models have emerged, and Mexico's opening of its offshore plays to IOCs has already led to successes.
However, frontier success rates remain low, the report claims, and exploration performance remains variable.
Last year, the volume of exploration drilling activity was similar to 2016 but performance was strong, the report found, with discovered volumes more than double that of the previous years, and overall commercial success rates rising to a record high of 47% with at the same time and record low finding costs of <$0.5/boe.
Volumes were influenced by a few large discoveries, mainly in deepwater plays such asGuyana and Senegal. Guyana emerged as the biggest new oil province since the Brazil presalt.
This year, Westwood expects exploration drilling to grow by 12% and budgets by 7%, with around 60 high-impact wells planned globally for the remainder of the year, mainly in the Atlantic margins, the Gulf of Mexico, and the Caribbean.
But the higher-risk profile of this year's wells means that the gains from 2017 may not be sustained.
05/09/2018