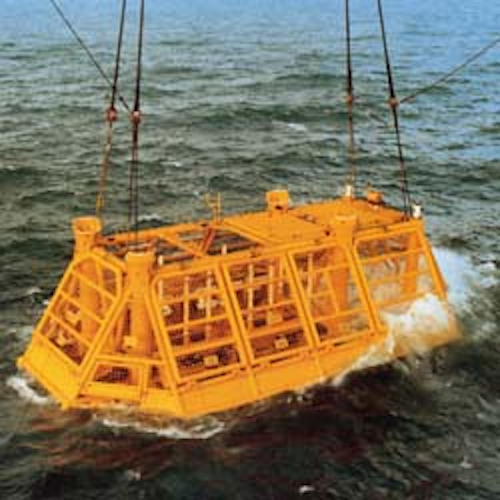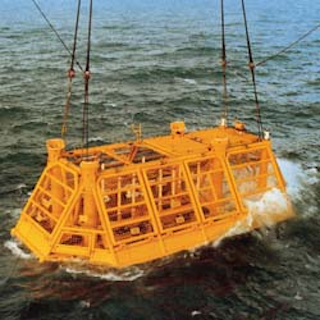 Hamilton's Johnstone template in the UK North Sea is protected by International Protective Coatings' subsea coatings range.
Health and the environment remain the key influence in the development of paints and coatings for offshore installations. Apart from reducing VOC content, manufacturers are developing more eco-friendly blast techniques for removing old paint layers during maintenance. They are also working on longer-life coating systems which demand less regular maintenance.
Norwegian company Jotun teamed up with Statoil and the Oestfjold Research Foundation to evaluate life cycle effects of surface maintenance systems. The computer model they employed examined environmental impact, from extraction of raw materials to application to in-use service to eventual disposal. It also examined overall costs of coating, including surface pre-treatment and finishing, maintenance and materials transport.
Results of their efforts were two new products: one, called Baltoflake Ecolife, is a high-build polyester coating reinforced with glass flakes which also blocks the penetration of moisture. It contains no health-threatening isocyan-ates, styrene or lead tar.
In addition, a combination of high solids content (98% by volume), long-lasting protective properties and a VOC content of just 5g/liter all add up to a 60% reduction in VOC emissions over a 25-year lifespan compared with advanced epoxy systems, according to Jotun.
Life cycle costs can be at least 25% lower due to longer maintenance intervals. The research trio's 25-year life cycle analysis, which was based on typical North Sea corrosion rates and cost levels, showed that Baltoflake Ecolife worked out most economical of all recognized corrosion protection systems.
Due to a curing time of just two hours, and the fact that dry film thicknesses up to 1,500 microns can be applied in a single coat, it can cut maintenance shutdown periods by up to 80%. The dry film thickness also reduces the risk of de-lamination and blistering. These benefits persuaded BP Norge to add the new system to its Gyda and Ula platforms paint specification.
The other new product is WaterFine, a water-borne coating system comprising a two-component primer, epoxy and intermediate coat and a single-component topcoat based on an acrylic polymer binder. The solvent-free, inorganic zinc-silicate primer cures at temperatures down to 5C and at maximum relative humidity of 85%.
VOC content in the intermediate coat is just 6g/liter, with active anti-corrosive pigments and strong resistance to water. The topcoat combines good water and weather resistance with high gloss retention, freedom from yellowing and VOC content of 90g/liter.
One thousand-hour tests (including UVA exposure, thermal shock and salt spray) showed that over a long working life, WaterFine protects against corrosion with minimum VOC emission. Compared with a reference system, it created 80% less discharge to the air and half the level of skin contact hazards.
Based on the model for the joint project, Jotun has introduced a PC program which allows users to calculate the life cycle cost of any coating system. It takes into account all coating considerations for the construction and maintenance stages.
Firetex M90 on test at Spadeadam: at top, 9 meter sections coated with M90; centre, mid-test showing the specimens from the direction of the nozzle; bottom, post-test showing the specimens with intact char.

---
Hydroblasting
For the past two years, International Protective Coatings (IPC), part of the Courtaulds group, has been leading a global environmental initiative for coating systems called Ecotech. This is aimed at reducing emissions of solvents to the atmosphere and eradicating use of raw materials considered hazardous to health, such as potentially carcinogenic coal tar. All of IPC's coatings for the offshore sector are Ecotech-compliant.
But there are other avenues for protecting the environment. One is the use of hydroblasting for maintaining anti-corrosive systems on steel: this method employs water under high pressure to clean the structural surface. Unlike gritblasting, the method traditionally favored in offshore construction yards, no abrasives are used, which eliminates dust pollution, and surface preparation quality is not compromised.


According to Ian Walker, IPC's protective coatings marketing manager in Europe, hydroblasting is not as quick as gritblasting, and it can only be used for maintenance: removing a layer of coating to its old profile. But the cost is comparable to gritblasting and much cleaner - and gritblasting is increasingly being regulated for safer application.
IPC has adopted its own hydroblasting standards which the ISO is looking to adopt. It has also developed versions of its Interseal, Interplus and Interzone coating systems suited to this method on structures made of steel comparable to two rust grades in the ISO's surface preparation standard. These cover a range of pressures from 10,000 to over 25,000psi (ultra-high pressure hydroblasting).
Also improving the environment is IPC's Intersleek fouling control system, based on novel elastomer technology. Unlike conventional anti-fouling paints which use biocides to control fouling, Intersleek works by providing a smooth, low-energy surface onto which fouling organisms can't get a firm grip. As no biocides are released, marine life is unharmed.
Intersleek was used on the jack-up legs of the Liverpool Bay Pioneer, a drilling rig converted into an accommodation and utility support platform for BHP's Liverpool Bay project. Protection for the legs was necessary against marine growth and fouling which could have increased wave loadings on the structures. Interzone 1000 glass flake epoxy was also used widely to protect against corrosion on the leg sections. IPC has to date supplied over 80,000 liters of paint for the project.
Low temperature
Aside from the impact of paints on the environment, the offshore industry also worries about the impact of the environment on paints. Fabrication contracts are increasingly incentivized: in open-air yards, weather extremes can threaten completion of construction by the targeted date.
The molecular engineering and high solids formulation of IPC's Intercure allows curing even in temperatures down to -5C. An alternative version of Intercure, for normal temperatures, dries in two to three hours, allowing three coats to be applied to structural steelwork in one day compared with one coat previously.
Leigh's Paints, Bolton, England has developed Winterfast, a range of low temperature epoxy coatings claimed to provide curing in less than half the time of conventional epoxies, especially in temperatures down to zero. These can be applied by airless spray, brush and roller. Multiple coats can also be applied in one day.
For new construction purposes, Winterfast is available in four versions: an anti-corrosive zinc phosphate primer/ undercoat; a micaceous iron oxide (MIO) epoxy for use as an undercoat or finish; a zinc rich primer for protecting blast-cleaned steel surfaces; and an ultra high build, abrasion-resistant micronised glass flake epoxy. The latter's anti-corrosive pigments eliminate the need for a primer in many cases: dry film thicknesses from 250 up to 1,000 microns are achievable in one coat without sagging.
Three high-build Winterfast systems are available for maintenance purposes: an aluminium coating suitable for rusty surfaces; another MIO epoxy for use as a brushing undercoat or finish; and the M905 undercoat for use with other Leigh's primers or finishes. All can be applied at film thicknesses up to 125 microns to dry in just one coat.
At the opposite temperature extreme, offshore operators need coatings that can withstand the fierce and sudden heat generated in hydrocarbon and jetfires. Last autumn Leigh's launched Firetex M90, an epoxy intumescent passive fire protection material. This generates a char claimed to be tougher and harder than that produced by thin film intumescents, resulting in an insulating layer with superior integrity.
A 1.5 sq meter open sided test piece in this material had already passed indoor jetfire trials at Sintef in Norway. The flame was generated 1.5 metres in front of the testpiece, burning up 2.5 tonnes of gas.
This year a more severe test was performed at British Gas' Spadeadam research facility in Cumbria, England. The trial investigated the scrim and steel mesh reinforcement systems that are used with Firetex M90.
Two 9 meter lengths of steel with an Hp/A factor of 105 were submitted to a 20mm diameter nozzle flame thrower positioned 9 metres away. Feeding through a natural gas mass flow rate of 3kg/s, a flame length of 15-20 metres resulted. Each half of the two specimens used steel pins and mesh plus jetfire scrim, with the other halves employing just jetfire scrim.
The aim of the test, which lasted 80 minutes, was to keep the steel core of the two specimens below 400C for one hour. In fact, registered temperatures after one hour were 156 and 291. Tests were witnessed by DnV, Lloyd's, British Gas, and the UK Health & Safety Executive.
Firetex M90 has been picked for BP's UK Andrew drilling and production platform and for the Brown & Root monopods for Amoco's Davey and Bessemer fields in the UK southern gas basin. It can also be retrofitted for maintenance purposes: fire protection coatings on over 600 sq metres of Shell's Tern installation are being replaced by M90.
Leigh's offers a complete system from primer to topcoats: previously, it says, the oil industry had to source the various coats from different suppliers. M90 provides protection up to H120 and J120 on all types of structural steel members, bulkheads and deck areas. The solvent-free formulation allows film thicknesses from 1-7mm in one application.
One of the longer established suppliers of epoxy fireproof coatings is Textron Specialty Materials in Lowell, Massa-chussetts. Its key product for the offshore sector is Chartek IV, a spray-applied epoxy intumescent material which expands, foams and chars up to several times its original thickness when exposed to a fire.
Its filled resin system has a low specific gravity which, coupled with its mechanical and physical properties, results in weight and cost savings of up to 30% over competing materials, according to Textron. No harmful solvents are used during application.
Prestige new projects which will feature Chartek IV include Shell's Ram-Powell TLP on much of the steelwork, bulkheads and underdecks, and BP's Foinaven floating production ship.
Here Chartek IV will provide exterior protection on the duplex system used on pipes and pressure vessels. Alderley Materials in Wickwar, England developed the Contratherm C5 insulating layer. Temperature range for this duplex system is -70 to +120C. Phillips' soon to be onstream Judy platform is the UK's first new offshore construction project to employ Chartek IV and also Textron's HK-1 reinforcement system.
Ameron, in Geldermalsen, The Netherlands has developed a new patented chemistry called PSX Engineered Siloxane, claimed to offer a "quantum leap" in heat resistance, long-term durability, protection from corrosion and degradation and loss of gloss.
Polysiloxane is any polymeric structure that contains repeating silicon-oxygen groups. While other coatings have organic carbon-carbon bonds in the binder backbone, Ameron designed an essentially inorganic binder with a pure polysiloxane backbone.
This silicon-oxygen structure is said to be stronger and more durable than the carbon-based structure in organic polymers, and can be tailored to hybrid formulations that meet environmental requirements without degrading performance. Based on the technology, Ameron introduced PSX 700, a siloxane modified epoxy coating combining the properties of a high performance epoxy and an aliphatic polyurethane topcoat.
Solids volume is 90%, with no isocyanate content. Extensive life means less frequent re-painting, with curing possible down to 0C. It can be applied directly over inorganic zinc, and corrosion and chemical resistance are said to exceed those provided by an epoxy coating.
Copyright 1995 Offshore. All Rights Reserved.