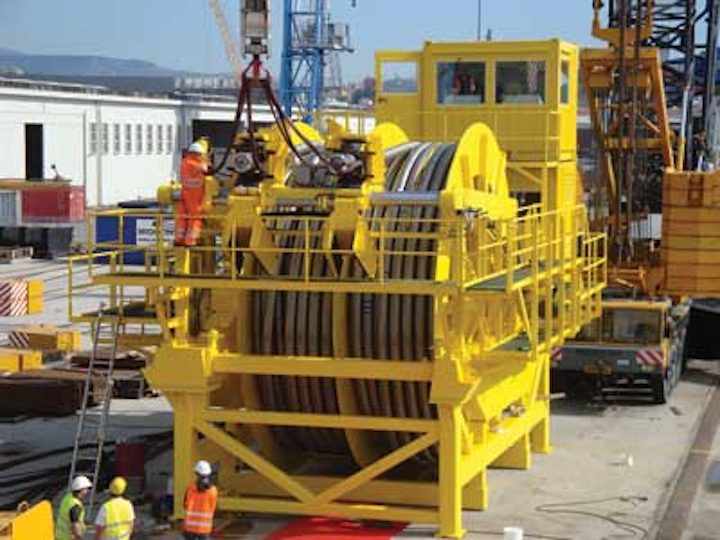 Remazel Engineering is looking to play its part in the offshore development boom in Brazil and the Far East.
The company, a specialist designer and builder of winches, mooring and pipe-laying/handling systems, previously worked exclusively for Saipem, with headquarters in nearby Milan. But following the strategic agreement signed last year, it is now free to pursue other clients and partners, which today include SBM and Chinese shipbuilding group COSCO.
Remazel equipment is installed on Saipem's entire fleet of drilling rigs, FPSOs and heavy-lift/pipelay vessels. This includes the newly-built pipelayerCastorone, for which the company supplied a 750-t double capstan/storage A&R winch and associated 750-t retractable sheave. Remazel is also designing the traveling arm winch for the planned giant J-lay tower, which will be added if Saipem is awarded a contract for a major new pipeline in the Mediterranean Sea.
The company was formed following a merger between Rema Engineering and Zambetti e Lumina. "Historically, our core business has been for pipelay vessels," said Remazel Sales Director Paolo Zani. "We can supply all equipment involved in the firing line, from the A&R winch to the stinger system. Today our equipment covers pipelay vessels, FPSOs, and drilling units as well with a wide portfolio of products we can offer." Saipem's always looking for a high level of equipment reliability, and in our case strong machines offering a high degree of redundancy.
"However, this was also presenting a problem for us as we looked to branch out, because the philosophy of other operators and installation contractors was different. The market was looking for more tuned products, and sometimes less customized but always with a high level of reliability. Our machines, by comparison, were bulkier being heavier-duty and the market approach we had since last year has obliged us to go through an intensive design review to reduce the costs but keeping the reliability and the performances at the top. And this will help us also with Saipem which of course remains as our primary client."
Following relaxation of the strategic agreement, Remazel embarked on an intensive marketing campaign focused on Brazil, China, North Europe, and Southeast Asia centered by Singapore. In June 2011 it formed a joint venture in Singapore called Rematech Offshore with three British companies specializing in complimentary equipment to Remazel's for floating production systems – offloading technology, drag chains, swivel stacks for turrets, and diverless bend stiffeners connectors. This provided the clout to bid to contractors in the region such as MODEC for FPSO offloading or Jurong for mooring systems. Remazel also appointed representative agents in Brazil and Houston.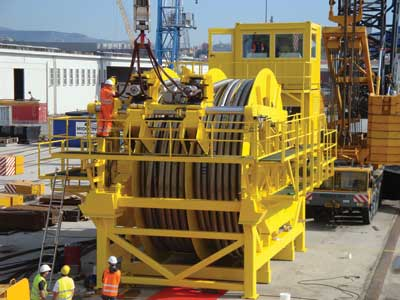 Remazel equipment is installed on Saipem's entire fleet of drilling rigs, FPSOs and heavy-lift/pipelay vessels.
"This produced results," Zani explained, "as from the beginning of 2012 we started receiving enquiries from the big clients of the offshore market, such as Technip, SBM, Allseas, and from Singapore for several projects. We already got the order for some of them and we are now negotiating other important contracts, we are confident to progressively increase our market position."
In the middle of last year, Remazel also received an order from Brazilian shipbuilder Ecovix for eight identical mooring systems and fairleads for the presalt Tupi and Guara FPSOs under construction for Petrobras. The contract, valued approximately at $100 million, was subsequently changed due to local content requirements, and Remazel has been appointed as engineering advisor by Ecovix. "Now the situation is changed and we are discussing the possibility to enter again into the contract in a more direct way. If we are successful, we will produce some of the equipment items at our plant in Costa di Mezzate, and the rest in Brazil with final assembly at the Rio Grande do Sul Shipyard." Total weight of the consignment is over 6,000 metric tons. The equipment must be adapted to fit a very narrow space on deck. "We have to find a solution for the chain locker and storage, and we have to develop a mooring procedure to pay chain in and out. If we are successful, the first units would need to be delivered between June and November next year, a very tight schedule. To do this, we will need to bring in sub-suppliers in Italy and Brazil, and we will also need to open a local plant in Brazil, and to train a local workforce."
In January this year, the company signed a cooperation agreement with COSCO to jointly develop a new site near Nantong in China. "COSCO is preparing a factory naming COSCO Heavy Industry Co. (CHIC) which will fabricate our machines, starting by the end of 2013. We will train their workforce in fabrication and assembly, initially with relatively easy items such as mooring systems, then moving onto more complex items such as winches. The joint venture is not bidding at present for offshore projects, but if we do win an order, we would fabricate initially in Italy then start production in China for the need of Chinese offshore market. In parallel Remazel is developing sales and marketing in China, approaching all the offshore-specialist shipyards directly."
Remazel, with a permanent staff of approximately 100 employees, focuses on high technology equipment with a strong engineering content not only for the offshore industry but also for the onshore market with the design and fabrication of equipment for power plants.