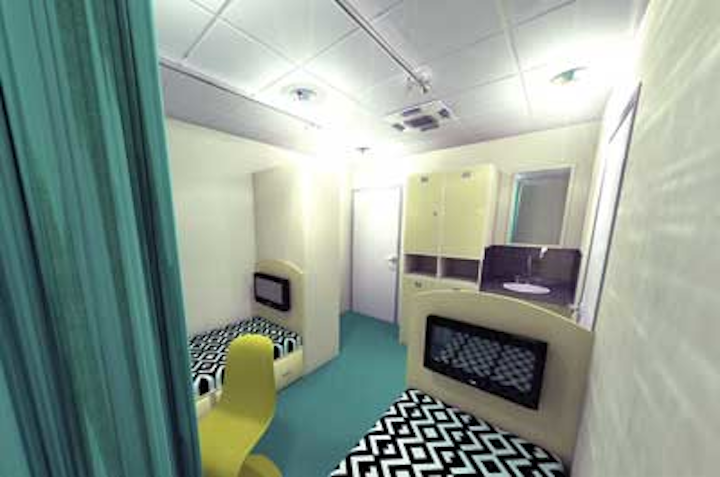 Extended drilling operations in harsh or remote offshore regions are placing increasing demands on drill crews. The same applies to staff on seismic acquisition vessels operating for long periods in frontier areas, and to platform personnel based in cold or humid environments.
"Quality of Life Services" specialist Sodexo, founded by Pierre Bellon in Marseille in 1966, has been attending to the offshore sector's needs for more than 40 years, adapting its services to reflect changing priorities. For sought-after younger offshore engineers and technicians in particular, this can mean creating a more comfortable and stimulating offshore workplace, leading to improved productivity. The overall goal is to relieve installation owners of day-to-day staff demands, leaving them freer to focus on technical performance and safety.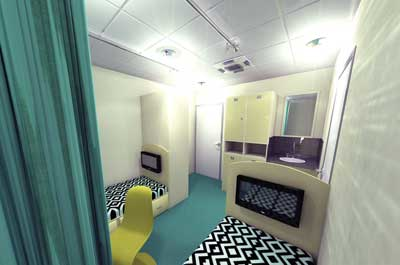 Offshore accommodations unit.
Sodexo's wide-ranging services offshore include accommodation design and refurbishment, electrical engineering and plumbing, supervising crew changes and helicopter landings, food services, housekeeping, laundry, waste management, and personalized physical fitness/motivation programs. Currently, the company is active on 500 offshore sites in 35 countries, according to Sodexo Western Region COO Simon Seaton, based in Houston.
"Offshore there are three global players with a presence to some degree in every market, often competing in regions with local service providers that are more onshore-focused. There are also niche offshore competitors in fields such as food services. But on a global basis, we are the market leader. There is tremendous growth for our type of services everywhere.
"Our clients fall into two main groups. Drilling contractors, such as Rowan, Seadrill and Transocean, account for two-thirds of our offshore business. The others are largely oil and gas operators, with many large, fixed facilities in the North Sea, where Talisman, BP, and ConocoPhillips are big clients for us. Within that mix, some of the facilities are managed by duty holders and we work with them on their behalf."
Some of the arrangements are master service agreements involving provision of support services on a call-out basis. More typically, Sodexo works under one- to three-year contracts (or longer) with extension options. "Mostly clients contract us on a regional basis, i.e. in the North Sea, Gulf of Mexico, or the Middle East only, although some such as Seadrill engage us under a global frame agreement." In this case, Sodexo's Global Offshore and Marine Center of Excellence oversees all catering, cleaning, and janitorial services on Seadrill's worldwide rig fleet.
Offshore India, the company ensures food supplies to 12 Transocean rigs working on shallow water and long-term deepwater programs, necessitating a constant three months stock of food onboard. "I understand the difficulties of remote sites logistics, having worked 22 years myself for a traditional oilfield services company," Seaton said. "But because Sodexo deals with food, it's even more complex considering the additional challenges of hygiene, temperature, and food safety." Additionally, Sodexo assists Transocean with implementing safety regimes offshore, monitoring key performance indicators, and providing training for accident reporting procedures.
"Another of our goals is to be engaged as early as possible in the design of the client's newbuild facilities, in order to create the right atmosphere to ensure that their crews get the rest, privacy, and nutrition they need. We follow rig newbuilding programs, for example, and try to get involved in the construction process at the yards in the Far East. Often these projects are driven by technical specifications, with less thought given to the accommodation areas.
"We also refurbish existing offshore installations. In the North Sea, some platforms designed for a shelf life of 10-15 years have remained in service for 40 years. But the living quarters are not always what a modern workforce expects. We can assist with re-design, which we have done, for example, on Talisman's Montrose platform in the UK sector, and on Marathon Oil's East Brae complex."
An example of a Sodexo installation.
In the Gulf of Mexico, Sodexo operates on 45 offshore sites, and claims to be the region's largest provider of offshore food services, with a local distribution center that spans from Brownsville, Texas, to Port Fouchon, Louisiana. Offshore installations include deepwater platforms on the Auger, Magnolia, and Thunder Horse fields and numerous drilling rigs. "In this region we focus specifically on how to help offshore crews cope with the physical demands of heat and humidity. We are looking to introduce a new service this summer to educate and monitor the workforce in this regard, ensuring they have access not just to fluids, but the right type of fluids to combat under-hydration. We have done surveys on this subject in the North Sea as well.
"We also have a business continuity plan and the value we bring to our clients when a storm passes is that we are ready to resume work quickly to minimize business disruption, thanks in part to the fact that our distribution center has an independent power source."
As for future trends, "we see nothing but expansion in the short term," Seaton said, "with the global offshore rig fleet likely to increase by 150-170, and growing investment in the US and the mature UK industry. The UK alone needs another 50,000 workers, so attraction and retention of staff is a big issue. But throwing money at them won't solve the problem – people coming into the industry now are younger, and may have different expectations about connectivity, comfort, and healthy eating. So clients are working increasingly on how to build quality of life offshore to attract and retain new talent."
One Sodexo solutions is Well Track, a three-pronged approach that includes individually tailored fitness programs, motivation incentives, and virtual concierge services.
"Related to this is safety. If you look at the offshore industry's safety record, the trend for incidents was steadily downwards from the mid-1990s to the late-2000s, but there has been a plateau over the last four to five years. Accidents still occur offshore, and there is a growing belief that 'human factors' are to blame, with people taking risks by choosing not to follow procedures. That can be because staff are demotivated or under pressure, so how can we help people improve productivity?
"What Shell did onshore in Qatar was to invest in a global 'village' camp managed by Sodexo at the Pearl GTL plant, making it a nice place for people to stay. That sense of wellbeing led to higher productivity, better HSE, and lower attrition of staff.
"Another trend we have noted is the wide range of sub-contractors our clients are dealing with. One told us 50% of his spend was with seven core contractors, 30% with 50 contractors, and 20% with over 1,000 suppliers. Sodexo helps clients manage these non-core suppliers, including when their staff come offshore – for instance, to fix a photocopier – ensuring continuity and quality of life."
More Offshore Issue Articles
Offshore Articles Archives
View Oil and Gas Articles on PennEnergy.com