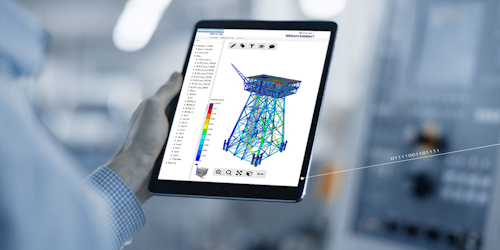 (Courtesy DNV GL)
Offshore staff
HØVIK, Norway – DNV GL has introduced its Sesam Insight application, designed to provide shared 3D models and to remove costly barriers to offshore engineering.
When analysis models and data are stored in several places, the company explained, the likelihood increases of an expensive, time-consuming information exchange between owners, operators, contractors, and regulatory bodies.
This can cause problems during the verification process, and lead to uncertainty about the status and quality of project work. And when knowledge and data remain with contractors instead of asset owners, data recovery costs can be high.  Sesam Insight is said to provide common insight into shared 3D analysis models, which are securely accessible online by all stakeholders with access rights.
Subscribers can access the data and models on any device, regardless of the operating system, such as a tablet, laptop, workstation or smartphone.
"Sesam Insight is a game-changer when it comes to improving decision-making at all levels of the organization, and reducing errors," said Elling Rishoff, head of Software Ecosystems at DNV GL – Digital Solutions. 
09/09/2019