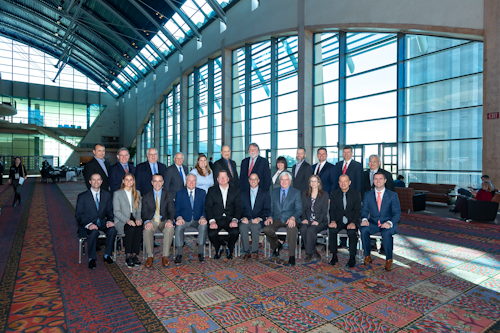 Subsea Tieback Forum & Exhibition
The 19th annual Subsea Tieback Forum & Exhibition featured more than 1,300 attendees and 90 exhibitors. The event took place March 5-7, 2019, at the Henry B. Gonzalez Convention Center in San Antonio, Texas. Diptabhas Sarkar of Equinor and presenter of "Field of the Future – Artificial Intelligence for Subsea Tiebacks" received the best presentation award. Scott Higgins of BP won the best presenter award. He presented "Sheltered Failures and Lessons for the Subsea System Design." 
The winners of the inaugural student design competition were Team 4 – Marine Growth and Calcareous Deposits: Prevention and Mitigation, Yunjia Wang and Samuel Sun; and Team 1 – Two Wells and One Flowline: Two Wells That Won't Play Nice, Joe Jared, Adithyaa Karthikeyan, and Karan Tiwari. All the students are studying Subsea Engineering at Texas A&M University.
The annual event will return to San Antonio from Feb. 18-20, 2020, hosted by Equinor.
People
EnerMech has appointed John Guy as CEO. He succeeds company founder Doug Duguid, who will assume the role of deputy chairman.
James W. Harris has joined Pacific Drilling S.A. as senior vice president and CFO. He replaces Johannes P. Boots.
Schlumberger Ltd. has appointed Olivier Le Peuch as CEO and member of the board. He succeeds Paal Kibsgaard, who will retire after more than 22 years with the company, including eight years as CEO and four years as chairman. In addition, Kibsgaard will step down as chairman of the board and retire as a member of the board of directors. Mark G. Papa, a current non-independent director, will become non-executive chairman of the board.
Gassco AS has appointed Jan Skogseth as chairman.
ROVOP has appointed David Lamont as CEO.
MMA Offshore Ltd. has appointed David Ross as CEO.
Bob Drummond and Alistair Stobie have joined the Oil & Gas UK board.
Steven Sterin has joined the Kosmos Energy board of directors.
The International Marine Contractors Association has appointed Andy Seymour to its governing board.
Karl Fessenden has resigned as president and CEO of CHC Group. Dave Balevic, senior vice president of Engineering & Operations, will assume the role of interim CEO.
Catherine MacGregor has joined the TechnipFMC Executive Leadership Team as president New Ventures.
Magseis Fairfield ASA has appointed Mark Ivin as CFO.
GA Scotland has appointed Peter Donnelly as managing director.
Data Gumbo Corp. has hired Sergio A. Tuberquia as chief commercial officer.
Thomas Hütsch has joined the NHV Group as COO and member of the Executive Committee.
Jud Bailey has joined BHGE as vice president of Investor Relations.
Special Piping Materials Singapore has appointed Steve Chee as general manager.
TDI-Brooks has hired Jayme McBee as geochemical services director.
Crowley Maritime Corp. has promoted Peter Sutton to vice president of health, safety, security and environment and operations integrity for the company's Shipping business unit.
Oil States International Inc. has added Hallie A. Vanderhider to its board of directors.
The 2019-2020 elected officers for the AADE Lafayette Chapter are Jude Boudreaux, president, Offshore Energy Services, Inc.; Bryan Leger, first vice president, Premium Oilfield Services; Jordan Woods, second vice president, Sierra-Hamilton Engineering, Inc.; Sharon Moore, treasurer, Halliburton Energy Services, Inc; and Scott Boudreaux, secretary, Intracoastal Liquid Mud, Inc.
Brian Hector and Diane Smith have joined OceanTools as technical sales manager and product line manager (Camera Systems), respectively.
Danos has promoted Mark King to sales manager.
Molly Reyes and Ian Wilkinson have joined WFS Technologies as energy industry sales director and vice president sales, respectively. 
WellConnection has appointed Bjørn Angeltveit as commercial director and Jim Geddie as non-executive director.
BCCK Holding Co. has promoted John Peterson to senior vice president of business development.
Company News
Ensco Rowan plc has changed its name to Valaris plc.
The International Marine Contractors Association (IMCA) has agreed to co-operate with the Association of Diving Contractors International (ADCI) on operational safety, training standards, and diver qualifications. Under the new accord, IMCA and ADCI will recognize each other's international offshore diving qualifications, monitor each other's diver certification schemes, and collaborate to ensure that commercial diver training for offshore operations complies with the highest industry standards. 
Dubai-based Oilfields Supply Center (OSC) has agreed to become an anchor tenant at the King Salman Energy Park (SPARK). In collaboration with Saudi Aramco, OSC will develop a business incubator, known as the Common User Supply Base. This will provide industrial buildings of various sizes to host companies in the oil and gas industry and provide them with integrated services such as logistics, technical engineering services, and business support.
Lloyd's Register has awarded the Shell Technology Centre Amsterdam a best practice qualification for its powder bed fusion 3D printing facility. It follows an audit that included a review of Shell's systems and procedures, personnel competencies, rules and regulation compliance and materials handling throughout the build process.
McDermott International Inc. has relocated its Subsea Center of Excellence from Epsom in Surrey to Bedfont Lakes office park near Feltham in London.
Saudi Aramco has awarded vendor approval status to lifting service specialist Sparrows Group. The recently formed local entity Sparrows Saudi Arabia can now provide a full range of services to Aramco, including drilling and lifting equipment examination and overhaul; specialist inspection, Dropped Objects Prevention Scheme surveys; and mechanical handling and engineering support.
Cognite has announced a partnership and inaugural internship program with Rice University in Houston. The goal is to attract the Millennial and Gen Z generations to the oil and gas industry.
Ikon Science and Fairfield Geotechnologies have opened a shared office in Denver.
Xodus Group has reached an agreement to acquire Perth, Australia-based Green Light Environmental.
Survitec has secured a three-year contract extension with Petrofac to supply aviation immersion suits and lifejackets for personnel making helicopter transits from Norwich Airport in the UK to three offshore platforms in the southern North Sea.
Lease Corporation International (LCI), the aviation division of the Libra Group, has delivered two further helicopters to Weststar Aviation Services on operating leases in Malaysia. The Leonardo AW139 and one AW189 joined an AW189 from LCI already in operation. Both aircraft will support Weststar's offshore helicopter operations in Kerteh and Miri, Malaysia.
STAPEM Offshore has acquired ROV services specialist Film-Ocean, which owns and operates a fleet of ROVs that operate in the offshore oil and gas and other markets.