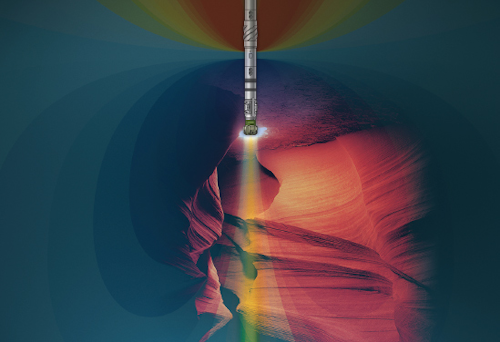 (Courtesy Schlumberger)
Jessica Stump, Assistant Editor
More than 59,200 attendees from 100 countries gathered at the recent Offshore Technology Conference in Houston. This year marked the event's 50th anniversary. The exhibition at NRG Park covered more than 554,000 net sq ft and featured 2,300 companies representing 40-plus countries. There were 328 new exhibitors, and international companies made up 52% of total exhibitors.
Drilling and production
Many technologies and products were introduced for the drilling and production markets.
Schlumberger unveiled IriSphere, a service which applies electromagnetic (EM) technology for detecting formation features ahead of the drill bit in oil and gas wells. The service, which underwent more than 25 field trials across Asia, Australia, Latin America and Europe, uses EM-based resistivity measurements more than 100 ft (30 m) ahead of the drill bit. These are then compared to a prepared model that incorporates offset and other data to reveal what the company says is a true down-range representation of the formation while drilling. As a result, operators can take proactive decisions rather than reacting to measurements at or behind the bit while drilling wells, the company said.
Tarek Rizk, president, Drilling & Measurements, Schlumberger, said the service was created in response to client requests for risk reduction, improved drilling efficiency, and optimal casing point selection.
"Knowing what conditions lie ahead of the bit while drilling enables operators to reduce uncertainties and minimize costs by identifying geological features and deciding which actions to take before encountering them," Rizk said.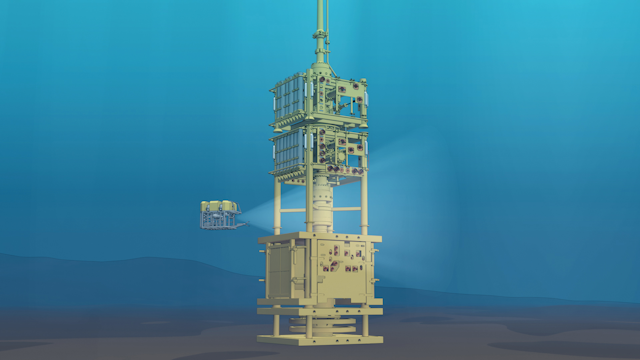 The Intervention Riser System replicates the functionality of the BOP.(Courtesy Expro)
The field trials included successful detection of reservoirs and salt boundaries, identification of thin layers, and avoidance of drilling hazards such as high-pressure formations that can lead to wellbore stability issues.
One client offshore Western Australia used IriSphere in a previously unexplored part of a field to detect the reservoir 62 ft (19 m) ahead of the bit while drilling and determine reservoir thickness to be 82 ft (25 m). This dispensed with the need for a pilot hole, and subsequent coring operations were optimized based on data acquired while looking ahead of the drill bit.
Well-SENSE revealed a miniature optical pressure-temperature gauge as part of its FiberLine Intervention (FLI) system. The gauge is said to expand the well surveillance application envelope for FLI offshore and onshore, providing a lower-cost and disposable alternative to permanent downhole sensors and other electronic logging devices.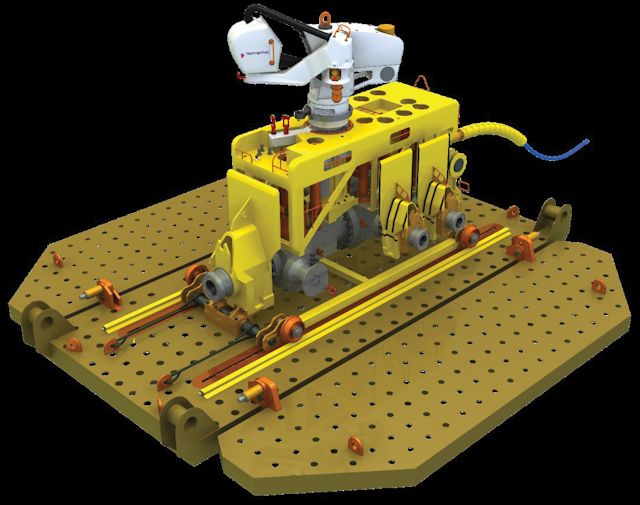 The Subsea 2.0 in-line compact robotic manifold design is said to reduce size, weight, and manufacturing cost.(Courtesy TechnipFMC)
The company said that in combination with FLI's other features, such as a simple deployment mechanism and distributed sensing, the gauge can deliver savings of 50-90% compared to conventional logging methods. The optical gauge is a Fiber Bragg grating-based device with no electronics, batteries, external connections or power supply requirement.
It is integrated into the fiber line and is suited to harsh environments, with the capability to measure up to 10,000 psi (689 bar) and 302°F (150°C), optionally enhanced to 20,000 psi (1,379 bar) and 572°F (300°C).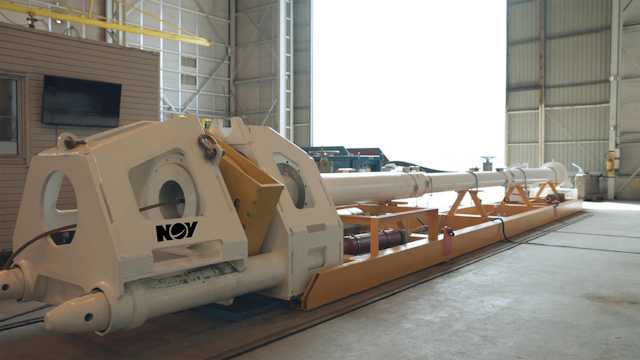 The subsea automated pig launcher eliminates the need for a second flowline solely for pigging and wax handling.(Courtesy NOV)
The Aberdeen-based company has developed its technology in partnership with Toronto-headquartered optical sensor specialist Fibos. The new gauge, which is around 10 cu mm in size, can be combined with other sensors and incorporated inside Well-SENSE's smallest FLI probe, allowing deployment in narrow access wells to log data during descent and to capture bottomhole temperature and pressure over time.
It can be left in the well with the FLI system for months if need be, streaming real-time, live well data along the optical fiber back to surface.
Wild Well Control, a Superior Energy Services company introduced an online well control e-learning course, 'Introduction to Drilling Operations'. This e-learning course meets all regulatory guidelines and is IADC WellSharp accredited. As an introduction to well control for oil and gas drilling, the company said the course is intended for operators, contractors and service company personnel, as well as non-technical and non-industry personnel.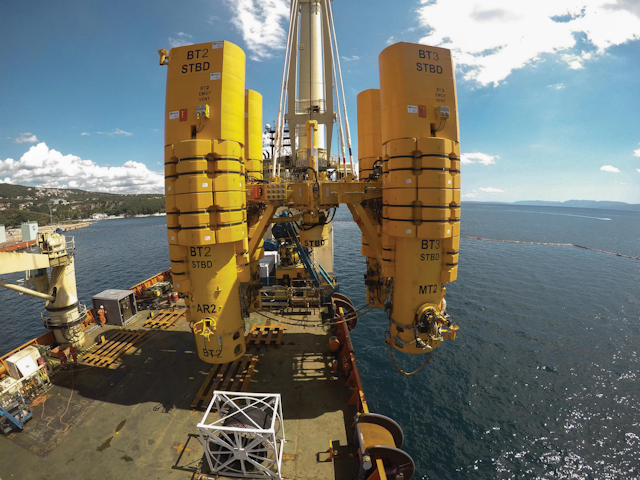 The offset installation equipment was tested in the northern Adriatic Sea.(Courtesy Saipem)
Throughout the 20 animated lessons, students will learn about land-based and subsea topics that will increase their knowledge of drilling and well control. According to Ken Smith, general manager of Training at Wild Well, "The level of detail that we have included in the lessons brings the subject matter to life. As a teaching tool, the 3D course animations help students gain a better foundation of well control concepts by illustrating complicated and otherwise unseen downhole topics."
The course functions as a continuing education tool for experienced oilfield workers and as an introductory on-boarding tool for office and non-industry personnel.
The active control device eliminates the bearings and rotating components.(Courtesy AFGlobal)
Subsea
Companies debuted technologies for the subsea market.
Expro introduced two well access solutions to its subsea intervention system portfolio.
The Intervention Riser System (IRS) is said to safely establish and maintain well access throughout riser to surface operations. It replicates the functionality of the BOP and provides a secure and reliable means of well control, connected directly to the production tree, the company said. With demand increasing for coil tubing cutting and disconnect capability, the IRS also provides an alternative dual barrier, through-tubing system.
The new Riserless Well Intervention system is a 'wire through-water' integrated solution designed for cost-effective intervention and/or abandonment operations on all types of subsea wells.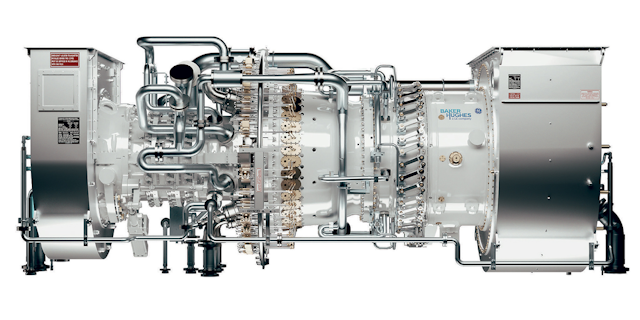 The NovaLT16 is two-shaft gas turbine designed for mechanical drive and power generation applications.(Courtesy BHGE)
In addition, the company has strengthened its Subsea Test Tree Assembly offering by developing the Next Generation Landing String, designed to comply with the industry's new API17G standard. New functions provided across the 7⅜ valves include a high debris-tolerant ball mechanism and hydraulic latch mechanism, and dual seal protection to both environment and control systems.
WFS Technologies premiered what it claims is the world's first subsea wireless edge network for real-time monitoring of subsea assets. ExtremeEdge processes and analyzes raw data at the sensor level, transmitting only the data needed to downstream solutions in real time rather than all sensor data collected. By deploying a series of ExtremeEdge-enabled sensors, the company said it can assemble a subsea network that can operate wirelessly.
Most traditional solutions, the company said, operate by individual sensor only, not as a network of sensors that can communicate, process, and transmit data between them.
In order to safeguard battery life on each sensor, the company uses ExtremeEdge analytics to monitor the sensor data in real time, only reporting if the data exceeds pre-set values.
Theo Priestley, chief marketing officer at WFS, said: "Edge computing enables a variety of calibration models to be uploaded to each sensor.
"During extreme events such as hurricanes, the system will calculate and compare performance of subsea assets against the model, transmitting data in real time."
Each new Seatooth sensor - using a patented wireless technology standard for exchanging data through water and the water-air boundary using low frequency radio waves - features a built-in processor designed to run WFS ExtremeEdge computing. A new 'hot swap' architecture allows multiple sensors to be configured and connected via wireless communication to monitor for vibration, temperature, flow, fatigue, corrosion, and other conditions.
Spotlight award winners
Eighteen products and services from 16 exhibiting companies won the OTC Spotlight on New Technology Award.
TechnipFMC received the award for the for its Subsea 2.0 in-line compact robotic manifold design. The compact manifold design is said to reduce size, weight, and manufacturing cost. It incorporates a robotic arm for valve actuation, can be installed using the same vessel laying the flowline, and increases the flexibility for capex over the life of the field.
The product is designed to be half the size and weight of its conventional counterpart and reduces cost and delivery up to 30%. The new compact manifold integrates all the functions of the conventional manifold pipe work and structure into a few cross drilled blocks with integral valve cavities and common interfaces to bolt on the branch and header hubs. All hydraulic functions have been eliminated. The result is a simpler manifold that can be produced with 10-times fewer parts and requires no structure for support or lifting.
The leaner, smarter design is said to eliminate the fabrication complexity of welded pipe, bends, fittings and other structures. Its compact size and in-line feature offer more installation options and flexibility throughout the life-of-field, the company said.
The in-line compact manifold is optionally coupled with an integrated robot that operates the manual valves assembled into the block. The robotic valve controller is an all-electric system operated by the topsides master control station. The valves can be manually, hydraulically, or electrically actuated.
Weatherford was recognized for the TR1P, a remote-activated, single-trip deepwater completion system. By combining the upper and lower completions in one trip in a deepwater injector well in West Africa, the system reduced installation time between 40 and 60% and reduced rig time by four to six days. Using radio-frequency identification (RFID) technology, the field-proven system delivers 100% interventionless operation in both producer and injector wells, the company said.
Stress Engineering Services Inc. won for its condition-based maintenance (CBM) of drilling riser systems. The company developed a new process for collecting critical riser data, which uses a life cycle CBM, maintenance and inspection system that can be deployed on the mobile operating drilling unit. It enables resources to be deployed only when necessary, instead of on a calendar interval. The CBM system determines the condition of drilling riser joints, consistently predicts when vital components will require service, and accurately assesses remaining component life, according to the company. The process has been American Bureau of Shipping certified.
Schlumberger earned the award for the Concert well testing live performance. This brings digital automation and communication to well testing by giving the same real-time information and interactive capabilities. This seamless access and sharing of data, diagnostics, and analysis is said to improve efficiency, data quality, and safety to mitigate uncertainty and achieve actionable test results.
OneSubsea, a Schlumberger company won for the Vx Omni subsea multiphase flowmeter. This is a compact, highly accurate and reliable flowmeter available in all applications, pressures, and environments for all fluid phases. According to the company, it provides crucial data to understand how each individual production well is performing, enabling operators to enhance reservoir recovery and facilitate safer operation.
NOV was recognized for the subsea automated pig launcher. This allows pig launching from subsea to topsides and promises a flexible and robust technology that enables a wide range of pigging operations. The system eliminates the need for a second flowline solely for pigging and wax handling.
Saipem won for the offset installation equipment (OIE). This technology was developed for Oil Spill Response Ltd. (OSRL). It enables well capping or related equipment to be rapidly installed at a safe distance from an incident for the first time. The new equipment can be deployed up to 1,640 ft (500 m) from an incident site and is suitable for use at a working depth of 246 to 1,968 ft (75 to 600 m). OIE is also fully compatible with OSRL's capping equipment, creating an end-to-end capping and containment solution suitable for almost all subsea scenarios. Saipem designed, manufactured, and tested the new equipment in the northern Adriatic Sea. The company is now in charge of storage and maintenance. It is stored at the base in Trieste, Italy.
Oceaneering received the award for subsea pumping technology (SPT). This allows operators to reduce or eliminate their topsides footprint by moving chemical storage and injection systems subsea, reducing the cost and complexity of conventional umbilicals. SPT is said to offer value-added contributions to tieback architectures and applications where chemicals are required for operational integrity management or flow assurance purposes. The company said the technology supports the move toward unmanned or subsea factories, along with all-electric technologies currently being implemented in subsea architecture. SPT is said to allow operators to engage in longer tiebacks with reduced capex.
AFGlobal earned two awards. The first was for the active control device. This provides the prerequisite seal and diversion of annular wellbore returns using a novel, non-rotating device enabled by an actively pressurized, co-molded element. This purpose-built device eliminates the bearings and rotating components that are a regular source of maintenance and failure in conventional rotating control devices.
The second was for the DuraStim 6,000-HP hydraulic fracturing pump. This is said to be the industry's first variable displacement frac pump. Built for the extreme demands of long duration, high-pressure fracturing, the pump lowers the cost of ownership, improves operational performance and creates many new safety and environmental advantages, the company said.
Baker Hughes, a GE company won for the NovaLT16. This is a double-shaft gas turbine designed for mechanical drive and power generation applications in the small power range (5-20 MW) segment. Used in both on and offshore applications, the turbine is said to deliver maximized availability, high fuel efficiency, low maintenance, and reduced emissions.
FutureOn was recognized for the FieldAP. This is the Industry 4.0 cloud-based data visualization application for subsea field development. A FieldTwin platform application, FieldAP is said to enhance collaboration among teams globally while reducing risk. Through its open API, the technology integrates with engineering programs, enabling data modeling and engineering simulations within the digital field environment.
Siemens received two awards. The first was for the BlueVault lithium-ion battery-based energy storage solution. This is suited for both all-electric and hybrid (i.e., diesel-electric) power applications. The solution is specifically designed to help ensure continuity of power and minimize emissions on vessels and offshore drilling rigs.
The second was for the subsea power grid. This is said to transform field developments by extending tiebacks and allowing flexible subsea processing. It has subsea transformers, switchgear, variable speed drives, wet mate connectors, and a remote control and monitoring system.
Dril-Quip earned the award for the double expansion XPak liner system. The 18-in. OD x 22-in. OD system provides operators an option to sub mudline profile hanger systems with the ability to traverse wellhead ID restrictions and deploy into surface casing with large inner diameters. The company said the double expansion process is achieved with a pressure activated, multi-piston hydraulic tool used to expand and displace an expander which in turn expands the XPak hanger body to contact and interfere with the host casing. The expander provides tieback capability via a polished bore receptacle and remains installed inside the hanger body for the lifetime of the installation. The system features include metal and elastomer sealing capability along with anchoring capacity to support loads in tension and compression with current applications for drilling, production, and HP/HT well designs.
Hytorc won for the Lithium series II electric torque tool. This is said to be the next revolution in bolting technology redesigned from the ground up with improved durability, usability, and functionality. It is a lightweight 36-volt battery powered tool with capacity up to 5,000 ft-lbs.
XSENS AS earned the award for the XACT ultrasonic clamp-on flowmeter. This system provides flow rate and fraction measurement at accuracies that were until now only obtainable by in-line technologies. According to the company, installation of the system does not compromise pipeline integrity. Its size and weight are said to be just a fraction of conventional flow meter systems and is ideal for retrofit applications.
Green Pin won for the Green Pin Tycan. This is a high-performance fiber lifting chain that has the performance and flexibility of steel chain but is a fraction of the weight. It is said to be safe and easy to use, non-corrosive, and completely waterproof.
Hytorc, XSENS AS, and Green Pin also all received the Small Business Award.
The annual event returns to NRG Park from May 4-7, 2020. •