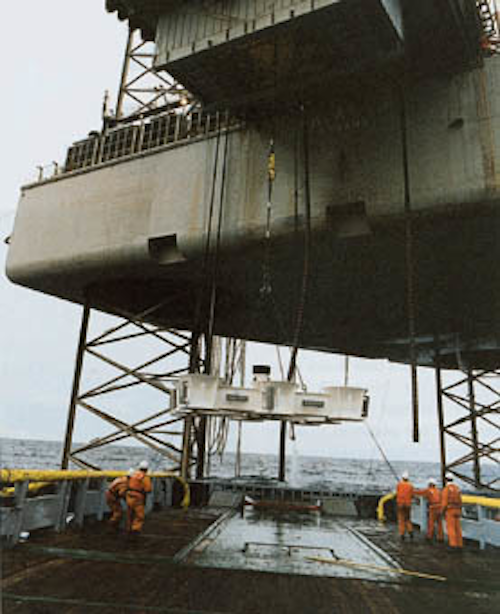 Production systems set for three UK developments
Nick Terdre
Contributing Editor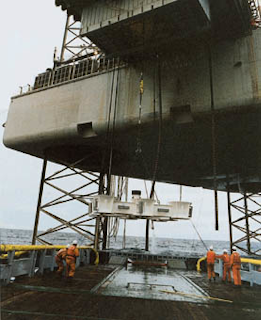 Development drilling on Phillips' Jade Field will take place through the spacer frame installed at the time of the late 1996 appraisal well.
Recent drilling success brings Phillips Petroleum UK into 1998 with three operated development projects on its plate - Jade, Renee/Rubie and Delilah. With the major Judy/Joanne development finally brought into production last year, the company believes its new development portfolio combined with a strong acreage position in the Atlantic Margin puts it well on the way to achieving its growth plans.
Development plans for Renee/Rubie in blocks 15/27 and 15/28b are now being finalized, and Phillips' board approval has been given, following the completion of a successful appraisal well on Renee. Tests on 15/27-6 flowed a combined 10,250 b/d of oil and 6.9 MMcf/d of gas from two intervals.
Production from the two fields should start up in late 1998 through subsea wells tied back to Amerada Hess's Ivanhoe/Rob Roy floater 21 km to the north-west. An agreement has been reached between the two sides. Amerada has also bought a 14.0% stake in 15/27 to add to the 19.2% it already held in 15/28b.
E-H solution
After mulling the use of a control buoy - an unusual solution which is understood to have found only one application in the North Sea - Phillips has instead opted for an electro-hydraulic control solution. The control system is to be provided by Kv?rner FSSL, while Kv?rner Oil & Gas's contract for front-end design has been extended to cover detailed engineering.
Reserves are modest - a combined 26 million bbl of oil and 16 bcf of gas, according to analyst Arthur Andersen. A rig is now being sought for a drilling program comprising one injector and one producer - in fact, a sidetrack of an existing appraisal well - on Renee, and a producer on Rubie. At a later stage another producer and another injector are planned for Renee.
The production wells will be tied back to a manifold installed on Renee, the Rubie well through a 5-km, 8-in flowline. The manifold will be tied back to the AH001 subsea manifold through two 8-in flowlines, an 8-in water injection line, and a 4-in gas-lift/services umbilical.
J-Block satellite
A substantial project is emerging for Jade, the first of the so-called J-Block satellite prospects to come good. In early 1997 appraisal well 30/2c-4 found a 400-meter pay zone which in two tests gave a combined flow of 91 MMcf/d of gas and 9,700 b/d of condensate.
The size of the field - estimated by Arthur Andersen at 375 bcf of gas and 40 million bbl of liquids, and by analyst Wood Mackenzie at 600 bcf and 80 million bbl - and its high-pressure/high-temperature nature have prompted Phillips to select a minimum facilities wellhead platform as its preferred option. This concept is now being studied by Amec under a feasibility engineering contract.
The field will be tied back to the Judy platform, some 19 km to the south by a multiphase pipeline. The operator's confidence that it had a commercial find, even though it had been unable to test the discovery well, was evidenced by its decision to install a nine-slot spacer frame through which the appraisal was drilled.
The current start-up target is late 1999, but in December external affairs director Richard Vernon said that both partner agreement and a commercial agreement would have to be in place soon if this schedule is to be met.
Meanwhile Phillips continues to find fresh reserves in the area of its Hewett gas field in the southern basin. The latest find is Delilah, a prospect which tested 25 MMcf/d when drilled recently by exploration well 48/30-16.
The well was spudded some 200 yards from the Della manifold and deviated into the Delilah reservoir. Development will therefore take the simple form of a tie-back to the manifold and the field is expected to be brought on stream next autumn.
Copyright 1997 Oil & Gas Journal. All Rights Reserved.