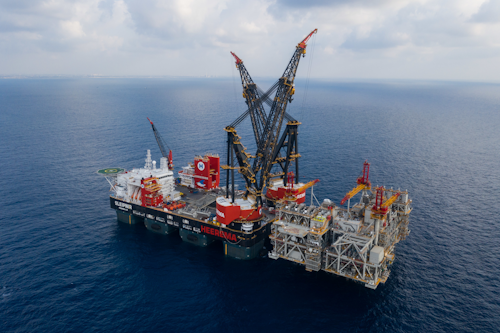 (Courtesy Heerema Marine Contractors)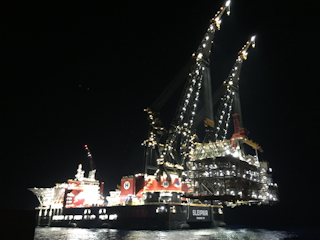 The Sleipnir installing the 15,300-metric ton Leviathan topsides for Noble Energy in the eastern Mediterranean Sea.(Courtesy Heerema Marine Contractors)Offshore staff
LEIDEN, the Netherlands – Heerema's new semisubmersible crane vessel Sleipnir has installed the topsides for Noble Energy's Leviathan platform in the eastern Mediterranean Sea, offshore Israel.
According to the contractor, the 15,300-metric ton (16,865-ton) lift for one of the modules was a new world record for a crane vessel.
The Sleipnir installed the two main topsides with a total weight of 24,500 metric tons (27,007 tons) in less than 20 hours.
Noble selected the vessel, which can lift large and commissioned modules, because the installation process cuts offshore time and is therefore less costly, Heerema said.
The Sleipnir is LNG-powered and features two revolving cranes that can lift up to 20,000 metric tons (22,046 tons) in tandem.
09/09/2019