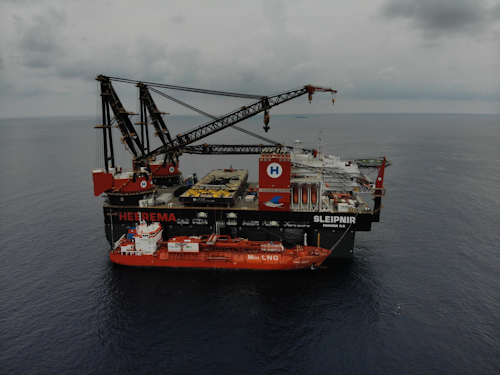 (Courtesy Heerema Marine Contractors)
Sleipnir sets sail
Heerema Marine Contractors' (HMC) new semisubmersible crane vessel Sleipnir began its maiden voyage from Southeast Asia to southern Spain in mid-July. The trip, which will round South Africa's Cape of Good Hope, is expected to take about 45 days.
The Sleipnir is the world's first crane vessel with dual-fuel engines running on MGO and LNG.
Last month, Titan LNG completed what it claims is the largest LNG bunkering, 12 mi (19 km) offshore Indonesia. The company charted the LNG carrier Coral Fraseri and supplied more than 3,000 metric tons of the chilled fuel to the crane vessel. The Coral Fraseri, which is commercially managed by Anthony Veder, was loaded in Singapore at the SLNG terminal where Titan LNG sourced the fuel from Pavilion Gas.
In the Mediterranean, Titan LNG will use the same LNG carrier to supply the Sleipnir.
HMC has secured contracts to deploy the vessel in various offshore energy developments, including: Leviathan topsides installation in the Mediterranean Sea; Tyra jackets and topsides installation and removal in the Danish North Sea; Brae B jackets and topsides removal in the UK North Sea; and transportation and installation of the Hollandse Kust Zuid Alpha HVAC platform offshore the Netherlands.
Sembcorp Marine in Singapore built the 722-ft (220-m) long, eight-legged construction vessel.
First Liza FPSO heading to Guyana
Late last month the FPSO Liza Destiny departed from Keppel Shipyard in Singapore and set sail for Guyana, according to SBM Offshore. The voyage is expected to take less than two months.
This milestone follows a record turnaround time of just over 20 months for its construction phase by SBM – including module construction at the nearby Dyna-Mac yard. Conversion of the very large crude carrier Tina into the FPSO began in November 2017.
Once the FPSO arrives at the Liza field it will be hooked up to the subsea system, allowing the next phase of operations to start.
The FPSO is designed to process up to 120,000 b/d of oil, with associated gas treatment capacity of circa 170 MMcf/d and water injection capacity of circa 200,000 b/d. The converted VLCC FPSO will be spread moored in water depth of 5,003 ft (1,525 m) and will be able to store 1.6 MMbbl of crude oil.
The Liza field is in the Stabroek block about 200 km (124 mi) offshore. Esso Exploration and Production Guyana Ltd. is the operator and holds a 45% interest in the Stabroek block. Hess Guyana Exploration Ltd. holds a 30% interest, and CNOOC Nexen Petroleum Guyana Ltd. holds a 25% interest. The Liza Phase 1 development is expected to startup in early 2020.
Prospects improving for ultra-deepwater, harsh environment rigs
Revival of the offshore drilling market continues, albeit slowly, according to consultant Rystad Energy. 
After a successful year in 2018 for the E&P majors, these companies look set to increase their spending on mobile offshore drilling rig operations.
Rystad expects the floater segment to experience the steepest growth driven by a new round of greenfield development projects in deeper waters and in harsh environment regions. The consultant sees activity picking up significantly through 2021, with demand for 172 rigs for these types of projects.
Floater demand growth will be driven by projects in the Norwegian and UK North Sea, the US Gulf of Mexico, West Africa, and Brazil.
The harsh environment Norwegian sector is lifting demand short term, with ramping up in drilling at Johan Sverdrup Phase 2, Johan Castberg, and 10 other subsea tieback projects.
An FPSO boom may be around the corner in the ultra-deepwaters of Brazil, with the Petrobras-operated Mero project in the presalt Santos basin generating the highest rig demand.
However, the smaller subsea tieback and phased development projects also mean shorter contracts for drillers. Operators have to pay more to secure longer-term contracts as drilling contractors do not want to be locked in such contracts at low rates should market rates rise again.
Various sixth- and seventh-generation drillships have secured long-term contracts since 3Q 2018, and Rystad expects rigs in this category to be fully booked in the coming years.
DP World acquires Topaz
DP World has purchased offshore support vessel owner and operator Topaz Energy and Marine from Renaissance Services SAOG and Standard Chartered Private Equity /Affirma Capital for $1,079 million.
Topaz operates a fleet of 117 vessels, mainly in the Caspian Sea, Middle East North Africa, and West Africa regions and has long-standing relationships in these areas with BP, Chevron, Dragon Oil, Dubai Petroleum, ExxonMobil, Saudi Aramco, and Tengizchevroil. Its focus has been on securing long-term contracts: the contract backlog was $1.6 billion as of March 31.•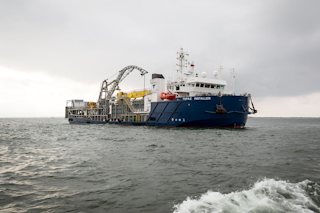 Topaz operates a fleet of 117 vessels including the DP-2 cable lay vessel Topaz Installer.(Courtesy Topaz Energy and Marine)