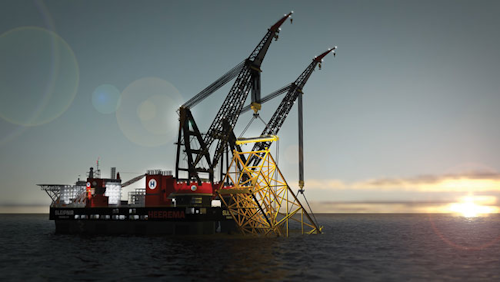 Semisubmersible giant designed to speed project execution
Jeremy Beckman
Editor, Europe
Sembcorp Marine in Singapore is building the world's largest heavy-lift and deepwater construction vessel for Heerema Marine Contractors (HMC). TheSleipnir has been designed in response to requirements for installation of larger platforms, new types of seabed processing equipment, and removal of heavier topsides and jackets from decommissioned fields.
Sleipnir, named after Odin's powerful eight-legged stallion of Norse legends, will be 220 m (722 ft) long with an overall beam of 102 m (334 ft) and a normal service speed of 10 knots. Its two main cranes, under construction by Huisman in China will each be equipped with 10,000-metric ton (11,023-ton) lifting capacity. This, the company says, will allow clients to design larger and/or heavier topsides and jackets which the vessel can install fully integrated and commissioned, with resultant cost benefits due to minimized hookup. The 129-m (423-ft) high lifting capacity provided by the cranes' main hoist also facilitates placement of heavy topsides modules at higher elevations.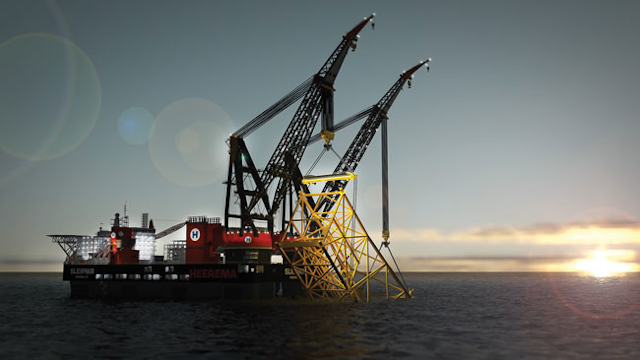 Artist's impression of Sleipnir installing a jacket. (All images courtesy Heerema Marine Contractors)
Other stand-out features include greater workability in harsher environments due to the design of the columns, and increased deck space for carrying multiple modules.
Offshore spoke to Sipke Schuurmans, Sleipnir Project Director at Heerema Marine Contractors, about the background to this investment.
Offshore: When did HMC take the decision to commit to a new heavy-lift vessel?
Schuurmans: There had been a push within the company to invest in a new, larger vessel that started in 2008, but due to the market situation at that time, work on the project ended up being deferred until 2011. At that point we started to look at what was required, what our customers were looking for, and how to develop such a vessel. It was a process that took shape over several years, with involvement of GVA in Gothenburg, Sweden, for the concept and basic design of the vessel during 2013 and 2014. The first major commitment was the award of the cranes contract to Huisman in May 2014. The board finally gave its full sanction for the project in March 2015, when the company contracted Sembcorp Marine to build the vessel.
Offshore: Was the timing influenced by market forecasts at that time, and your competitors' plans to enhance their own heavy-lift capabilities?
Schuurmans: Our main driver has always been for the company to be in a position to serve clients in the heavy-lift market for the next couple of decades. This is a market that we have been operating in for a while, and we have a strong position that we wish to maintain. We saw an emerging need to install integrated large topsides in order to reduce offshore hook-up times and therefore lower overall construction costs, and the same applies to platform decommissioning where there is a benefit in reverse lifting of decks in larger pieces. We were happy with the performance of our semisubs over the past 40 years, we just felt we needed to upgrade our capacity to 20,000 tons in order to lift larger modules.
Offshore: Do you think that when the vessel and its sea trials have been completed in 2019, the timing will prove to be ideal, with the offshore market set to pick up by that point?
Schuurmans: In our company, we have always taken a long-term view. We have been used to the markets going up and down, but when we took our investment decision we were looking ahead to what we saw happening over the next decades.
When we decided to go ahead in 2015, it was a time when the offshore market was going down, but we were confident that the market would also pick up again, so we were taking a long-term perspective.
And the upside is that our vessel is in a shipyard that has sufficient capacity to handle a project of this size and the same applies to the supply sector. The work would have been much more difficult under more strained conditions, as we have seen before with shipyards and vendors struggling to cope with too many orders.
We also now see signs of the heavy-lift market picking up, and have already booked the first projects for theSleipnir. At the same time, we regularly discuss progress on the construction program with our clients, both those that have booked the vessel in order to keep them up to date, and those that are interested in using it for their future projects.
Offshore: Did HMC perform the design of the vessel in-house or in collaboration with specialist naval architects, and did it consider concepts other than a semisubmersible?
Schuurmans: Our first ideas were developed in 2008, then during 2011-12 we spent time in-house defining the required capabilities - whether it should be a semi or another type of vessel, and the associated ballasting, power and stability requirements. In March 2013, when we had decided on the type of hull, the main dimensions and the capabilities (which have not changed since then), we appointed GVA in Sweden to perform the conceptual and extensive basic design. This ended up taking 21 months to complete: It was not a short process, but it was necessary, because we wanted the design to be mature before we went to the shipyard. We will have to live with this vessel for three decades at least. If you leave any options open to shipyards, they will typically try to construct the vessel as cost-effectively as they can, but not necessarily to last for 20-40 years.
We also considered a monohull with two cranes; two monohulls, each with a single crane; and a semi, but with a single pontoon. In the end, as we were looking for high operability, we settled on a semi with two separate pontoons, each with four columns. This combination gives us the largest operability range in the type of environments that we operate in.
Offshore: The vessel can work in shallow water up to ultra deepwater - how would it be moored or stationed accordingly?
Schuurmans: The water depths range from 20 m [65.6 ft] to any upward depth. The vessel has a 12-point mooring system comprising 12-metric ton [13.2-ton] Stevpris Mk-6 anchors, winches, and wire sheaves for holding 1,750-m [5,741 ft] wire rope. It also has full DP-3 dynamic positioning.
Offshore: What does HMC see as the main benefits of a semi for offshore lifting?
Schurrmans: The main advantage is superior motion behavior compared to other types of vessels in all operating environments worldwide. For the Sleipnir, we took onboard what we knew from our existing vessels' characteristics and looked for even better motion behavior in order to perform lifts of a certain magnitude in higher sea states.
Offshore: Had HMC worked with Sembcorp Marine previously?
Schuurmans: We hadn't worked with them before, except for some stopovers of our vessels for routine modifications. So this was really a new yard to us. However, in the tendering phase for the Sleipnir, they told us their drydock would be large enough to perform integration of the vessel and to undertake construction entirely 'in the dry,' which none of the other yards was offering.
During the tendering phase Sembcorp Marine also demonstrated strong behavior in terms of partnering, and they were willing to take on full design responsibility from GVA. There was a lot of large and unique equipment to procure, such as the LNG-powered engines and the thrusters - in the design phase, we ourselves were quite active in establishing relations with potential vendors, and encouraging vendors to develop ideas. This resulted in a shortlist of approved vendors, from which Sembcorp Marine could select the marine equipment.
Offshore: Can you outline the vessel's lifting and installation capabilities?
Schuurmans: Uniquely among crane vessels, the Sleipnir has a hookload capacity of up to 20,000 metric tons [22,046 tons], compared with 14,200 metric tons [15,653 tons] for the Thialf. However it's not only a case of how much you can lift, but also the geometry of the package, the lifting height and the outreach of the cranes that matter. The vessel's crane capacity also has to be able to accept larger overturning moments associated with handling larger and heavier packages than are within the capabilities of the Thialf.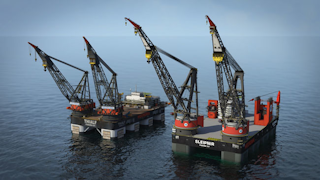 Thialf and Sleipnir side-by-side.
For jackets, the hookload capacity of up to 20,000 metric tons allows larger jackets to be installed in lift mode instead of launch mode. Launch jackets require additional steel to deal with the launching forces and moments, and for the buoyancy tanks to keep the jacket afloat after launching. This increases the cost of a launch jacket substantially compared to a jacket that can be installed in lift mode by theSleipnir. Also, being able to install heavier, already integrated structures can save the offshore operator months in terms of offshore hookup and commissioning, fewer man hours, and reduced logistics.
Offshore: How has HMC worked with Huisman on integration of the two tub-mounted, 10,000-metric ton cranes?
Schurrmans: The first important step is to ensure that the vessel has the required stability for lifting heavy packages at large elevation and the right ballast capacity to counteract the lifted weight at one side of the vessel. The ship also needs to be strong enough to withstand these operations. That was all taken care of in the basic design before we contracted Huisman - and when they came onboard, GVA took the next step to engineer in detail the foundations for the cranes. The interface between crane and vessel is actually quite simple: the circular crane tub fits to a circular foundation on the vessel side of sufficient strength and stiffness. When we started working with Huisman we had anticipated a certain weight for the two cranes, but Huisman with their design were able to make the cranes lighter, allowing their outreach capacity to be optimized. We ended up gaining another 4 m [13 ft] in outreach thanks to the weight reduction that Huisman provided.
Offshore: Are the cranes based on new or existing Huisman designs?
Schuurmans: For them it was a step up. They had previously designed mast cranes with bearing diameters of 12 m [39.3 ft] or below, but these tub cranes have a bearing of 30 m [98.4 ft] in diameter. Huisman designed them in-house and is building them at their facility in China. The roller bearings - one in each crane - are the largest for any crane anywhere.
Both cranes employ state-of-the art, intuitive control systems, and all the winches are steered electronically, which allows us to build in a lot more redundancy compared to large offshore cranes presently in use. The key is the redundancy - if any single component fails, another simply takes over. We also place a lot of emphasis on condition monitoring, which allows us to optimize our inspection and monitoring procedures away from preventive and more towards predictive maintenance.
TheSleipnir's cranes can each lift 10,000 metric tons at an outreach of 32 m/105 ft (free distance away from the vessel). This compares with the 7,100-metric ton [7,826-ton] maximum lifting capacity at an outreach of 16 m [52.5 ft] and 6,000 metric tons [6,614 tons] at an outreach of 30 m respectively for the single cranes on the Thialf.
Offshore: Why is there a need for heavier lifts at higher elevations?
Schuurmans: First of all, new platforms are becoming taller with higher air gap requirements (the distance between sea level and the underside of the topsides). Secondly, the ability to lift at higher elevations is useful when an operator wants to add smaller modules or compressors later on: the installation vessel will need to be able to reach both over and higher… That's another advantage of crane vessels in general - they are very versatile in handling larger and smaller lifts, including flare towers, platform bridges and other structures.
Offshore: Can you explain how you have improved the vessel's motion behavior and stability, allowing it to operate in heavier sea states?
Schuurmans: We took the measurements of our own existing vessel fleet, looking at what we could improve and how we could optimize the new vessel's geometry. One of the key factors was to choose a symmetrical column arrangement fore and aft, which leads to better motion behavior in swell conditions. Many other crane vessels have substantially larger columns underneath the cranes to provide the required buoyancy at that end of the vessel. This leads to pitch/heave coupling, which may cause severe pitching in swell conditions, whereas our geometry will stop this happening to the Sleipnir. That means the vessel will have a higher level of operability in difficult swell conditions.
Offshore: Do offshore structures have to be of a certain size or weight for installation from the Sleipnir to be more economical?
Schuurmans: We are not dependent on a few heavy lifts. We can also operate the vessel economically for smaller lifts such as bridges and flare booms, and in addition the vessel can undertake below-water operations for placing structures on the seabed.
Offshore: What size and range of offshore structures can the vessel handle for decommissioning, and how would extraction be conducted?
Schurrmans: We have a strong track record in this area, with the Thialf and Hermod having performed multiple removal jobs in the North Sea. With the Sleipnir, as each crane can lift 10,000 metric tons we can see situations where the vessel will only need to operate in single-crane mode. The size of the vessel's deck allows the crane, operating in revolving mode, to pick up single or multiple modules from the platform location; put these on the deck; then take the jacket in the cranes and sail to the disposal yard in a single trip. We have already booked the first decommissioning project for the Sleipnir and some other clients are also looking at the new vessel for removal projects. This market is currently quite active, while offshore installation is less so.
Offshore: What is the mode of operation for installation of subsea structures and mooring piles?
Schuurmans: Subsea structure deployments are managed from the cranes' booms. We make winches that are equipped with sufficient length of lowering wire, so the structure can be delivered directly to the seafloor without having to be first transferred to a lowering system. Each crane can be used to deploy subsea equipment items weighing up to 1,000 metric tons [1,102 tons] to a depth of around 1,000 m [3,281 ft]. Based on our discussions with potential clients on upcoming requirements for subsea separation modules, there is no need yet to go beyond these levels. However, there is space beneath the deck of the Sleipnir to house a deepwater lowering system of which the cable can either be run through the cranes or directly overboard.
For installations in 3,000 m [9,842 ft] water depth, the current limit today is around 250 metric tons, which is sufficient for installations of anchoring piles for floating platforms such as FPSOs, spars, or semis. In water depths up to 1,500 m [4,921 ft], the limit is around 600 metric tons [661 tons], sufficient for instance for the installation of larger anchoring piles associated with TLPs.
Offshore: Can you explain the benefits of the column design/arrangement?
Schuurmans: The columns are of equal size, whereas with other semis, there are typically larger columns under the cranes to provide buoyancy. And the corners of the columns on the Sleipnir are much more rounded than those on other crane vessels, which reduces the impact of currents. This assists lifting operations in most offshore environments, including areas of the world prone to swell conditions.
Offshore: How does the vessel's large deck area improve workability?
Schuurmans: The deck measures 220 m [722 ft] in length and 102 m [334 ft] in width, giving an overall deck space of 12,000 sq m [129,167 sq ft], which compares with 8,000 sq m [86,111 sq ft] for the Thialf - so it is larger, but also a lot longer. The accommodation block has been positioned on the starboard aft corner in order to make the full deck length available to transport or stack multiple bridges, topsides or jackets - this improves workability of offshore operations significantly.
Offshore: The vessel's MAN Diesel & Turbo 81.51/60DF engines are designed to run on LNG or Marine Diesel Oil (MGO). What are the benefits of this dual-fuel arrangement?
Schuurmans: Ideally the vessel will run on LNG, but there will be times when it is operating in areas of the world where it is difficult to obtain LNG because the terminals there don't have the infrastructure to bring LNG bunkers to our vessels. Sleipnir is designed to carry up to 8,000 cu m [282,517 cu ft] of LNG, which should be sufficient for crossing the Atlantic or operating in North Sea conditions for at least one month.
Assembled roller bearing of 30 m (98.4 ft) diameter (lower part), ready for mating with crane house (upper part of picture).
Compared with MGO or other fuels, LNG is much better in environmental terms, with no emissions of sulfur oxides (SOx); negligible particulate matter emissions; nitrogen oxides (NOx) emissions are 80-90% lower than those from diesel engines; and carbon-dioxide (CO2) emissions are around 25% lower. But on MGO, we can also comply with IMO Tier III requirements as the vessel is installed with Selective Catalytic Reactors for removing NOx in MGO mode, without the need for scrubbers to manage the SOx (as MGO contains a low level of sulfur).
Offshore: What is the vessel's transit speed range?
Schuurmans: Most heavy-lift vessels travel at 6 knots, assisted by tugs. Sleipnir has a minimum service speed of 10 knots, which should improve travel times between projects. It is also self-propelled and therefore does not need tugs, which makes it more fuel-efficient. The shape of its pontoons is similar to ship hulls, unlike the Hermod and Thialf where the pontoons are more square, so consequently more energy is needed to drag them through the water.
The maximum transit speed is 12 knots, which would involve deployment of all eight underwater 5.5 MW variable-speed azimuth thrusters - four located forward and four aft. However, 10 knots is more economical and in this case only the four aft thrusters would be used, with the forward thrusters retracted.
Offshore: When do you expect to take delivery of the vessel?
Schuurmans: Work is progressing on schedule, both at Sembcorp Marine and Huisman, in line for delivery in 1Q 2019 in Singapore. This crane vessel is larger than previous vessels, but it is not a completely new concept, and there have been no major hiccups in the detail design phase with Sembcorp Marine. Now they are well into the steel fabrication and on track.
Once construction is complete, the vessel will undergo commissioning and testing of its marine systems and cranes in Singapore, followed by sea trials.
We will also perform full load test lifts of the cranes in Singapore. We expect delivery in 1Q 2019: the vessel is already booked for its first project in 2019, with two more projects secured for 2020 - all are for offshore installation and decommissioning.