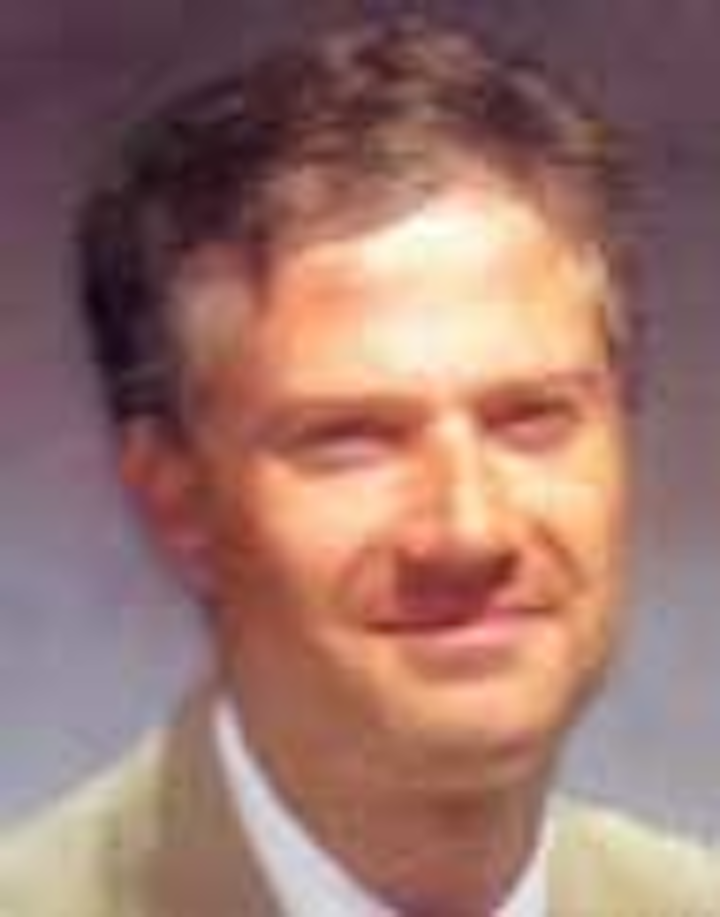 | | | |
| --- | --- | --- |
| | | Jeremy Beckman • London |
BG has signed terms for an exploration license covering 35,000 sq km (13,513 sq mi) offshore Honduras. Formal award is subject to approval by the Honduran National Congress.
•••
Cardon IV, a joint venture between Eni and Repsol, has contracted Saipem for installations for the Perla EP project in the Gulf of Venezuela. The scope includes transport and installation of one hub and two satellite platforms, a 67-km (41.6-mi) offshore export pipeline, two 14-in. clad infield flowlines, and associated tie-ins. TheSaipem 3000 and Castoro 7 will perform most of the work, which starts this summer and ends next spring.
•••
Petrobras subsidiary PNBV has commissioned the Technip/Techint consortium for topside construction and integration on the FPSOP-76, due to serve in the presalt Santos basin offshore Brazil. Techint's yard in southern Brazil will fabricate the 24,000-ton module. The vessel is designed to produce 180,000 b/d of oil and 7 MMcf/d of gas. All work is expected to be completed by mid-2017.
West Africa
Cairn Energy has contracted the Transocean semisubmersibleCajun Express for a one-year drilling program. Later this year the rig is expected to mobilize to start exploration work on the Foum Draa license offshore Morocco. Cairn has further plans to drill off Senegal and potentially other areas.
•••
ExxonMobil has acquired an 80% operating interest from Canadian Overseas Petroleum (Bermuda) in block LB-13, 18 mi (30 km) offshore Liberia. Water depths range from 250-10,000 ft (75-3,000 m). Terms call for an exploratory well to be drilled within three years.
•••
Total has discovered light oil offshore Côte d'Ivoire. The Ivoire-1X well was drilled in the western part of the CI-100 block in 2,280 m (7,480 ft) of water. It intersected 28 m (92 ft) of net oil pay in a series of Cretaceous reservoirs, and confirmed an extension into the block of the petroleum system proven to the east in Ghana's offshore Tano basin.
Total plans an appraisal campaign, and has identified further prospects on the block closer to recent Ghanaian discoveries.
Vitol E&P has agreed to co-operate with Rialto Energy in activities offshore Côte d'Ivoire and Ghana. One of the terms involves Vitol providing finance for a work program on gas-prone shallow-water block CI-202. Côte d'Ivoire's government is keen to promote joint development of the country's offshore gas resources, and the partners have held discussions in that regard with Afren, operator of offshore block C1-01.
Vitol will additionally cover Rialto's costs for the deepwater Starfish-1 well offshore Ghana, which the drillshipStena DrillMAX was due to start drilling this month. Operator Ophir Energy estimated potential resources of 292 MMboe.
•••
Heerema Fabrication Group (HFG) has won an engineering, procurement, construction, and installation contract for Marathon's new Alba PSC B3 gas compression platform off Equatorial Guinea. The 6,000-ton structure, to be bridge-linked to the existing B2 platform on the Alba field, 20 km (32 mi) north of Bioko Island, will comprise a 4,500-ton topsides supported by a 1,550-ton jacket. Construction contracts should be issued later this year. HFG and Iv-Oil & Gas will jointly manage the EPC scope out of Houston, with Hereema Marine Contractors responsible for transport and offshore installations. Start-up is slated for mid-2016.
In Equatorial Guinea offshore block I, Noble Energy has proven oil with a well on the Carla South structure. This was due to be side tracked to an adjacent target.
•••
Aker Solutions is to supply two steel tube dynamic power and control umbilicals and one dynamic power cable for a new project in block 17 offshore Angola. Technip ordered the equipment, which will be manufactured in Moss, Norway, for Total's Girassol Resources Initiative (GirRI) Phase 2 development in 1,300 m (4,265 ft) of water.
Mediterranean Sea
PA Resources plans to drill an appraisal well on the Elyssa field offshore Tunisia, pending a farm-out on its Zarat license. Additionally, the company is working with state-owned ETAP on a development plan for the Zarat field; concepts under review include re-injection of gas to allow production of oil and condensate prior to the start of gas sales.
•••
Egyptian Natural Gas Holding Co. has awarded licenses for numerous offshore blocks in the Mediterranean Sea under Egypt's 2012 international bid round. Recipients include established players or consortia such as BG (block 1, North Gamasa Offshore); BP (block 2, North Tineh Offshore); Shell/BP/Petronas (block 3, North Damietta Offshore); and Total/Enel (block 4, East El Burullus).
Other winners new to the offshore sector were Petroceltic, in partnership with Edison International, which gained block 7 (North Thekah) in the offshore Nile Delta region, and UAE-based Dana Gas, which was offered 100% of the 2,980-sq km (1,150-sq mi) block 6 (North El Arish Offshore) in the eastern Mediterranean Sea, in water depths of up to 1,000 m (3,281 ft). Both the latter blocks are adjacent to the Levantine basin, which has delivered big gas finds in recent years off neighboring Israel.
Russia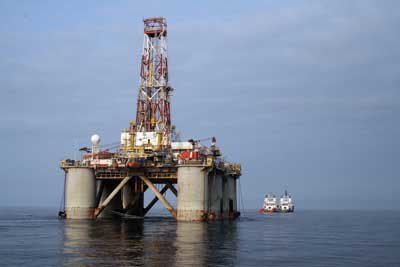 Drilling operations at Kirinskoye offshore Sakhalin Island.
Gazprom expects first oil later this year from the Prirazlomonoye field in the Pechora Sea off northern Russia. The field has been developed using an ice-resistant fixed drilling and production platform, designed to withstand harsh operating conditions and ice loads. Offshore Sakhalin Island in eastern Russia, the company plans to drill two exploratory wells in 2013 as well as deliver gas from Kirinskoye, the country's first subsea development.
Black Sea/Caspian Sea
Excelerate Energy will install a floating storage and regasification unit (FSRU) close to the port of Odessa, following an accord signed with Ukraine's LNG Terminal National project. Overall cost is estimated at $1 billion, including preparatory excavation works, construction of a high-pressure pipeline, and installation of a rented floating terminal. The FSRU, due to enter service next year, will have capacity for around 5 bcm/yr of gas.
•••
Statoil has signed a memorandum of understanding with Azeri state oil company SOCAR. This defines the framework for joint exploration and development of the Zafar-Mashal structures in the Azeri sector of the Caspian Sea.
Middle East
Saudi Aramco has produced first oil from the ultra-shallow water Manifa field offshore Saudi Arabia. Because of the depths the company ruled out conventional platform-based facilities, instead constructing 27 manmade islands with a series of dry land rigs linked via a network of 41 km (25 mi) of causeways, with 3 km (1.8 mi) of elevated bridges. The aim was to maintain natural water flow in Manifa Bay and to avoid disruption to migration paths of local marine life. Manifa's output is expected to reach 500,000 b/d by end-July. The system's design capacity is 900,000 b/d.
•••
McDermott International has won fabrication and installation contracts for two unnamed projects in the region with a total value of $900 million. One involves building a new tie-in platform and two auxiliary platforms, and upgrading five existing platforms, in water depths of 10-30 m (33-98 ft). The other project calls for construction and installation of five drill support structures with a total weight of 7,993 metric tons (8,811 tons) in waters 30-65 m (98-123 ft) deep. All work, including hookup and commissioning, is expected to be completed early next year, with fabrication performed in Jebel Ali, UAE.
Mozambique
Anadarko has discovered a new gas accumulation in its prolific Offshore Area 1 in the Rovuma basin. The Orca-1 well intersected 190 net ft (58 m) of gas pay in a Paleocene fan system. Water depth was 1,061 m (3,481 ft).
In offshore Area 4, Eni wrapped up appraisal drilling on its gas finds with Mamba South 3, the ninth well on the permit, drilled in 1,571 m (5,154 ft) of water. The location was 50 km (31 mi) from the Cabo Delgado coast. Aside from delivering gas from good-quality Oligocene and Eocene reservoirs, the well proved hydraulic communication with the reservoirs in the previous Mamba structure wells. Eni, which estimates overall Area 4 resources at 80 tcf, now plans to drill the Agulha prospect in the southern part of the permit.
Asia/Pacific
CNOOC has started oil production from the shallow-water Weizhou 6-12 field in the Beibu Gulf in the northern part of the South China Sea. The project involved drilling 10 production wells. CNOOC expects to reach peak output later this year.
•••
Salamander Energy suspended the North Kendang-1 well in the North Kutei basin offshore Indonesia as a potential gas discovery. The semisubOcean General spudded the well on the SE Sangatta PSC in mid-February, but on reaching the Upper Miocene target an influx of high-pressure gas into the wellbore caused a kick that forced operations to be halted. The rig was due to return later to resume operations.
•••
Hoang Long Joint Operating Co. has completed a first-phase test of oil production capacity on an FPSO offshore southern Vietnam. The vessel, which operates on the Te Giac Trang field, processed more than 60,000 b/d, above its contracted level. Partner SOCO says that minor modifications to the low-pressure separator system could allow the floater to handle 70,000 b/d - further tests were due to start this month.
•••
Newfield Exploration has scored a second offshore pinnacle reef gas discovery in block SK310, 50 mi (80 km) offshore Sarawak. The B-14 well encountered 1,585 ft (483 m) of net gas pay in the main carbonate target, with a drillstem test confirming commerciality. In-place reserves appear to be in the 1.5-3 tcf range.
Australasia
Eni has been awarded a new exploration PSC in the Timor Sea, close to the producing field which the company also operates. The 662-sq km (255-sq mi) concession is in the Joint Petroleum Development Area administered by Timor-Leste and Australia, and in average water depths of 350 m (1,148 ft). Eni has identified numerous oil prospects within tieback reach of Kitan, and must drill two exploratory wells during the first two years of the PSC.
•••
Woodside and Shell will examine potential use of the latter's floating LNG (FLNG) technology for the Browse gas resources offshore Northwest Australia. Woodside dropped its original plans for a proposed LNG development near James Price Point after reviewing technical and commercial aspects of the upstream and downstream coast. The Browse retention leases are thought to hold 15.5 tcf of dry gas and 417 MMbbl of condensate.
•••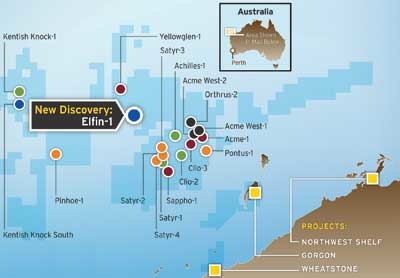 Location for Elfin-1, Chevron's latest gas discovery off Western Australia.
Chevron has notched its 21st gas find off Western Australia since mid-2009. Elfin-1, drilled in 3,570 ft (1,088 m) of water on the WA-268-P permit area, intersected 132 ft (40 m) of net pay from upper Mungaroo sands. The location is 106 mi (170 km) northwest of Barrow Island.