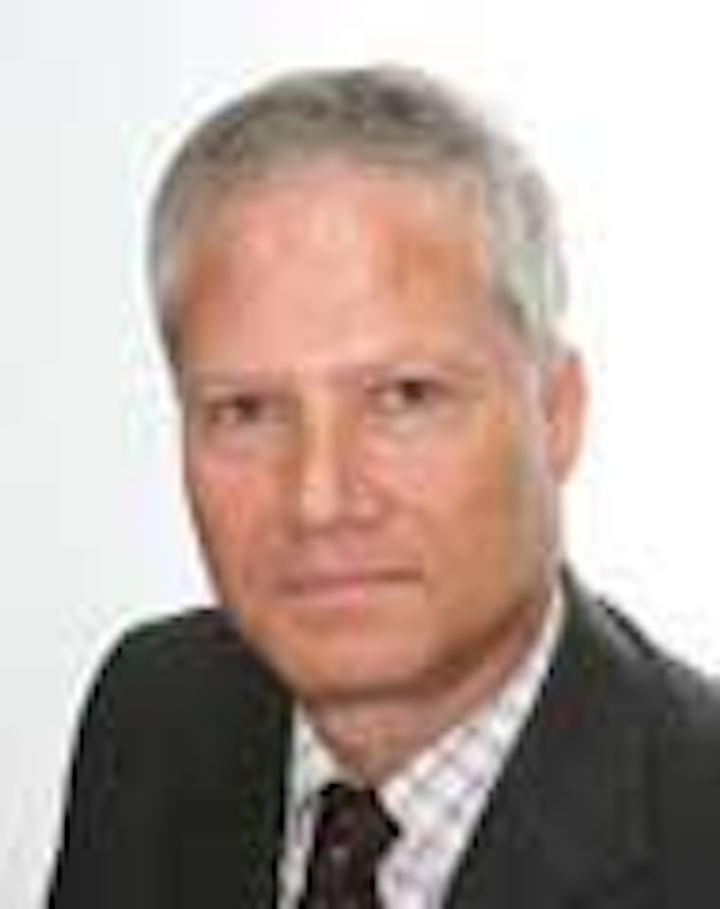 | | | |
| --- | --- | --- |
| | | Jeremy Beckman • London |
Statoil's deepwater Bay du Nord oil discovery in the Flemish Pass basin off Newfoundland & Labrador could hold up to 600 MMbbl recoverable. The company upped its estimate following a side track well drilled by the semisubmersibleWest Aquarius in 1,100 m (3,609 ft) of water, which encountered 34°API oil in good-quality Jurassic reservoirs. Along with the nearby Harpoon and Mizzen oil finds there is potential for a major deepwater production hub, Statoil claimed.
•••
Pemex has signed a memorandum of understanding with Keppel Offshore & Marine to jointly develop and operate a yard in Mexico, at an estimated cost of $400 million. Their plan is to initially equip the site to construct components of six Keppel-designed KFELS B jackups for the Mexican sector. Under future phases its capability could be expanded to repairs of deep-draft semis and drillships, topsides fabrication, and FPSO/FLNG vessel conversions. The full program would create up to 4,000 jobs.
South America
Shell has started production from the second-phase development of the Parque das Conchas (BC-10) project offshore southeast Brazil. Phase 1, which came onstream in 2009, involved subsea tiebacks of the Abalone and Ostra fields and the Argonauta B-West reservoir to theEspirito Santo FPSO. Under Phase 2, the newly connected Argonauta O-North will boost overall production by 35,000 boe/d. Shell has also installed what it claims is the world's most extensive deepwater 4D life-of-field seismic monitoring system, in 1,800 m (5,905 ft) of water. Two more subsea tiebacks are under way in the current third-phase development, which will add a further 28,000 boe/d.
•••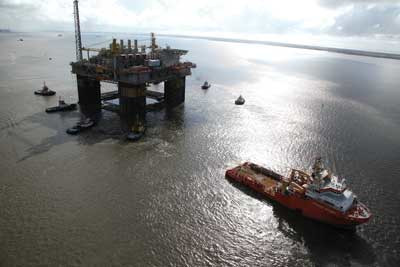 P-55 leaving Rio Grande Shipyard. (Photo courtesy Petrobras News Agency)
The 52,000-ton semisubmersible production platformP-55 has left Brazil's Rio Grande Shipyard and was due to be installed last month on the Roncador field in the Campos basin. According to operator Petrobras, mating of the 17,000-ton, 47.2-m (155-ft) high deck was one of the most complex tasks. Atlantico Sul Shipyard in Pernambuco built the hull. The topsides include modules for sulfate and carbon dioxide removal and gas compression. Following mooring at the offshore location in 1,800 m (5,905 ft) of water, the platform will be connected to 11 producer and six water injector wells and 42 risers. It is equipped to process 180,000 b/d of oil and 4 MMcm/d of gas.
•••
Falkland Oil & Gas (FOGL) is set to acquire Desire Petroleum for $99 million. Desire has interests in various blocks in the northern offshore Falkland basin. In the same area, Premier Oil and Rockhopper have agreed to farm into FOGL's PL004a and Pl004c licenses, both adjoining acreage containing the Premier-operated Sea Lion development. In exchange they will carry FOGL's share of costs for planned exploration wells on the Isobel/Elaine and Jayne East prospects.
Noble Energy, which next year assumes operatorship of FOGL's southern area offshore licenses, is looking to drill two more wells in 2014-2015, and is in talks with other operators in the region concerning a rig share arrangement.
Mediterranean Sea
Noble Energy has raised its estimate of in-place gas at the deepwater Cyprus A discovery to 3.6-6 tcf following production tests on the A-2 appraisal well. The results suggest future development wells in the reservoir could flow up to 250 MMcf/d. TheEnsco 5006 drilled A-2 in 5,575 ft (1,700 m) of water, 4 mi (6.4 km) northeast of the A-1 discovery in block 12 offshore southern Cyprus. The rig was next due to head south to the deepwater Israeli sector to drill Tamar SW, a prospect offsetting the Noble-operated Tamar field.
In the nearshore Israel region, Shemen Oil and Gas Resources claims to have found high-quality oil in the Shemen license. Caspian Drilling Co. drilled the Yam-3 well 16 km (10 mi) from the port of Ashdod; production testing was due to follow.
•••
BP Egypt has discovered gas with its first well in the North Damietta Offshore concession on the Salamat structure. The well encountered a 180-m (590-ft) hydrocarbon column and confirmed the potential of the deep Oligocene play in the East Nile Delta, while the water depth of 649 m (2,129 ft) set a new record for the Nile Delta region. BP is already considering development options through the Temsah offshore facilities, 35 km (21.7 mi) to the southeast.
Caspian Sea
Lundin Petroleum and Gunvor Group hope to move forward with work on the Lagansky block license in the Russian sector, after agreeing to assign a 51% stake to Rosneft. The license contains the Morskoye oil and gas discovery – appraisal and development studies have been held up by protracted negotiations with the Russian authorities. Under the new accord, Rosneft and Lundin could also co-operate in projects offshore Norway.
Lukoil has contracted Russia's OAO Globalstoy-Engineering to construct an ice-resistant fixed platform for Phase 2 of the Vladimir Filanovsky field development. The IRP-2 offshore complex will be used to drill 15 directional production and water injection wells with horizontal borehole completions. Astrakhan OAO Krasnye Barrikady shipyard will build an associated 55-man living quarter platform and connecting bridge. The facilities should be in place and commissioned late in 2016.
•••
In the Azeri offshore sector, the BP-led Shah Deniz consortium has concluded 25-year gas supply agreements for the Stage 2 development of the Shah Deniz field. Nine European utilities have contracted a total of more than 10 bcm/yr, in addition to the 6 bcm/yr assigned to Turkey's BOTAS in 2011. The project will deliver 16 bcm/yr to markets in eastern and southern Europe via more than 3,500 km (2,175 mi) of pipelines, with the final stretch crossing the Adriatic Sea to eastern Italy.
•••
North Caspian Operating Co. has confirmed that oil has begun flowing from the Kashagan field in the ultra-shallow water Kazakh sector. The location is 80 km (49.7 mi) southeast of Atyrau. According to partner Eni, initial phase output should build to 180,000 b/d, climbing to 375,000 b/d as further facilities come onstream. Kashagan has estimated in-place reserves of 35 Bbbl.
Southern Africa
Ophir Energy has agreed to terms for a deepwater drillship to drill six firm wells next year. The program should start in February with an exploratory well on the presalt 1-Bbbl Padouck Deep prospect in the Ntsina block offshore Gabon. Next up will be wells on Affanga Deep in the Gnondo block and the presalt Okala structure in the Mbele block.
•••
Sunbird Energy has awarded Wood Group Kenny concept and definition studies for the Ibhubesi gas project off South Africa's west coast. The aim is to progress to front-end engineering design early next year.
Ibhubesi will likely feature a subsea gathering system, an offshore processing facility, and a 400-km (248-mi) subsea pipeline connected to an onshore plant. State oil company PetroSa is a partner in the project.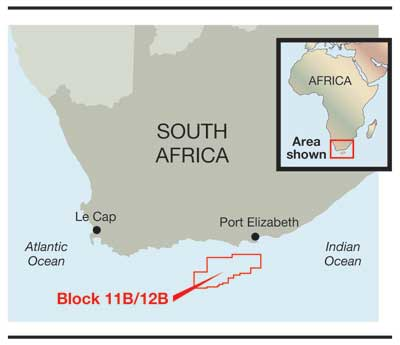 Total plans its first well next year on South African offshore block 11b/12B.
In the Outenique basin off South Africa's southern coast, Total is taking a 50% operating interest in block 11B/12B from Canadian Natural Resources (CNR). Total plans to drill a first exploratory well next year and will cover CNR's costs up to $150 million. The block is 175 km (109 mi) offshore. Water depths range from 200-1,800 m (656-5,905 ft).
East Africa
Odfjell Drilling's drillshipDeepsea Metro-1 has completed a drillstem test on the Pweza gas field in block 4 offshore Tanzania. The test flowed at an equipment-constrained rate of up to 57 MMcf/d – flow rates would be much higher for the development wells, said operator BG Group. The rig has since moved south to drill an appraisal well for BG on the Mzia discovery in block 1. The company estimates discovered gas resources on its three Tanzanian offshore blocks at 13 tcf, sufficient for a two-train LNG development at a yet-to-be-determined location in eastern Tanzania. Statoil and ExxonMobil, the partners in adjoining block 2, are involved in the discussions.
Asia/Pacific
SMOE in Singapore has completed the ZPQ processing and living quarter platform for the PTTEP-operated Zawtika field in the Gulf of Mottama offshore Myanmar. First gas is due by the end of this year, building to 345 MMcf/d. The Phase 1a development also takes in three wellhead platforms, intra-field flowlines, and an export pipeline system heading offshore to the mainland and continuing overland to connect to the PTT gas line system at Ban-I-Tong on the Myanmar/Thailand border.
•••
Petronas Carigali has contracted the Technip/Malaysia Marine and Heavy Engineering (MMHE) joint venture for development services for two gas fields offshore Sarawak. Both are in block SK316, 180 km (112 mi) north of Bintulu in a water depth of 104 m (341 ft). MMHE's yard in Pasir Gudang, Johor state, will construct a central processing platform and a bridge-linked wellhead installation. Gas will be exported through a 75-km (46.6-mi) pipeline to be installed by one of Technip's vessels.
JX Nippon Oil & Gas has teamed up with Petronas for a new production-sharing contract (PSC) covering deepwater block 2F, northwest of Sarawak. This spans more than 5,500 sq km (2,123 sq mi) and water depths ranging from 100-1,200 m (328-3,937 ft). JX Nippon has a 40% operating interest.
•••
Hoang Long Joint Operating Co. has completed tests on its latest exploration well on the Te Giac Trang field in the Cuu Long basin off southern Vietnam. Well TGT-10XST1 was drilled on the H5 fault block. The combined oil and gas flow from three Miocene/Oligocene zones exceeded 27,600 boe/d, one of the highest for a well anywhere in Vietnam, according to partner SOCO International. The location was 6 km (3.7 mi) south of the H4 wellhead platform in block 16-1.
•••
CNOOC has signed a PSC for shallow-water block 05/31 in Bohai Bay offshore China with Smart Oil Investment. The block is at the junction of Qikou Sag and Nanpu Sag on the western side of Bohai, and covers an area of 270 sq km (104 sq mi) in water depths of up to 15 m (49 ft).
Smart Oil will acquire 3D seismic and drill exploration wells, with CNOOC exercising its standard right to take a 51% stake in the event of a commercial discovery.
•••
Otto Energy is pulling out of Service Contract 69 offshore the Philippines' Visyan Islands. This follows a review of deepwater prospectivity based on 2D and 3D seismic evaluation studies. The company remains committed to development of the producing offshore Galoc field, where the FPSORubicon Intrepid has been upgraded to receive production from the new Phase 2 wells. It will also continue exploration drilling in offshore concession SC55.
Australia
Woodside has started production from the North Rankin redevelopment project offshore northwest Australia. The $A5-billion ($4.7-billion) scheme involved construction and installation of a second platform, North Rankin B, and modification and refurbishment of the existing North Rankin A facility.
The new 65,000-metric ton (71,650-ton) platform will recover around 5 tcf of low pressure gas from the North Rankin and Perseus fields. Gas is exported 135 km (84 mi) to the terminal onshore in Karratha.
•••
Western Australia Premier Colin Barnett has inaugurated the $1.5-billion Macedon domestic gas project in Onslow. The BHP-operated facility receives gas from four production wells in offshore production lease WA-42-L in the Exmouth sub-basin. It will supply 20% of the state's domestic and industrial needs. Apache is a partner in the project.