Offshore staff
OSLO, Norway – Britain is leading the global charge to cut offshore oil and gas production costs, according to analysis by Rystad Energy.
The review, based on regional opex reduction per barrel, revealed that between 2014 and 2018 the UK industry reduced opex costs by 31% to $16/bbl in 2019, followed by Norway and the United States with respective opex reductions of 19% and 15%.
"The reduction...is largely the result of offshore regions – such as the United Kingdom, Brazil, Nigeria, Angola, the Gulf of Mexico, and Norway – feeling the squeeze of uncertain oil prices, which in turn has driven operators and contractors to nurture operational improvements in pursuit of lower unit prices," said Sara Sottilotta, oilfield service analyst at Rystad Energy.
But there has also been a greater focus on strategic planning, better maintenance management and increased implementation of new technology, all of which have helped drive down costs, although part of the reduction is a result of maintenance deferrals.
Sottilotta attributed the UK's cost achievement to a general increase in production and a declining share of production from mature fields as new fields have come onstream, while at the same time old fields have been shut in.
Another factor has been lower salaries, with most UK offshore operators switching from two-week to three-week personnel rotations in 2015-2016, generating savings by cutting the number of flights required to shuttle personnel to and from offshore facilities.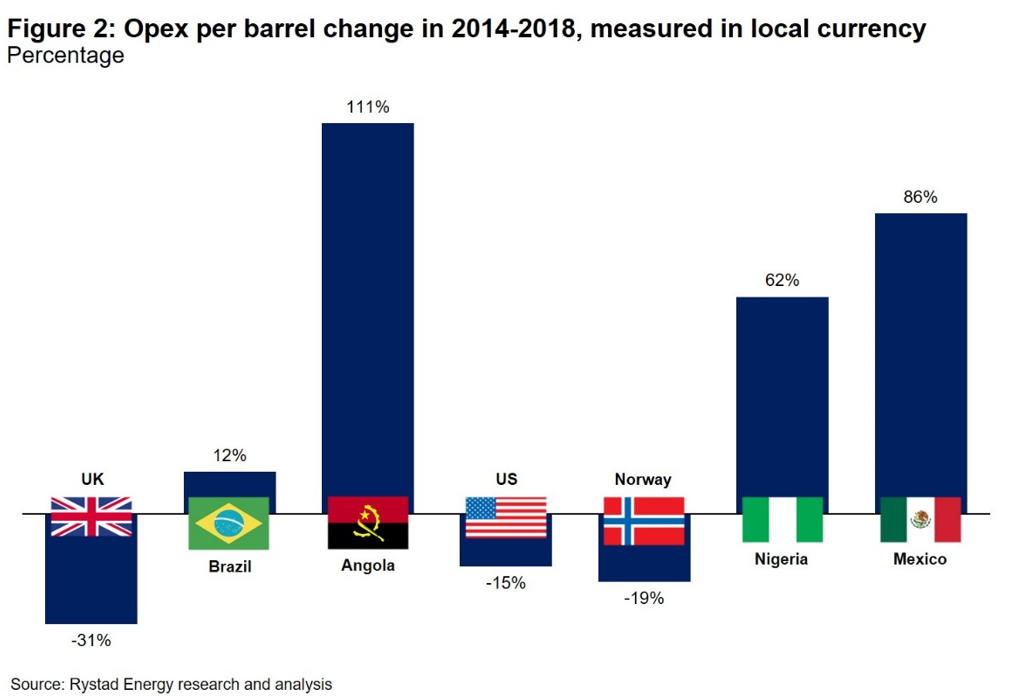 Nevertheless, the UK remains saddled with the highest opex per boe of all major offshore regions, the review found, due to typically to the sector's smaller field sizes, a fragmented operator landscape, a more mature basin, and a greater number of personnel on board per produced barrel.
Brazil's opex drop, from $16/boe in 2014 to $11/boe in 2019, was driven largely by higher production, notably from the Lula field in the presalt Santos basin.
Norway's reduction was helped by the rising exchange rate between the Norwegian kroner and the US dollar.
In Mexico, however, opex has risen since 2016, due to falling production and an increased share of production from mature fields.
01/08/2020