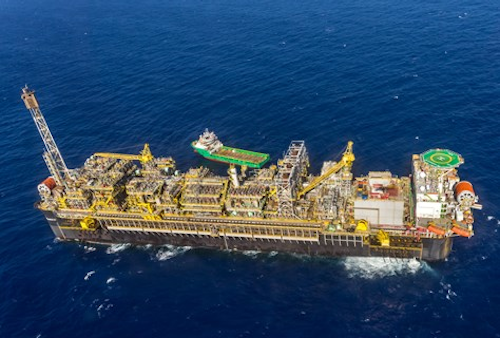 Offshore staff
RIO DE JANEIRO – Petrobras has started production through the P-67FPSO in the Lula Norte area of the presalt Santos basin offshore Brazil.
The location is roughly 260 km (161 mi) from the coast of Rio de Janeiro in a water depth of 2,130 m (6,988 ft).
This is the ninth production platform on the BM-S-11-block. It has capacity to process up to 150,000 b/d of oil and up to 6 MMcm/d of gas.
The FPSO will be connected to nine production wells and various injection wells, with oil offloaded to shuttle tankers and gas exported through the existing presalt gasline network.
According to Petrobras, the Lula field, covering the Lula and Cernambi reservoirs, is now the largest producer in Brazil and should eventually deliver 1 MMb/d this year: commercial production started in October 2010.
Other platforms operating on the block are the FPSOsCidade de Angra dos Reis (Lula Pilot), Cidade de Paraty (Lula Nordeste Pilot), Cidade de Mangaratiba (Iracema Sul), Cidade de Itaguaí(Iracema Norte), Cidade de Maricá (Lula Alto) Cidade de Saquarema (Lula Central), P-66 (Lula Sul) and P-69 (Lula Extremo Sul).
Partners in the BM-S-11 concession are Shell Brasil Petróleo and Petrogal Brasil.
02/01/2019