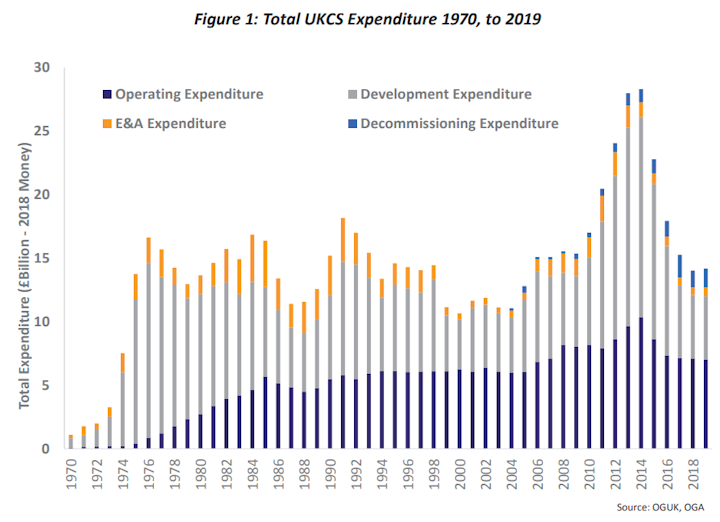 (Courtesy OGUK, OGA)
Offshore staff
LONDON – Oil & Gas UK (OGUK) has revised downwards its estimate for total decommissioning costs on the UK continental shelf to £51 billion ($65.6 billion).
This includes new fields either sanctioned for development or with facilities installed over the past two years.
In 2017 the Oil and Gas Authority (OGA) issued a baseline figure of £59.7 billion ($76.7 billion). According to OGUK, the reduction shows what the UK industry has achieved so far in downsizing costs.
The association, in its UKCS Decommissioning 2019 Cost Estimate Report, forecasts overall UK oil and gas industry expenditure this year of around £15 billion ($19.3 billion) with decommissioning accounting for just under 10%.
This shows that investment in the basin and opex on current assets is still far above what is being spent on decommissioning, the report points out, despite fears that decommissioning would by now dominate UKCS expenditure.
At the same time, the OGA's Production Efficiency Dashboard shows UK production efficiency to be at its highest level since 2008. That coupled with low unit operating costs of around $15-16/boe is making offshore assets economically viable for longer, with less urgency to decommission.
Actual expenditure on decommissioning in 2018 was £1.3 billion ($1.67 billion), lower than forecast. This can partly be explained by the fact that some offshore work has been re-phased, but the industry is also conducting activities more efficiently, the report claims.
At the same time operators are sticking to their schedules, undertaking more work while reaping the benefits of greater efficiencies as the decommissioning sector grows its capabilities.
In 2018 the number of UK offshore development rose to 85 from 71 in 2017, while the number of wells decommissioned fell from 163 wells in 2017 to 151 wells in 2018.
The report points out that it is typically much more expensive to develop a new well than to decommission one. In 2018, decommissioning accounted for 63% of the physical wells activity in the UKCS, and a similar percentage is anticipated in 2019.
Over the next decade the UK looks set to spend £15.2 billion ($19.5 billion) on decommissioning activity.
OGUK's decommissioning manager Joe Leask said:
"With a firm grip on cost management, environmental and safety standards, our tenth annual Decommissioning Insight shows a healthy sector well-positioned to realize some £15 billion [$19.3 billion] of opportunities over the next decade.
"Our report underlines the significant intellectual capital anchored here in the UK. Ensuring this is shared is key to maintaining the competitiveness of the sector, enabling this home-grown industry to capture the lion's share of an emerging global market some four times greater.
"We're already seeing exciting new companies emerging as specialists in decommissioning, either offering full-scope solutions or focusing on specializing in areas including offshore well decommissioning and onshore dismantling and disposal. These innovative business models offer industry real choices whether operators carry out decommissioning themselves or pass the scope to those companies offering increasingly competitive solutions."
11/26/2019