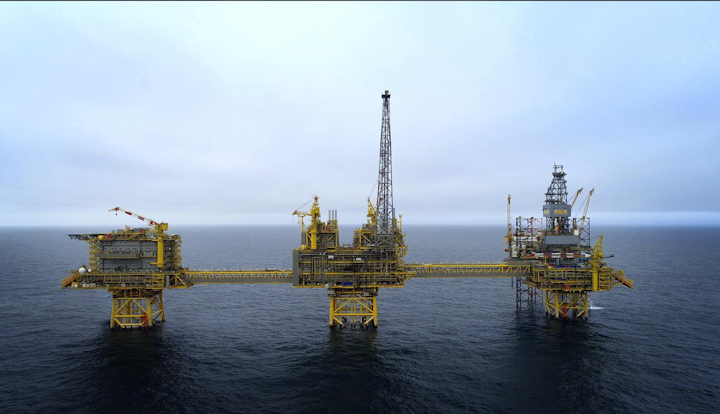 Total
Offshore staff
PARIS – Total has brought onstream the Culzean gas condensate field in the UK central North Sea, ahead of schedule and more than 10% below the original budget.
The development, in block 22/25a, 230 km (143 mi) offshore Aberdeen, will deliver 100,000 boe/d at peak and should account for around 5% of the UK's gas needs.
According to Arnaud Breuillac, Total's president Exploration & Production, capex savings were more than $500 million, due mainly to the efforts of the construction and drilling operations project teams.
The field is in the east Central Graben area, close to the HP/HT Elgin-Franklin gas-condensate fields which the company also operates, and this generates synergies, Breuillac said.
Maersk Oil discovered Culzean, which has estimated resources of 250-300 MMboe, in 2008.
Development involved drilling six wells, construction of three bridge-linked platforms and a floating storage and offloading (FSO) unit.
Produced gas is exported via the CATS pipeline and the UK National Grid while condensate is stored in the FSO Ailsa for offloading by shuttle tanker.
Total highlighted the application of new digital technologies such as 'smart rooms' that improve efficiency during operations and create a safer working environment.
Other partners are BP and JX Nippon.
Wood Mackenzie North Sea upstream team research associate Glenn Morrall said the cost savings reported by Total point to a final investment cost of around $4.5 billion.
He added: "Culzean is the third UK project to start production this year, but the biggest by a long way. It shows that there is still appetite for big developments in UK waters.
"There is some risk, though. Culzean gas is HP/HT, which makes it more challenging to operate successfully. However, Total brings a wealth of experience in operating HP/HT fields, for example at the nearby Elgin-Franklin fields."
The company is now the UK's biggest gas producer, providing 18% of daily consumption, and has consolidated its position following exploration successes as operator at Glendronach west of Shetland and as a partner to Nexen at Glengorm in the UK central North Sea.
06/11/2019
Total