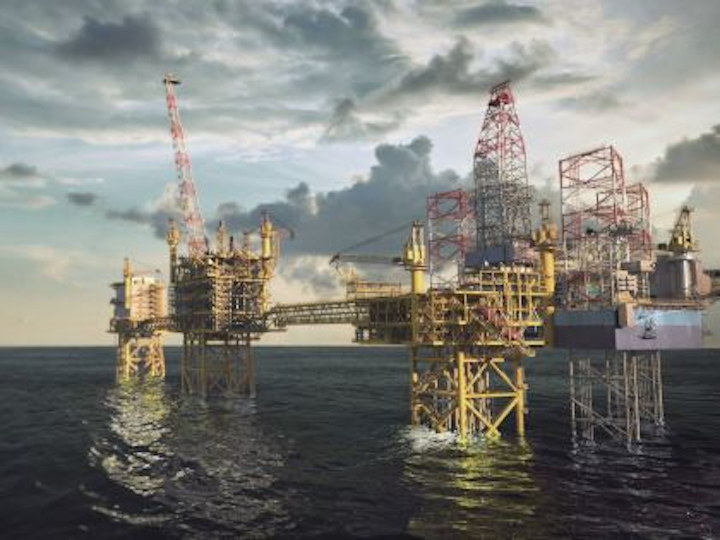 Offshore staff
COPENHAGEN, Denmark – Maersk Oil says it has significantly reduced capital costs of its Culzean high-pressure/high-temperature (HP/HT) field in the UK central North Sea.
Investment costs for the Culzean project are now forecasted to be around $4 billion, a reduction of around $500 million on the estimate at project sanction, CEO Gretchen Watkins outlined at the Maersk Group Capital Markets Day in Copenhagen.
This improvement in project capex has been achieved in close collaboration with partners, suppliers, and the authorities, the operator said. The present breakeven estimate for the project now stands at $33/boe (including cost since sanction).
"Achieving cost reduction of 11% during project maturation, we are showing our ability to deliver greater value for investors and stakeholders through effective project delivery and controls," said Watkins.
Discovered in 2009, Culzean, an HP/HT gas condensate development was approved by theOil & Gas Authority in August 2015. Since then, Maersk Oil and co-venturers BP and JX Nippon have worked together with suppliers to improve the project.
The improved forecast has been achieved through higher drilling efficiency, robust upfront design and project planning, supply chain deflation and supportive foreign exchange movements, said Watkins.
Culzean remains on schedule to deliver first production in 2019 and is expected to produce enough gas to meet 5% of total UK demand at peak production in 2020-2021. Resources are estimated at 250-300 MMboe.
Drilling onCulzean's first production well began in September. 
12/13/2016