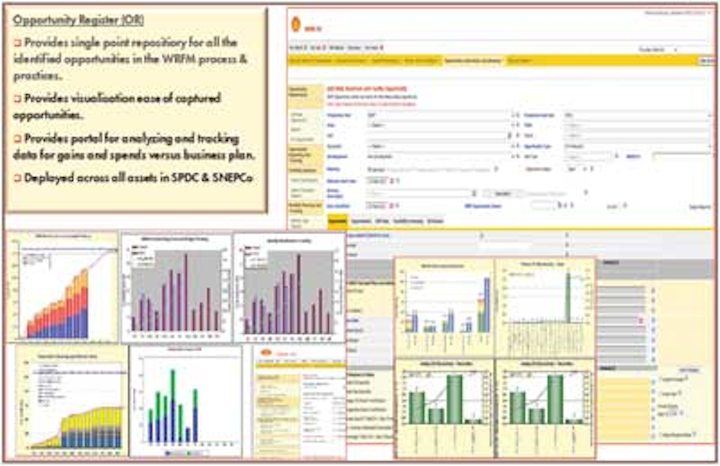 Increases in production result from system implementation
George Nwachukwu
Gbolade lbikunle
Sunday O. Ewhoforama
Martins Amos
Adekemi Afolayan
Ann Iya
Tonye Adegbie
Awan Eli
Mojisola Aroyehun
Inyengiyikabo Abolo
Ayotunde Ajayi
Jonathan Mude
Shell Petroleum Development Co. Nigeria

Shell Nigeria has refined a system that makes acquired wells, reservoir, and facilities (WRFM) data useful for better understanding of reservoir response for effective well, reservoir, and facility management reviews; to provide a basis for identifying short-term oil and gas generation (STOG) opportunities; as an aid to meeting statutory requirements; and to improve calibrations of integrated models to increase recovery and reserves totals.
Integrity and assurance of the acquired data are important to the business and require practical solutions. In Shell Petroleum Development Co. Nigeria (SPDC), data and information management solutions are strengthened, especially within the Wells and Reservoir Facility Management team. This has led to significant and consistent increase in production, reduction in deferment, and a slowing in the oil decline rate.
The process of data acquisition and analysis involves technical staffers from SPDC and vendors. There is continuous monitoring to ensure all approved company procedures and minimum standards are strictly adhered to. For assurance process, Shell WRFM value loop is a reference point where models are generated and interpreted considering all the possible uncertainties, threat to production, and asset integrity.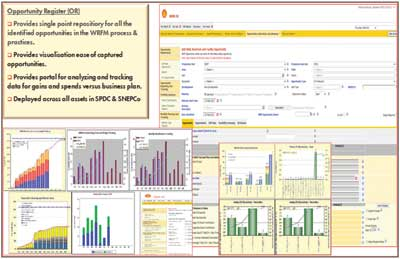 Opportunity Register display.
Because data quality is critical, each asset has a comprehensive WRFM data acquisition plan, detailing the procedure, cost, data definition, and data value owners. The Information Quality Metrics queries and Web-based visualization tools help asset teams recognize data quality issues and quickly resolve them.
Business drivers were mainly to enable the petroleum engineering function to arrest production decline, maximize oil production from existing assets, accelerate hydrocarbon maturation, and reserves replacement through value-adding subsurface data management practices by introducing fit-for-purpose new technology, integration, and collaborative tools; simplifying the integrated review processes; and improving the availability and visualization of wells, reservoir, and facilities data.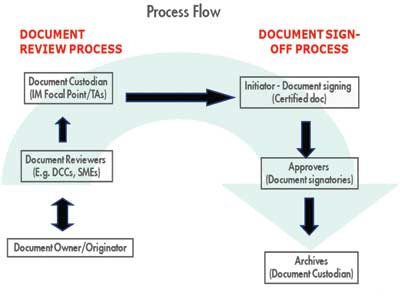 Process flow for digital signatures.
Integration and visualization of key data types required for WRFM reviews are the key objectives, hence the following methods are used:
Definition and scoping of data quality/gap issues
Scoping and project definition of data cleanup projects
Embedding of data managers in day-to-day business process
Clear ownership and data accountability by the business
Adoption of practices worth replicating (PWR) across the operating units
Engagement of various disciplines in value-added IM/DM propositions
Creating product user/developer interface.
The DM toolkit
The WRFM toolkit is a suite of applications developed and adopted by Shell's WRFM global deployment team to enhance effective WRFM reviews. The applications are Electronic Wellbook (e-wellbook), Digital Signature, Opportunity Register (OR), Daily Production Review (DPR), Exception-based Surveillance (EBS), and asset WRFM portals. In addition, the Lean Methodology/Concept has been applied for process improvement at various stages and activities.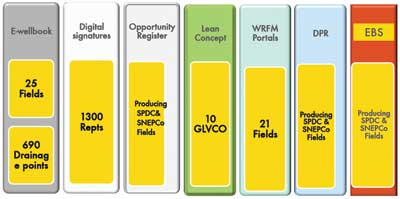 The wells, reservoirs, and facilities data toolkit deployments to date within Shell Nigeria.
E-Wellbook. The deployment of electronic wellbooks using an intemal data mart and vendor applications synchronized with various databases was a game-changer that improves the visibility, availability, and data integration to eliminate the challenges associated with manual wellbooks. Presently, using the eWellbook tool takes eight hours per field compared to four months historically to generate wellbooks, with >90% cost savings across 25 fields and significant gain in barrels per day production.
Data is harvested from numerous corporate stores using Reservoir Surveillance Mapping (RSM). It is based on a Structure Query Language (SQL) principle. The RSM server data warehouse allows near real-time synchronization and integration with the ODM (Oilfield Data Manager) application to integrate data access across disciplines. RSM/ODM not only fully incorporates this data flow, but also incorporates the interpreted results from many applications which use Corporate Data Store (CDS) as a key data source. The CDS deployment project is a key enabler for the digital wellbook deployment success. The RSM project focused on harvesting reservoir surveillance data from production and subsurface data sources. Data is quality checked for consistency (well names, units, dates, etc.). Pre-defined templates in ODM create well-based montages of production, reserve, and subsurface data and interpretations.
Digital signature. The business requirement to sign-off key documents such as end- of-well reports, ultimate recovery changes reports, project initiation notes, field development reports, etc. meant documents were hand carried and manually signed. This was time consuming, costly (paper, courier, physical record archiving, etc.), and posed risk of loss of physical documents.
The use of digital sign-offs facilitated prompt approval of proposals by the Technical Authorities (TA) at various levels and eliminated the risk of misplaced documents as these are immediately uploaded into the corporate document management repository.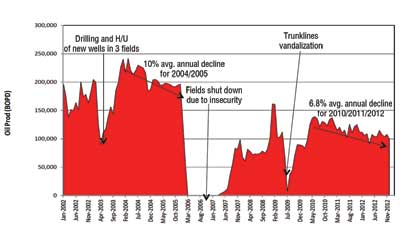 Graphic representation of historical production performance showing a reduced rate of decline following implementation of the data management program.
Opportunity register.Shell Nigeria was an early adopter of the Opportunity Register. This tool captures and analyzes the value created by the periodic review of reservoir, wells, and facility. The results are a ranked and prioritized list of opportunities and risks. The tool facilitates business planning, scoping of work exercises, and take appropriate decision having supporting analysis.
The application provides user interface to register the WRM interventions (WRMI) and provision to view and edit WRMI data. The system provides a reporting format where the user can view various reports and charts to aid decision making with regards to identified opportunities. Ranking, prioritizing, and standardizing across different assets also are enhanced.
Daily production review. DPR is a WRFM practice done on a daily basis. The cross-functional view of the DPR tool enables an integrated review approach. The objective is to understand daily production data, to identify integrity issues, and to agree on activities required for the next 24 hours.
Exception-based surveillance. EBS is a focused, medium-term surveillance tool that closes the gap between the seconds-to-minutes quick response monitoring by operations and the longer-term optimization by engineers.
EBS helps asset teams to focus on areas that need attention. Staff efficiency improves by focusing on the exception rather than the normal. EBS support ensures safeguarding, and the optimization system is kept within the operating limits to detect and resolve deviations from the norm sooner.
EBS can drive continuous improvement by visualizing cycle time between detection and remediation of an exception, and by visualizing how often certain types of exception occur in different parts of the asset.
Asset Web portals. To ensure all information and data required for WRFM reviews are visible and accessible, WRFM Web portals were developed. These portals were designed using the WRFM value loop components field introductions, physical assets, data acquisitions, WRFM standards, interpretations and models, generation and evaluation processes and STOG plans and executions monitoring. The portal has enhanced SPDC WRFM reviews by increasing productivity with its one-shop documents and data availability for WRM reviews, and because it eases on-boarding of new staff.
"Lean" methodology. The main objective of the lean concept is to eliminate waste and non-productive activities. An example of this is shown in a gas lift valve change-out (GLVCO) operation by Shell Nigeria. GLVCO opportunities are revalidated by calibrating the existing WINGLUE model with BHP (FG) survey and well test data. Once an opportunity is confirmed, GLVCO activity is immediately carried out using the same barge unit, thus saving the cost of re-mobilizing a service provider to the site for the GLVCO. The result is a huge cost savings.
Business benefits
For efficient and effective WRM reviews it is mandatory that any single piece of data can be accessed at any time. Short-, medium-, and long-term opportunities identified through efficient and effective well and reservoir reviews can be matured, executed, and produced. Without an up-to-date collaborative tool such reviews become inefficient.
In applying these big data management tools, Shell Nigeria has seen them help reduce the time spent by technical professionals to harvest and evaluate data. An effective, integrated review with multi-disciplinary team has increased cycle of reviews over the past three years. During this time, 3% of average annual production oil potential from 17 strings were identified as opportunities. The system accelerated unlocking of STOG production of 44,000 b/d of oil in three years (annualized) of 2010-2012, and there was a 30% improvement in arresting oil decline rate per year. TEFS Asset team Nigeria received Shell's Global RE and PT Conference Award in 2012 for WRFM best practices.
In addition, 21 fields were rated by assessors to be above WRFM minimum standards since 2010, and the system generated trusted priority data of known and acceptable quality for the business. One reason for improved data quality was the reduction in manual data entry.
Accessibility of the system is improved. The majority of the tools are Web based and user friendly. Wellgrams, well intervention activities, significant well events, fluid contact analysis, and other informations are easily accessible. This optimizes reviews and allows new users to get familiar with all discipline data as efficiently as possible.
Challenges
Some of the key challenges identified with DM practices include non-uniformity of common asset names across the various corporate databases. Clarity on data ownership, quality, completeness, and accountabilities must be set out, and the shortage of skilled DM manpower can be a constraint.
Recommendations to address these challenges include enforcement of designs to make reliable quality data available in standard repositories, clear roles and accountabilities, and continuous improvement through annual reviews.
Conclusion
Technical data management and the application of practical solutions have increased production in SPDC. The essential elements of this success are using the right solution and managing technical data, fostering visible and open communication, and securing business and asset management participation and support.
Acknowledgment
The authors acknowledge the contributions of the following persons who have helped with the WRFM data management journey of SPDC: Tunde Tope, Oyedeji-Olaniyan Lola, Chavez-Gomez Sergio, Igbuwe Duke, Prakash Dayalan, Bhan Sushma, and Edwin Abobise.
Editor's Note: This paper is from a presentation made at the 2013 Petroleum Data Integration, Information and Data Management conference. The 2014 conference is scheduled in Houston on May 21-22.