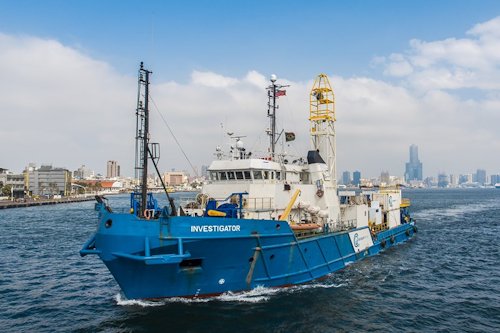 (Courtesy Geoquip Marine)
Offshore staff
LONDON – Tower Resources plc and its subsidiary, Tower Resources Cameroon SA, have contracted Geoquip Marine Operations AG to conduct the site survey at the proposed NJOM-3 well location on the Thali license offshore Cameroon. 
The MV Investigator is expected to arrive in Cameroon between Nov. 15 and Dec. 30, 2019, subject to all relevant permits and the requisite license extension being received from the Ministry of Mines, Industry and Technological Development prior to mobilization.
The work will comprise three boreholes, each with cone penetration testing. The work is expected to take seven to 10 days on site, plus any off-site testing and report preparation.
The site survey is a prerequisite before the jackup COSL Seeker drills the NJOM-3 well.
11/01/2019