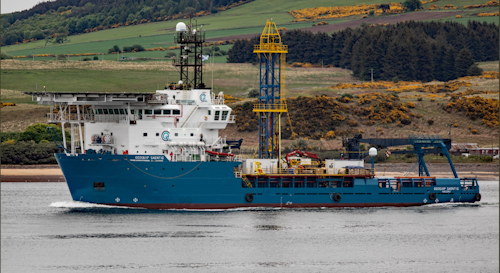 (Courtesy Geoquip Marine)
Offshore staff
ST GALLEN, Switzerland – Offshore geotechnical engineering specialist Geoquip Marine has taken delivery of a second DP-2 offshore support vessel this year.
The Geoquip Speer, which follows the Geoquip Saentis, was built in 2010, with an overall weight of 3,504 metric tons (3,862 tons) and a length of 84 m (275 ft).
The vessel is currently undergoing upgrades to make it suitable for international DP operations. These include opening the moonpool design so that it can be fitted with a heave-compensated offshore geotechnical drilling rig.
On completion the vessel will starts its first assignment, seabed cone penetration work in the Moray Firth off northeast Scotland, before sailing for assignments in the Mediterranean and USA.
The company has tendered successfully in the past few weeks for contracts off West Africa, northern and Central America, and the Mediterranean, for the oil and gas and offshore wind markets.
08/29/2019