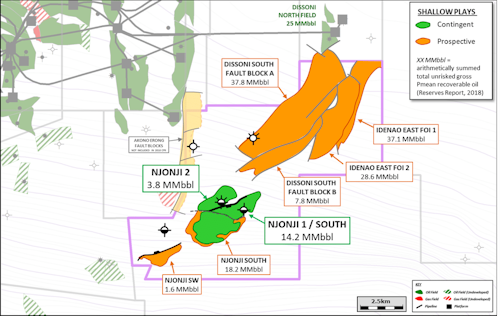 (Map courtesy Tower Resources)
Offshore staff
LONDON – Tower Resources has issued an update on its drilling/farm-out preparations for the Thali block offshore Cameroon.
The company had arranged a tentative, schedule-related deal with Vantage for the jackup Topaz Driller to drill the NJOM-3 appraisal well on the Njonji oil discovery.
However, the COSL Seeker has since become available, and following the signing yesterday a letter of intent, this jackup will likely manage the program.
Tower has notified the Société Nationale de Hydrocarbures (SNH) and the government of the changes to the well schedule, which it expects to proceed despite the extension to the first exploration period of the concession expiring on Sept. 14.
The well will be drilled to a TD of 1,100 m (3,609 ft) with a view to intersecting at least three reservoir zones already identified by Total's earlier NJOM1B and NJOM2 discovery wells.
It is designed to confirm the greater reservoir thicknesses observed on reprocessed 3D seismic in the up-dip area of the structure, and to evaluate additional reservoirs not present in the locations of the earlier wells.
Following a drillstem test, the well will be suspended for later completion as one of four initial production wells for the development.
As for well financing, Tower remains in talks with multiple parties that are currently undertaking due diligence.
08/28/2019