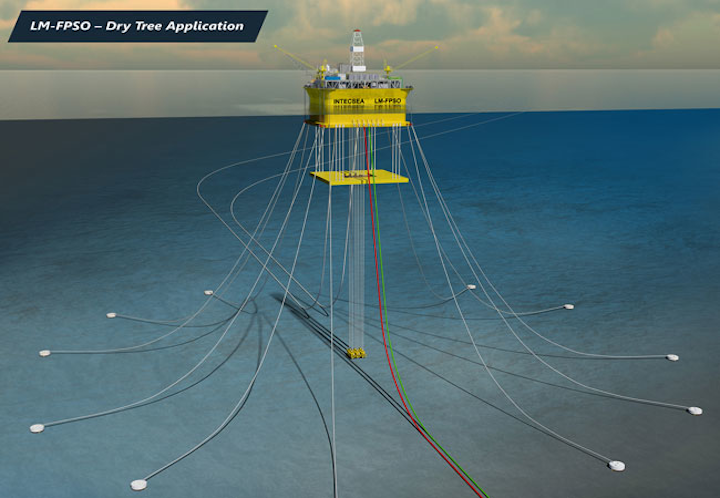 Offshore staff
HOUSTON– INTECSEA has introduced a range of low-motion (LM) floaters – the flagship LM-FPSO, the LM-FLNG, and the LM-SEMI.
The LM-FPSO is capable of operating from ultra-deepwater (3,000 m/9,842 ft+) to shallow-water fields. The design maintains all the advantages of conventional FPSOs while enabling the use ofsteel catenary risers (SCRs) and top tensioned risers (TTRs). However, it does not need a turret or swivel.
Comprised of field-proven components, the LM technology is said to improve platform habitation and helicopter operation while maintaining quayside integration. The technology's improved stability also makes the floater less sensitive to the topsides vertical center of gravity and weight changes resulting in reduced risk to the project schedule and cost during execution.
The floater's motion response enables the application of large diameter SCRs in wet tree applications and the hosting of TTRs in dry tree applications. Plus, it enables well drilling and completions from the floater, which is currently not feasible on conventional FPSOs due to their inherently high motion response, the company pointed out.
Geeta Thakorlal, president of INTECSEA, says: "With the easy oil long gone, operators are increasingly turning to more remote, hostile, and often deepwater environments. However, the challenge is the financial viability of these fields. The LM technology is incredibly exciting because it represents a major step forward in improving the economics of these offshore developments.
"The combination of established, field-proven components and motion response verified by model testing, along with our technical expertise and industry track-record, has proved the LM technology as a reliable and cost-effective solution for all water depths and environments."
The LM-FPSO is currently undergoing certification by DNV.
04/05/2017