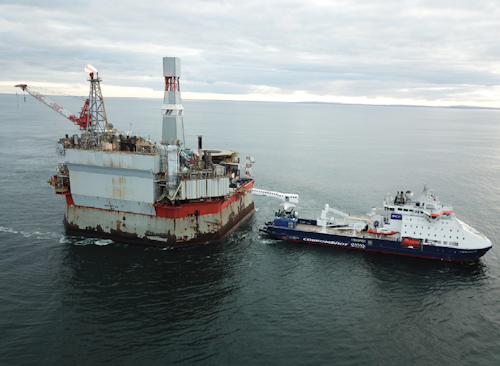 Arnoud van Leer
Ampelmann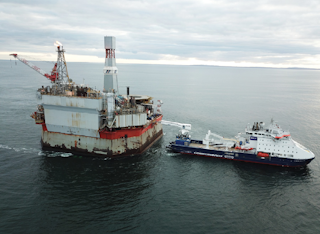 First offshore trials at Sakhalin-2 field in the Sea of Okhotsk, Eastern Russia. (Photos courtesy Ampelmann)
Safe transfer of personnel to and from offshore facilities is a high priority for operators, and in some of the world's coldest regions, there is a growing need for robust 'Walk to Work' (W2W) systems.
Using technology inspired by the flight simulator industry, Ampelmann has enhanced the design of its conventional W2W system, employed in relatively benign environments, to safely transfer workers between offshore platforms and adjacent vessels in harsher areas.
The N-type system, otherwise known as 'Icemann', addresses the combined challenges of sub-zero temperatures, snow and sea spray icing, as well as wind speed, sea state, visibility and vessel movement. It was developed to provide safe access for personnel between the transport vessel and offshore installation in remote areas such as northern Russia, Norway and Canada, and parts of the Caspian Sea. The system underwent rigorous testing prior to deployment last August for Sakhalin Energy Investment Company at the Sakhalin-2 field center in the Sea of Okhotsk offshore northeast Russia, and has since performed more than 16,000 transfers, and nearly 1,000 landings.
Icemann can transfer crew in extreme ice states and temperatures down to -28oC (-18.4°F). With equipment covers, heating and insulation, the system can operate year-round in regions where temperatures can plummet to -40oC (-40°F), in ice and snow conditions, and is currently the sole gangway system of its kind in operation. It is fully enclosed and insulated, can operate in sea states up to 3.5 m (11.5 ft) significant wave height, and employs active motion compensation. It features a transfer deck for up to 20 people, can rotate 360o, and is controlled from the vessel to ensure flexibility in platform landing locations and directions. It has a maximum gangway length of 32 m (105 ft), a telescopic scope of 11 m (36 ft), and a footprint of 11x11 m.
The Sakhalin-2 Icemann has been installed on the Stepan Makarov, a new ice-class platform standby vessel built for Sakhalin-2 under a 10-year agreement between Sakhalin Energy and the vessel operator, Sovcomflot. This is the world's first standby vessel to deploy such a gangway in severe environmental conditions. The 3,880-t deadweight boat can accommodate 98 people on board (POB), including 72 passengers working at the platforms, and can also serve as a response vessel for offshore spills. It was certified by DNV GL under the winterization design code DNV-GL-OS-A201.
In addition, Sakhalin Energy will charter a standard, non-winterized version of the motion- compensated gangway for five years, to be installed on a second ice-breaking support vessel and to support personnel transfer requirements during the summer season.
PAmpelmann worked closely with Sakhalin Energy over a two-year period to adapt the design to the project's requirements. It was designed from the bottom up, with each component selected for its ability to operate in severe conditions and temperatures. And in view of the remoteness of the operation, it was critical that any maintenance required to the gangway system was minimized, and this too was reflected in the design.
Prior to deployment, Icemann's hydraulic cylinders and other components were tested in a cooling unit in temperatures down to -40 oC to determine whether these items could withstand the extreme temperatures or would require shielding for protection purposes. All the hydraulic actuators are heated individually using heat tracing while hydraulic manifolds are kept to an optimum working temperature by means of heating pins. All interconnected hydraulic piping and hoses are flushed with heated oil prior to operation, to ensure that hydraulic oil in the system is at the right operating temperature to prevent cold shock in the valves and actuators when starting up the system.
The gangway is designed to ensure easy and safe personnel transfer on and off the platform year-round. It is capable of removing any relative movement/heave by instantly measuring the movement of the vessel and then compensating for this movement through the hydraulic cylinders. This means that the top of the system, employed for personnel transfer, remains completely stationary in relation to the platform structure, even in wave heights up to 4 m (13 ft) and wind speed up to 38 knots. The system's peak power consumption is 1 MW.
The gangway and transfer deck are fully protected with an 'icephobic' cover to limit the growth of ice and to reduce the effect of wind chill (also tested in the cooling unit). Although this section of the system is not heated, transferees will only be exposed to extreme weather conditions for a limited amount of time, normally between five and ten minutes per transfer.
The gangway has been a widely used transportation system for more than a decade, thanks to calls within the industry for alternatives to rope, basket and helicopter transfer. In 2008, the first full motion competition access solution for transferring people and small cargo loads was deployed in the North Sea. The A-type set a new standard in offshore access in terms of safety and efficiency, with the ability to compensate wave heights up to 3 m (9.8 ft). It also allows for the transfer of up to 20 crew members in just five minutes. The system has successfully transferred more than 2.7 million personnel since its inception and while still used widely used in W2W operations today, specialist gangways are required for particularly harsh environments where temperatures are low and sea states are volatile.