Premier Oil to incorporate into Sea Lion project
Larry Forster
Endeavor Management Inc.
Dave Hartell
Premier Oil
For oil and gas developments to be economically viable, costs need to come down and production and efficiencies need to go up. The downturn has reinforced this challenge, which has resulted in potentially game changing ideas that go beyond traditional thinking in all segments of the industry.
The topsides facility industry continues to play its part in improving economics of offshore fields. Construction experience has resulted in reduced capital costs and faster time to first oil. Advances in integrity management provide longer facility life with reduced financial risks, presenting new opportunities for older facilities. Further industry work is in progress to:
• Increase topsides flexibility as field conditions change through more cost-effective module change-out and refit
• Coordinate topsides facility design with operational needs to ensure safe and efficient performance of maintenance, well servicing, and other activities
• Implement remote monitoring and diagnostics from data analytics to enhance equipment performance, and allow predictive and better planned maintenance
• Embrace the digital revolution, to facilitate integrated intelligent operations, as Statoil described: "Integration of people, process, and technology to make and execute better decisions more quickly."
Premier Oil has recognized a further opportunity for its Sea Lion project in the Falkland Islands, which could likely change the game. Plans are in place for systematically reducing offshore staff by sharing operational duties with remotely located onshore-based personnel. The benefits are:
• Up to 40-60% aspirational head count reduction offshore
• $500,000-$1 million/year savings for each offshore position reduction.
This shift opens the door to taking better advantage of the digital revolution, via virtual connections of expert personnel from all needed disciplines to platform and producing conditions, regardless of their physical location. This enables joint management of information and operational duties in real time, 24/7/365. The shift promotes a new way of working, through better use of existing data from the digital world to inform the staff about the physical operations, with decreased reliance on less structured routine rounds on the facility. This also provides an improved safety risk profile for the offshore personnel.

Premier's objective is to improve the business case for the project, while also expanding the concept to increase business performance across its portfolio. Sea Lion is currently in the front-end engineering design (FEED) phase, and the company plans sanction within the next year. Thus, the improvements to the project design needed to make the reduced offshore staff concept viable can start to be incorporated during FEED.
Not the first time for unmanned operations
Simpler facilities are already onstream, which have been designated "Not Normally Manned." In addition to smaller gas platforms, there are large liquid throughput platform facilities including Woodside's Angel and Pluto and Statoil's Valemon.
Automated ships are emerging quickly, particularly in Norway. The container shipYara Birkeland is due to launch in 2018, and projects a 90% operational cost savings as compared to conventional ships due to reduced salaries. The technology behind this ship builds on developments in automated ferries in the country, operating in designated ferry lanes, with a captain on board to supervise the transits and assist with docking maneuvers at each terminus.
Sea Lion, by contrast, is a complex field with topsides facilities housed on an FPSO. FPSO process plants are quite advanced; integrated control and safety systems are already in place. Complete unmanning of a facility, even for short intervals, requires a high degree of autonomy. With the complexity and environmental risks present in FPSO operations, a fully unmanned facility is beyond current aspirations.
The aspirational 60% reduction in onboard operations staff allows for the remaining 40% to continue with duties, which require more development to be automated, and to maintain a presence for intervention when needed.
Integrated intelligent operations
Integrated intelligent operations is a term encompassing the current digital transformation initiative, which multiple oil and gas operating companies have pursued under a variety of names for at least two decades. It is an outgrowth of computer-assisted operations programs, which have generated value for operators for considerably longer.
The list of elements of success for integrated intelligent operations begins with a focus on reliability, operability, and maintainability.
With a focus on these elements, the goal is to start with the best quality possible in each area in the early stages of the field development. Once operations begin, through the continuous improvement afforded by a tightly integrated, real-time virtual view of the daily activities, the challenge is to systematically optimize for maximum performance and minimum costs.
The system requirements for integrated intelligent operations begin with components which are already in common practice, such as integrated control and safety systems, and the degrees of automation of valve and other operations in process plants. Emphasis needs to be paid to safety systems to ensure detection of accident scenarios, shutdown processes, and contain hydrocarbons or shift them to flare or pressure relief systems. Beyond these basics, extra attention is needed to ensure sufficient numbers and types of monitoring equipment are provided to enable remote observation of performance and degradation. This could include video observation or related technologies, which might be essential in the absence of on-board human observations.
Electronic repositories, both onshore and offshore, are required to capture key operational data and facilitate further processing and effective data visualization. Ample room for expansion, both in the electronic systems, and in supporting utilities (floor space, conditioned power and air conditioning) is needed as tools evolve and insights into key areas of performance increase over the life of the field. As the remoteness of operations centers increases from a few miles to nearby platforms to as far as halfway around the globe, communications links of sufficient bandwidth and latency are essential. Fiber optics and/or high throughput satellite systems are needed to transfer data to and from the Cloud, and among operations sites and third-party support sites.
Maintenance
When considering reductions in offshore staffing, traditional maintenance activities warrant careful consideration. First considerations are to simplify system and subsystem designs so that there would be fewer equipment items to maintain, and to increase focus on equipment reliability to reduce repair and replacement needs overall. Further considerations have to do with designing maintenance activities for efficient human intervention when needed, or in such a way as to be automated, without requiring equipment disassembly or other actions requiring human intervention. Robots are a possibility as well, borrowing technology and methods from the automotive industry. Robot intervention with video capability could include plug and play replacement of certain components.
Augmented reality is a good way to visualize data and analytics in real time for operators onboard the production facilities. By being linked to remote experts, technical consultation can take place in real time to further support the offshore operators.
Equipment designs could also include advanced sensors for non-intrusive equipment inspection in certain cases. Data could be gathered in real time, or on demand under operator control. Either way, the specific data would be available along with the entire suite of data from the conventional instruments, and subsequently used to predict maintenance needs and plan accordingly.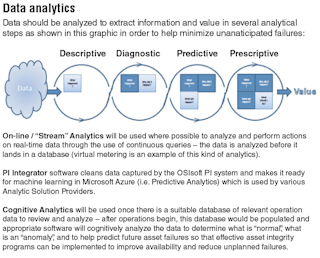 Data analytics
Data analytics is a term for an array of techniques for extracting enhanced information from operational data – either in real time or once archived – to derive maximum value. Stream analytics uses real-time data to inform the process system status and to recommend any required actions as data is stored in the system database. Once an operational database has been established, cognitive analytics is employed to determine what is normal, what is an anomaly, and to help predict future asset failures and facilitate pro-active planning for maintenance and other activities geared toward extending asset life.
Within four analytical steps, designated as descriptive, diagnostic, predictive, and prescriptive, key questions are successively answered, each adding incremental value: (1) What happened? (2) Why did It happen? (3) What will happen? (4) What should I do?
Two key systems where data analytics has already provided benefits are gas turbines and water injection pumps. For gas turbines, analysis of temperature monitoring data has led to insights on fuel nozzle clogging and resulting operational impacts, and overheating on bearings and real-time adjustments to compensate. Vibration and structural noise monitoring for water injection pumps has led to modifications in operational practices to mitigate potential damaging conditions.
Cultural shift
On-site physical presence has been the norm for operations of any type, in any industry, since the Industrial Revolution, and in fact, throughout human history. Shifting operations staff away from the center of activities, and transitioning to a virtual presence as the primary mode of interaction is certainly a significant disruption in ways of working, and can also affect the ways of living for the individuals involved. While this disruption relies on new approaches, and especially digital technologies to address gaps in operational practice, potential positive benefits can result almost from the outset. If managed appropriately, the cultural shift could result in a higher overall productivity and effectiveness for the personnel, bringing increased job satisfaction and a tangible sense that their experience, talents, and skills are being used more effectively.
For starters, experienced personnel could work from home much of the time, avoid much of the travel previously involved, and begin experiencing an improved work-life balance. Less experienced personnel, including recent graduates and transferees from other industries, could work at remote operations centers, either in the corporate offices of operating companies or at other sites located optimally for coordination of multiple aspects of the oil and gas operations. The newer employees could rotate through offshore assignments to gain experience, which, in many cases, they could merge with already keen skills in the digital arena.
Experienced staff could interact with the newer staff in the operations centers, either in person or virtually, to blend their prior experience with the incoming expertise, and create new modes of working which are likely even more robust than traditional approaches. Further, to address the ever-increasing global aspects of conducting business, multiple international remote operations centers could help to ensure the effectiveness of the 24/7/365 coverage requirements for oil and gas operations.
Transition strategy
As with all projects, early planning and design stages are critical to success of the Sea Lion project. Decisions at early stages have the highest impact as opposed to modifications close to and after project startup. Thus, to ensure success of remote operations, early focus should be placed on ensuring that requirements for enhanced monitoring, control and the associated data system requirements are thoroughly developed and included in functional design specifications during FEED and detailed design.
Sea Lion also plans to incorporate a process digital twin, simulating the full process facility on the FPSO, including the integrated control and safety system. The digital twin will be designed, programmed, and activated early on, and will be used in the checking of the overall design as it progresses, then for assistance in pre-commissioning. Thus, it will provide opportunities to make any design corrections early and train operations staff.
Finally, the digital twin will remain in place, and will be kept evergreen after project startup, to facilitate rapid investigations and diagnoses of issues on the actual facility, and minimize disruption when any changes are implemented.
Conclusion
As the oil and gas industry continues to restructure and rebuild as oil prices rise and perhaps reach stability, participants have started to ask more and more about the possibility of reduced manning for offshore operations. The most apparent reason for these queries is the high cost and safety exposure of crews on location.
A better question is rather, can operators afford not to seize the opportunity to capture the value of the digital transformation, and simultaneously turn the changing demographics in the workforce into a net gain now, rather than a looming struggle for the days (and years) ahead.