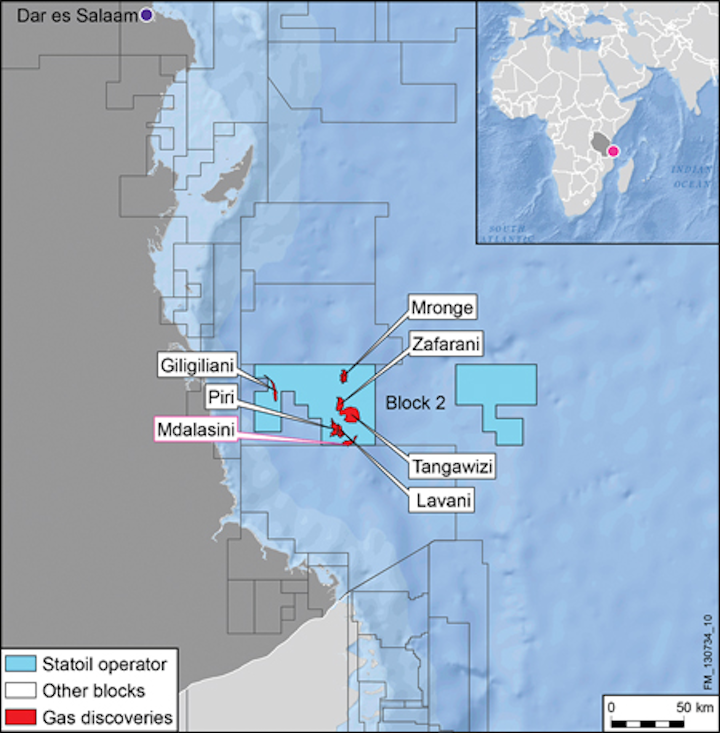 Robin Dupre
Sr. Technology Editor
Sub-Sahara Africa is expected to outpace Russia as a global gas supplier by 2040, encouraging European Union efforts to wean itself off its Russia gas reliance by investing in the region's development.
Driven principally by Mozambique, Nigeria, Angola, and Tanzania, Sub-Saharan Africa will produce about 175 bcm/yr of natural gas by 2040. Sub-Saharan gas production increased from just 7 bcm in 1990 to 58 bcm in 2012, according to the International Energy Agency's Africa Energy Outlook. International Energy Agency Chief Economist Dr. Fatih Birol said there would be a "substantial" amount of new liquefied natural gas (LNG) potential in Sub-Saharan Africa.
"Investment in liquefied natural gas projects could significantly enhance the diversification of gas imports to Europe," he said. "Sub-Saharan Africa will remain a cornerstone of global oil markets while emerging as a major new player in the natural gas markets."
Furthermore, Africa is expected to hold a 15% share of offshore capex over 2015, up 10%, led by developments offshore Angola, according to Catarina Podevyn, content analyst at Infield Systems Ltd. In West Africa, offshore Ghana and Congo will also see increasing expenditure, she added.
"Total's giant, the Egina development offshore Nigeria, is anticipated to be the single most capital intensive project offshore West Africa over 2015, acting to drive down Angola's leading, albeit still dominant, share in the region," Podevyn said.
Tanzania
Statoil hit a string of successes offshore Tanzania with the new gas discovery, bringing the total of in-place volumes up to about 22 tcf in block 2. The Mdalasini-1 exploration well discovered an additional 1.0-1.8 tcf of natural gas in place. Located at a 2,296-m (7,534-ft) water depth at the southernmost edge of the block, it was made in Tertiary and Cretaceous sandstones.
Statoil drilled the Mdalasini-1 well with a 100% working interest. Previously, Statoil and co-venturer ExxonMobil have made seven discoveries in block 2, including the five high-impact gas discoveries Zafarani-1, Lavani-1, Tangawizi-1, Mronge-1 and Piri-1, as well as the discoveries in Lavani-2 and Gilligiliani-1.
Statoil operates the license on block 2 on behalf of Tanzania Petroleum Development Corp. and has a 65% working interest. ExxonMobil Exploration and Production Tanzania Ltd. holds the remaining 35%.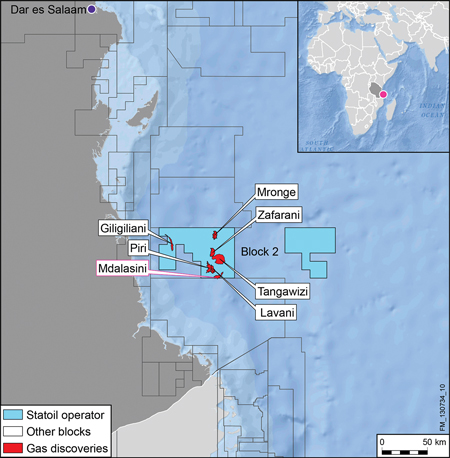 Block 2, offshore Tanzania (Photo courtesy Statoil)
Madagascar
Sterling Energy and its partner Pura Vida Mauritius expect to complete the acquisition of a 3D seismic survey offshore Madagascar during 2Q.
CGG will acquire 1,250 sq km (482 sq mi) of 3D data over an area of the Ambilobe block deemed prospective at Cretaceous and Tertiary levels following a review of vintage 2D data.
Sterling is a partner to ExxonMobil in the Ampasindava block in the Majunga basin offshore Madagascar, where the production-sharing contract is in the third phase of the exploration period.
The remaining minimum work commitment is for one exploration well. However, the partnership has decided that a well on the Sifaka prospect at this stage carries too high a technical and commercial risk, with a strong chance of poor reservoir quality and an increased phase risk of gas over oil. •