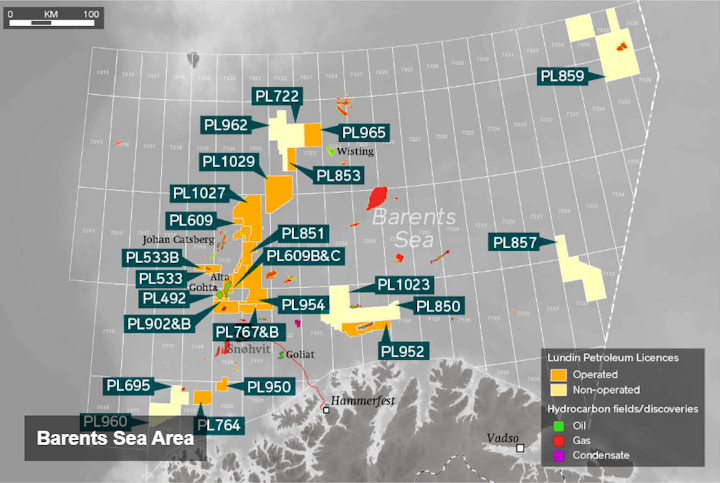 (Map courtesy Lundin Petroleum)
Offshore staff
STOCKHOLM, Sweden – Lundin Petroleum has ruled out a standalone joint development of its Alta and Gotha discoveries in the southern Norwegian Barents Sea.
This follows a downgrade of the contingent resource estimate for Alta based on results from a 3D TopSeis seismic survey over the area, combined with data and analysis from an extended well test in 2018.
Lundin now sees a subsea tieback either to the Equinor-operated Johan Castberg facilities or another future development in the area as the most viable option.
At the same time, the company will drill several large prospects in the Loppa High area of the Barents Sea this year. A major success could change the dynamic of commercial options, the company said.
Lundin is also a partner to the Equinor in the Johan Sverdrup field in the North Sea, which came onstream last October.
Production has ramped up quickly from the eight pre-drilled wells to 350,000 b/d, around 80% of the Phase 1 440,000 b/d capacity.
However, two new production wells will now be needed to reach the Phase 1 plateau, expected this summer. Reservoir performance to date has been good with well productivities above expectations.
Output from the Lundin-operated Edvard Grieg field is also strong with the build-up of water production slower than anticipated.
Following sanction of a planned infill well program, the company has raised its estimate of the ultimate recovery to 300 MMboe, 60% more than in the original development plan.
With the Solveig Phase 1 tieback and the Rolvsnes extended well test both set to produce through the Grieg facilities, plateau output should be maintained until at least the end of 2022, four years longer than originally envisaged.
01/13/2020