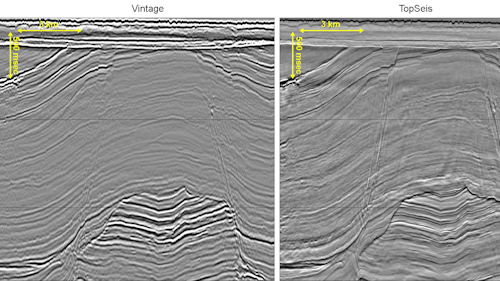 CGG and Lundin Norway
Offshore staff
PARIS – CGG and Lundin Norway have won the NCS [Norwegian continental shelf] Exploration Innovation Prize 2019 for TopSeis.
This is a marine source-over-spread acquisition and imaging solution designed to provide increased near-offset coverage from a split spread with zero offsets.
TopSeis was the result of a multi-year collaboration between the two companies. It combines a source-over-spread acquisition geometry with CGG's imaging technology for delineation of shallow-to-intermediate depth targets that are not resolved using conventional techniques.
The first full-scale 2,000-sq km (772-sq mi) commercial survey was acquired over the Loppa High in the Norwegian sector of the Barents Sea in 2017 and processed in 2018.
This summer, CGG and TGS will acquire a 5,000-sq km (1,930-sq mi) multi-client TopSeis survey over the Greater Castberg area in the Barents Sea, and expect to deliver final data to clients in 4Q 2020.
06/03/2019