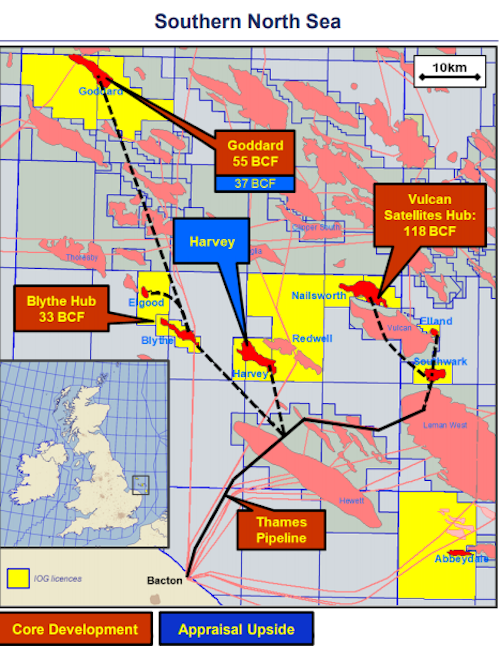 (Courtesy Independent Oil and Gas)
Offshore staff
LONDON – Independent Oil and Gas plc (IOC) has completed its farm-out transaction with CalEnergy Resources Ltd. (CER) and taken the final investment decision on Phase 1 of its Core project.
The Core project comprises 410 bcm of 2P+2C reserves and resources across six discovered UK southern North Sea (SNS) gas fields.
In July, IOG agreed to farm out to CER 50% of its SNS upstream assets (except for the Harvey licenses), the Thames pipeline, and associated Thames reception facilities.
IOG and CER have now taken Phase 1 FID and will soon submit confirmation of full funding to the Oil and Gas Authority in support of the Phase 1 field development plan approval.
CER has paid the initial cash consideration of £40 million ($51 million) to IOG under the terms of the farm-out. CER will also pay for up to £125 million ($161 million) of IOG's development costs, usable against 80% of IOG's 50% share of Core project costs, up to caps of £60 million ($77 million) for Phase 1 and £65 million ($84 million) for Phase 2, respectively. IOG will pay CER a royalty of 20.2% of its net revenues from the Phase 1 fields only, up to a cap of £91 million ($117 million) over field life.
In addition, IOG will receive an effective royalty interest equating to £0.50/mcf on CER's 50% share of production from certain sections of the Goddard field after 70 bcf gross has been produced from the field up to a maximum royalty of £9.75 million ($12.5 million).
IOG has retained operatorship of the Core project, with first gas targeted in July 2021.
CER has the option to acquire 50% of the Harvey licenses within three months of completion of the Harvey appraisal well 48/24b-6.
The companies have also signed area of mutual interest agreement to allow for future co-operation in further SNS business development activities on a 50:50 basis, with a view to leverage the Core project's infrastructure.
Also, the partners are working together with the intention to submit a joint application for a number of blocks in the UK 32nd offshore license round.
10/28/2019