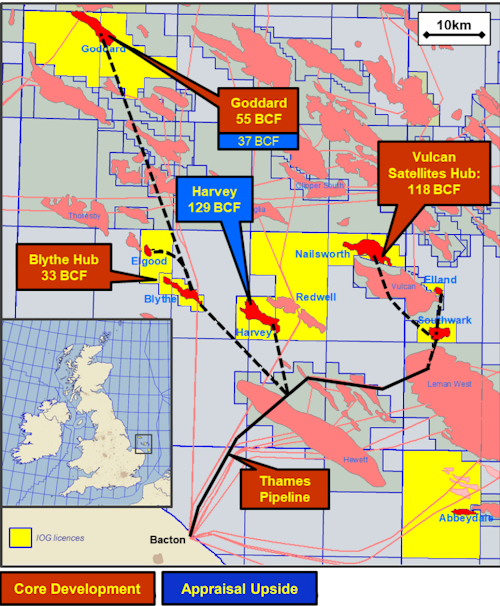 (Map courtesy Independent Oil and Gas)
Offshore staff
LONDON – Independent Oil and Gas has issued a positive update on its Harvey appraisal well 48/24b-6 in the UK southern North Sea.
The well, drilled by the jackup Maersk Resilient in license P2085, has reached a 7,537 ft (2,297 m) MD in the Permian Leman sandstone reservoir.
Initial analysis of wireline data has revealed the presence of a 49-ft (15-m) gas column at the top of the reservoir. IOG will review the wireline dataset and core data to create a revised technical assessment of reservoir gas volumes and deliverability.
It will use the results to assess options for a potential development of Harvey, which is close to the company's offshore Thames Pipeline export system.
If a low-cost subsea development appears feasible, the host could be IOG's planned Blythe platform, part of the company's Core Project Phase 1 infrastructure. The Maersk Resilient is due to go off contract next week.
Under a farm-out agreement announced in July, CalEnergy Resources will have the option to acquire 50% of the Harvey licences within three months of completion of the appraisal well.
09/11/2019