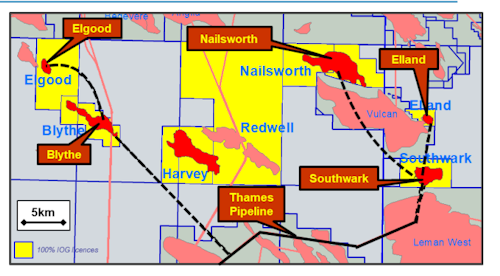 Independent Oil & Gas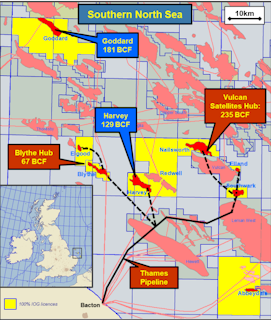 Independent Oil & GasOffshore staff
LONDON – Independent Oil & Gas (IOG) has entered agreements to farm out 50% of its UK southern North Sea gas assets (excluding the Harvey field) to CalEnergy Resources (CER).
The latter is a subsidiary of Berkshire Hathaway Energy, based in Des Moines, Iowa.
IOG will receive an initial cash consideration of £40 million ($49.7 million) on completion of the farm-out with CER also paying up to £125 million ($155 million) of IOG's development costs for phases 1 and 2 of the development.
The company's Core Project comprises 410 bcf of 2P+2C reserves and resources across six discovered fields. IOG will pay CER a royalty of 20.2% of its net revenues from the Phase 1 fields only, up to a cap of £91 million ($113 million) over field life. In addition, IOG will net a royalty interest equating to £0.50/mcf on CER's 50% share of production from certain sections of the Goddard field after 70 bcf has been produced from the field, up to a maximum royalty of £9.75 million ($12.1 million).
On receipt of all necessary approvals and completion of the farm-out, the two companies plan to proceed to immediate approval of the Phase 1 final investment decision, with IOG retaining operatorship of the development.
CER also has an option to acquire 50% of the Harvey licenses within three months of completion of the Harvey appraisal well, due to spud shortly.  IOG estimates resources at Harvey in the range 85-199 bcf.
IOG now estimates total Phase 1 capex at £293 million ($364 million), plus £24 million ($29.8 million) of contingency and, subsequent to first gas, a further £65 million ($80.8 million) for onshore compression.
It assessed Phase 2 capex, encompassing three platforms and eight wells, at £367 million ($456 million) plus £41 million ($51 million) of contingency.
There could be further co-operation in other southern North Sea activities on a 50:50 basis over an area within tieback radius of the Thames Pipeline system.
IOG is working on various opportunities in the areas via incremental licensing applications and asset acquisitions.
07/26/2019