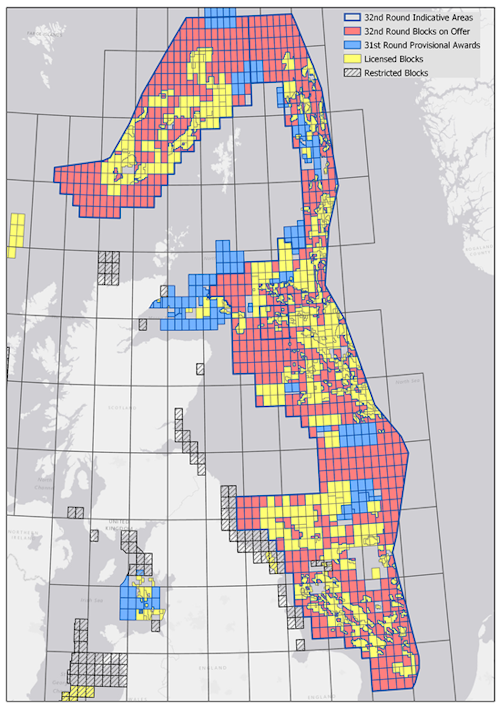 Oil and Gas Authority
Offshore staff
ABERDEEN, UK – Britain's Oil and Gas Authority (OGA) has opened the 32nd Offshore Licensing Round.
On offer are 768 blocks or part-blocks across the main producing areas of the UK continental shelf (UKCS) in the central, northern, and southern North Sea and west of Shetland.
To support applicants, the OGA is making available a large volume of data put together with 11 companies, among them operators and third-party specialists.
It includes:
UKCS-wide and more regionally-focused data packs and reports, such as results from the first year of the government-assisted UKCS Petroleum Systems Project

The largest publicly available geochemical database for the region, covering more than 90,000 geochemical samples from more than 2,700 wells

The open release of the Southern North Sea Seismic Megasurvey, comprising around 23,000 sq km (8,880 sq mi) of 3D post-stack seismic data

A rock-physics study focused on the pre-Cretaceous prospectivity of the central North Sea and East Shetland basin.
The data sets are available via through the UK National Data Repository (NDR) and the OGA website.
Bids must be lodged for the 32nd Round by Nov. 12, 2019. Awards are set to follow next spring.
In addition, the OGA is inviting companies the opportunity to propose further blocks in adjacent areas, for possible inclusion in a bid where applicants intend to commit to a substantial work program.
Deadline for submissions in this case is prior to 16:00 GMT on July 18, 2019.
Bidders may also be interested in the 5th Faroese Licensing Round, the OGA said, as the timing has been purposely aligned with the 32nd Round.
07/11/2019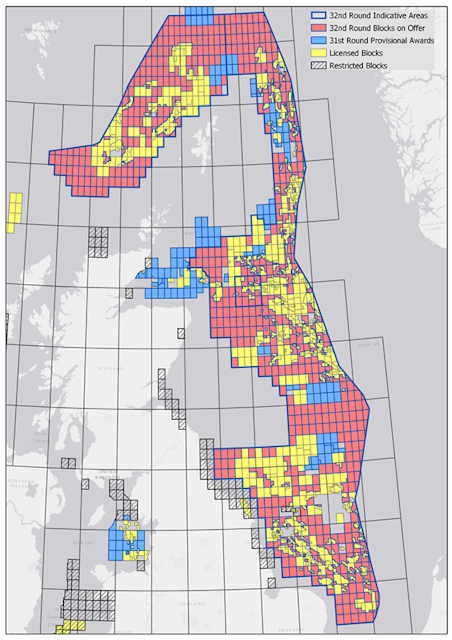 The 32nd Offshore Licensing Round offers 768 blocks or part-blocks across the main producing areas of the UK continental shelf in the central, northern, and southern North Sea and west of Shetland.Oil and Gas Authority