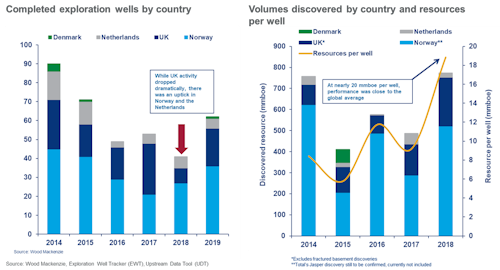 Exploration wells and volumes discovered – Denmark, Netherlands, Norway, UK
Offshore staff
ABERDEEN, UK – Wood Mackenzie expects more than 60 exploration wells to be drilled in the North Sea in 2019, up 25% compared to 2018.
According to Glenn Morrall, an analyst with the upstream research team said: "While many of the prospects drilled will be infrastructure-led, we will also see new plays and ideas being tested.
"In total, companies are targeting 7-10 Bbbl of gross unrisked resource in 2019. Of that, explorers have discovered just 600 MMboe in the year to date…
"It's been a mixed bag in the first half of 2019 for North Sea exploration. While 2018 was characterized by a recovery in performance, of the 32 wildcat wells drilled so far this year, over 70% have been dry."
In the UK, Wood Mackenzie expects 15-20 completed exploration wells this year, similar to the numbers drilled in 2015 and 2016.
CNOOC's Glengorm discovery (250 MMboe) in the central North Sea has been the largest discovery so far in 2019, also the largest across the sector in the past 10 years, excluding fractured basement finds.
Offshore Norway, exploration has delivered an average per well of 12 MMboe this year. Aker BP's Froskelaar and Equinor's Telesto and Sputnik are all likely to be commercial.
Forthcoming wells to watch for, Morrall added, include CNOOC International's Howick west of Shetland and MOL's Iving offshore Norway.
"Overall, explorers will chase nearly 2 Bboe for the remainder of 2019," he added.
09/10/2019