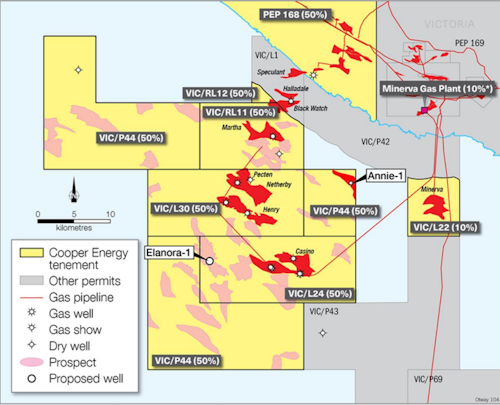 (Map courtesy Cooper Energy)
Offshore staff
ADELAIDE, Australia – Cooper Energy has discovered gas at the Annie prospect in the VIC/P44 permit in the Otway basin offshore Victoria.
Located about 9 km (6 mi) offshore, the Diamond Offshore semisubmersible Ocean Monarch drilled the Annie-1 exploration well in a water depth of 58 m (190 ft).
The well reached total depth of 2,442 m (8,012 ft) measured depth rotary table (MDRT).
The Waarre C primary target was encountered at 2,241 m (7,352 ft) MDRT, comprising a gross gas column of 70 m (230 ft) with gas-on-rock at its base. The net pay thickness is 62 m (203 ft).
The deeper Waarre A sandstone was encountered at 2,341 m (7,680 ft) MDRT and was water wet. The analysis was carried out using logging-while-drilling data.
Wireline logging operations to collect pressure and sample data required to inform resource volume estimates and to determine gas composition have been completed. The company said data collected in Annie-1 is consistent with adjacent analogue producing fields. Laboratory analysis to confirm gas composition is to be conducted.
This is the first gas discovery in the Otway basin in 11 years, according to Cooper. The most recent was the Netherby gas field in 2008.
Cooper is the operator of VIC/P44 and holds 50% interest. Mitsui E&P Australia holds the other 50% interest.
09/06/2019